Recently, a deceased coyote and bobcat were found in Rancho San Antonio Open Space Preserve, and both were confirmed to have been exposed to multiple kinds of rodenticides (pesticides and poisons that target rodents). This prompted Midpen staff into action, doing outreach about how the use of rodenticides in the surrounding community pose a significant threat to neighboring wildlife, especially predators and scavengers. It was not the first time.
Ten years ago, 12 bobcats at Rancho San Antonio Preserve died and dozens more were reported sick. Subsequent investigations, including autopsies and lab analysis by the California Department of Fish and Wildlife (CDFW) determined that second-generation anticoagulant rodenticides (SGARs) were the cause. Then as now, Midpen worked to educate neighbors of the unintended effects of rodenticides on wildlife.
Image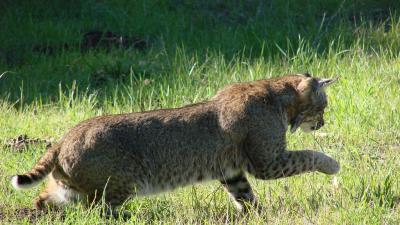 At that time, Midpen advocated to the California State Legislature to prohibit the use of SGARs. In 2014, the legislature passed AB 2657, limiting access to SGARs to individuals with pest control licenses. In 2020, Midpen supported AB 1788, known as the California ecosystems protection act, which further prohibited most uses of SGARs. While these efforts help, the use of SGARs continues to kill and weaken wildlife in our area. A recent CDFW study found that 70% to 90% of tested wildlife have SGARs in their systems.
Bobcats, coyotes, owls, white-tailed kites and other predators eat hundreds of mice, rats and other rodents each year. When they prey upon rodents poisoned by rodenticides, toxins accumulate in the predator's body, weakening their immune system and causing them to become more susceptible to potentially deadly diseases such as mange.
"Midpen continues to take proactive steps to advocate for the reduction of rodenticide use in our region to limit its effects on local wildlife," Midpen Wildlife Biologist Matt Sharp Chaney said. "However, this is a widespread issue, and wildlife are reliant on nearby communities to limit the introduction of these poisons into their ecosystem."
Preventing rodent intrusion to your home is more effective and safer for wildlife than rodenticides. Removing ivy and trimming branches that touch your home are great first steps. If active pest control is necessary, consider manual traps such as snap and box traps that do not rely on poisons. Installing owl boxes in appropriate locations can encourage natural rodent control, as families of owls can consume up to 1,000 rodents per year. If working with a pest control company, request to review and approve any pesticides being used. If you are part of a neighborhood or home owners association, check to see their policies on the use of rodenticides and advocate for safer alternatives.
| | |
| --- | --- |
| Image | Image |
Learn more about Midpen's work at openspace.org/rodenticides