How A Recent Land Purchase Highlights Midpen's 50-Year Commitment to Community Conservation Goals
Since the 1970s, Midpen has worked for the public to preserve open space lands in the greater Santa Cruz Mountains region. This is why, when you look up to the foothills and beyond to the ridgelines, you see golden grasslands and shaded oak woodlands, exposed rock dotted with coyote brush and manzanita, verdant corridors marking the paths of creeks and many other scenic landscapes.
These natural resources are not only beautiful, but necessary for a healthy environment, providing habitats for native wildlife and supporting clean air and water. They are also serene places that you can visit and enjoy. To date, Midpen has protected 65,153 acres in San Mateo, Santa Clara and Santa Cruz counties through a combination of purchases, easements, leases and other tools.
The mountains may seem wide-open and wild from the valley, however they have been fragmented and defined by centuries of human intervention. Private ownership has carved up the landscape into a complex puzzle of small and large properties; and roadways, highways, and human development have further fragmented habitats and affected our natural ecosystems. These factors often complicate Midpen's mission-driven work to preserve, restore, and protect our natural environment. It can take years, even decades, for Midpen to connect public open space lands and manage them in a way that begins to restore their biodiversity and resiliency.
In 2020, Midpen and our nonprofit partner Peninsula Open Space Trust purchased the San Jose Water Company inholding property, officially expanding El Sereno Preserve to 1,614 acres and forever linking together the full 3.65 miles of the Aquinas Trail.
Image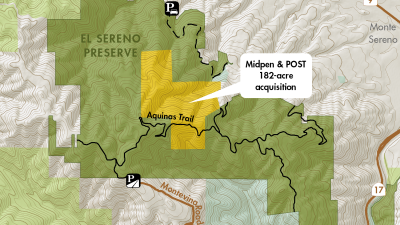 El Sereno Open Space Preserve, near Los Gatos, Monte Sereno and Saratoga, is one example of the patience and tenacity required to fulfill the community's goal of preserving a regional greenbelt. Midpen purchased the first property that would become the preserve in 1975. As El Sereno grew over the years, it began to encircle what was a 182-acre private inholding parcel owned by the San Jose Water Company. Critically, this property created a 0.35-mile gap in the Aquinas Trail that left the full trail alignment at risk of being bifurcated by the underlying private property owner.
This is likely not the last time you will hear about this trail this year — it is planned to support regional trail connectivity as an additional key segment of the Bay Area Ridge Trail.
This 45-year history of El Sereno highlights Midpen's strengths: our stability and longevity as a public agency. To realize long-term community conservation and open space goals, voters like you created Midpen by passing Measure R in November 1972. We call this the long view, and it remains a testament to what our community can accomplish when working together. We invite you to learn more as we celebrate our collective accomplishments in 2022, the 50th anniversary of the founding of the Midpeninsula Regional Open Space District.