Removing invasive plants and weeds is a large part of the restoration work that takes place in our preserves. This can be challenging, since some invasive species look similar to California natives. Help us protect native plants—become a community scientist and record your observations in the free iNaturalist or Calflora apps. This information helps us monitor the open space lands and identify areas of concern.
Please do not pull any plants on Midpen lands — we follow a strategic plan when dealing with invasive species and removing plants can actually spread the growth of unwanted species.
Native plant and their non-native look-alikes. Can you tell the difference?
January
NATIVE
California Bay Laurel (Umbellularia californica)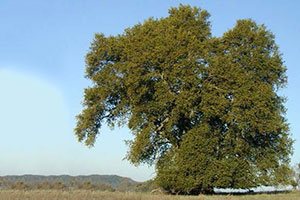 Broad-leaved evergreen tree
Height: 25-40 feet, old trees can reach 100 feet
Creamy white-yellowish flowers bloom April - September
Nicknamed "pepperwood," because of the pepper scent, dried leaves are used in cooking.
NONNATIVE
Blue Gum Eucalyptus (Eucalyptus globulus)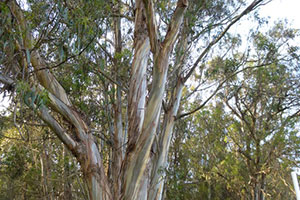 Tree with long, waxy blue leaves
Height: 150-180 feet
White flowers bloom October - March
Fruit, leaf and bark litter is extremely flammable
---
February
NATIVE
California Blackberry (Rubus ursinus)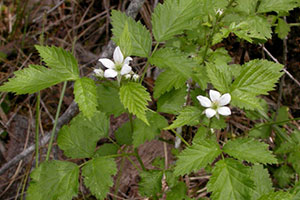 Upright, sprawling vine or shrub
Typically has three leaflets
White, fragrant flowers bloom February - May
Valuable for preventing soil erosion at disturbed sites due to its ability to grow in infertile soils
NONNATIVE
Himalayan Blackberry (Rubus armeniacus)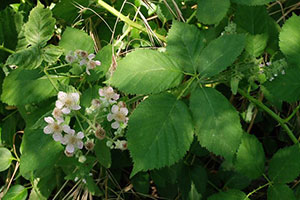 Sprawling, evergreen shrub
Typically has five leaflets and large thorns
White/light pink flowers bloom April - August
Rapidly displaces native plant species by producing dense canopy and limiting sunlight for understory plants
---
NATIVE
Pacific Bleeding Heart (Dicentra formosa)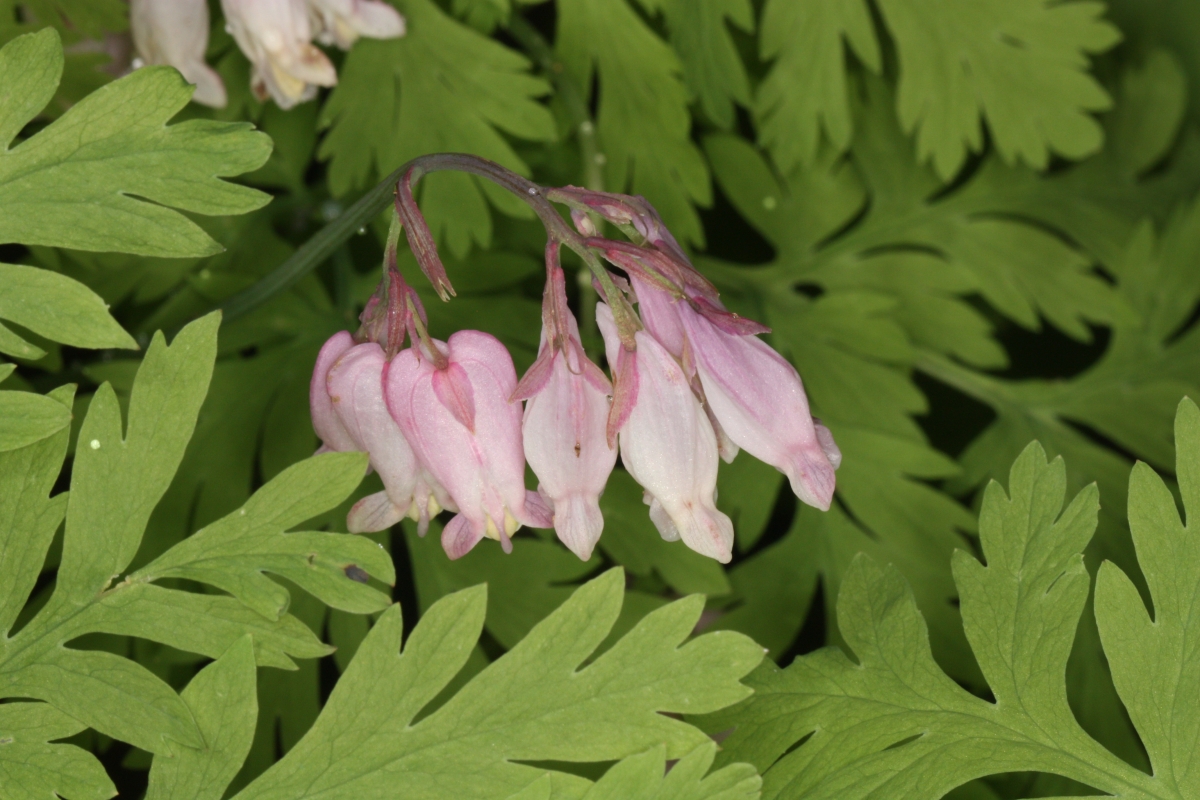 Perennial herb in the poppy family
Delicate, fern-like leaves
Rose-purple to cream flowers bloom March - May
Provides excellent habitat and food supply for birds and insects
NONNATIVE
Herb Robert (Geranium purpureum)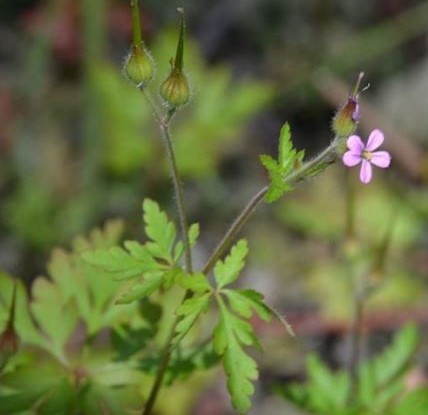 Leaves are light green and turn red in late fall
Strong smell of diesel and mint when crushed
Pink flowers bloom March - May
Escaped from ornamental plantings, displaces native plants in forested communities as groundcover
---
NATIVE
California Aster (Symphyotrichum chilense)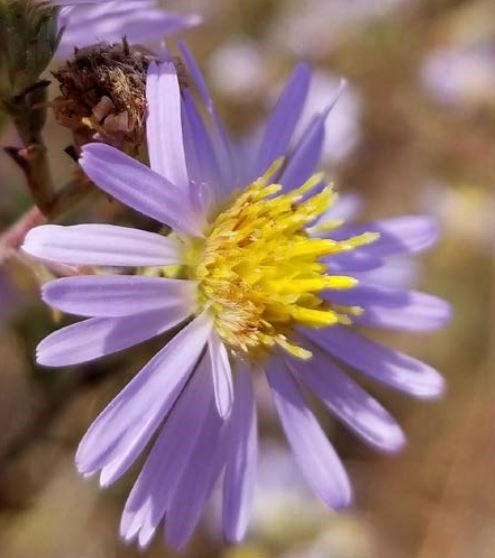 Grows in grassland, meadows, salt marshes, costal dunes and costal scrub habitats
Deep, fibrous root systems help with erosion control
Violet/pink or white flowers with yellow centers bloom July - August
Excellent pollinator plant, provides pollen for bees and nectar for checkerspot and crescent butterflies
NONNATIVE
Ox-Eye Daisy (Leucanthemum vulgare)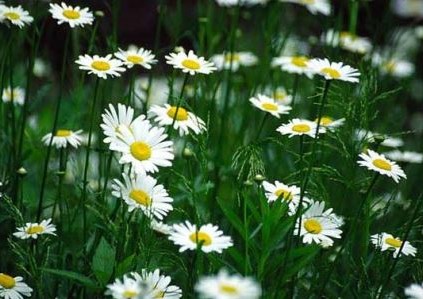 Found in roadsides, pastures, grassland, coastal scrub and open forests
Rosette leaves grow up to 6 inches long
White daisy flower with yellow centers bloom May - August
Invasive perennial herb from Europe that grows densely and excludes other vegetation
---
NATIVE
Blue Wildrye (Elymus glaucus)
Large perennial bunchgrass found in open areas, native prairie, chaparral, woodland and forest
Leaf color is green, blooms May - July
Provide wildlife habitat for mammals, birds and waterfowl
Important pollinator plant for bees and butterflies
NONNATIVE
Jointed Goatgrass (Aegilops cylindrica)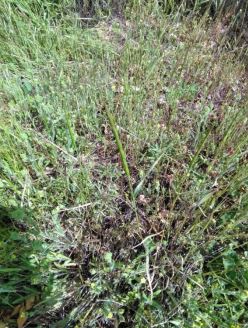 Annual grass from west Asia and eastern Europe
Found in wheat fields and other cropland areas.
About 15 - 30 inches tall, blooms May - July
Produces about 3,000 seeds per plant which remain viable for 3-5 years
---
NATIVE
Common Yarrow (Achillea millefolium)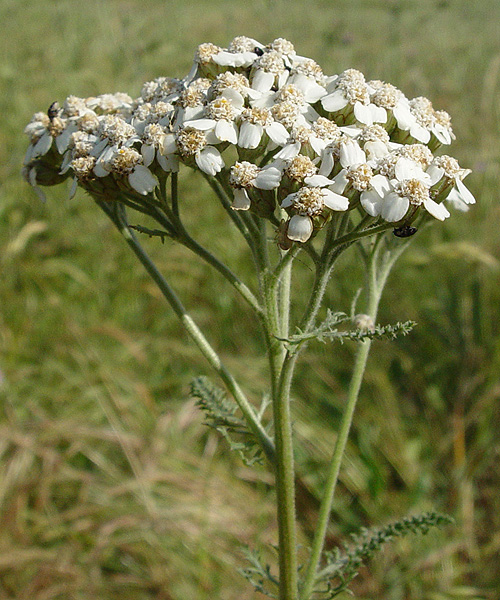 This perennial herb can be found in most Midpen preserves
Found in grasslands, meadows, open forests and disturbed areas
Native Americans used the plant for pain relief and fever reduction
About 1-3 ft tall, blooms April - August
NONNATIVE
Perennial Pepperweed (Lepidium latifolium)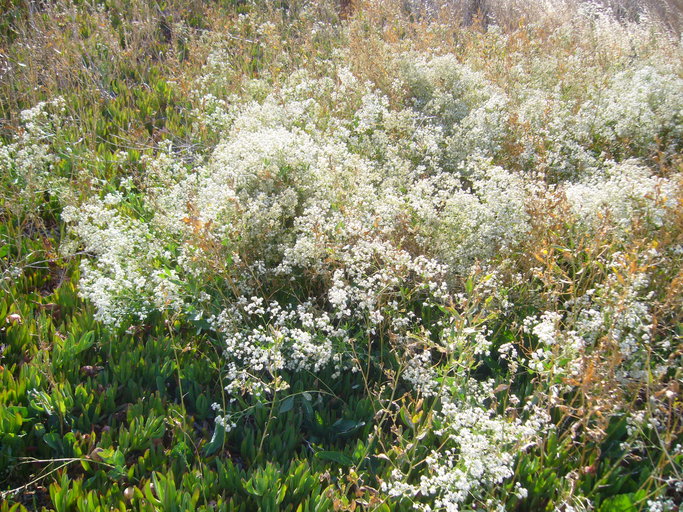 Grows aggressively, forming dense colonies that exclude native plants
Native to southeastern Europe to southwestern Asia
First recorded sighting in CA was in 1936 in Stanislaus County
Reproduces by seed and vegetatively, blooms May - July