Welcome Teachers!
This page is dedicated to the Spaces & Species field trip program and serves as the jump-off page for requesting a field trip during registration time.
Note: Reservations no longer available by lottery. Instead, field trips are filled on a first come, first served basis. See instructions below.
Spaces & Species field trips are scheduled on select Tuesdays and Thursdays in the spring and fall.
There are approximately 20 field trips offered every spring and fall. This free program is designed for 3rd–5th grade students (with 3rd grade participation scheduled in spring only). The maximum number of students per field trip is 32. A minimum of four active chaperones per class is required.
About the Field Trip Program
This award-winning, innovative environmental science education program offered at Skyline Ridge Open Space Preserve, and featuring scenic Alpine Pond and the David C. Daniels Nature Center, is available to local schools and led by a dedicated group of volunteer Outdoor Education Docents. In this unique outdoor setting, children have the opportunity to focus on the connections between themselves and their natural world, and begin to understand the importance and benefit of open space in their community.
For more program information, download a brochure of Spaces & Species: Exploring Natural Communities
Due to limited trip availability, this program is offered to schools that are located within District boundaries.
---
Spring 2020 Spaces & Species Field Trips
An email solicitation with an invitation to sign up for field trips was sent to contacts on our mailing list on January 23. Link to the SignUp will open at 9:00AM on Friday, January 31st. While we will do our best to accommodate schedules, we cannot guarantee a field trip to those on the waitlist. Thank you for your understanding.
Instructions and link to sign up for Field Trip spots
Please update your information below to make sure you get updates regarding the Spaces & Species program.
The spring 2020 field trip dates are indicated by the gray shadowed dates on the calendar below. Additional dates were added on 1/30/2020.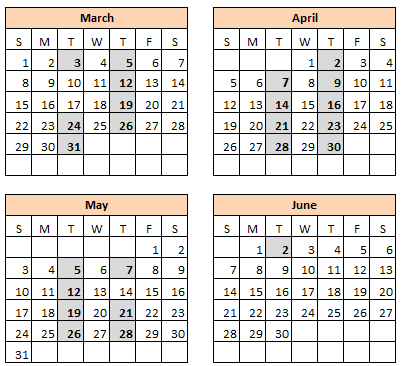 ---
How to Get to the Field Trip Location
For convenient access to the Nature Center and Alpine Pond, park in the Russian Ridge Open Space Preserve parking lot, located on the northwest corner of the Page Mill Road/Alpine Road and Skyline Boulevard (Highway 35) intersection (across Skyline Boulevard on the right). Russian Ridge Open Space Preserve is at least a 40-minute drive from Palo Alto. Please allow plenty of travel time and be sure to discuss the location and route details with drivers in advance of the day of your scheduled field trip.
Download directions to the Spaces & Species field trip meeting location.
Important Transportation Note: Transportation is not provided by the Midpeninsula Regional Open Space District. A transportation assistance fund has been established for qualifying Title 1 or low-income schools where vehicle rental or parent assisted transportation is limited. This program provides reimbursement of up to $550 per class for the cost of transportation to Skyline Ridge Open Space Preserve. If you believe your school may be eligible for this reimbursement program, please indicate so on the reservation request form.
---
Stay Informed
The District uses an electronic mailing and reservation system for this program. If you are unable to receive our solicitation emailing for any reason (some schools may have restrictive email security settings), you can still get information about the upcoming season by checking back at this page which will be updated at the end of July for the fall season and mid-January for spring.
Sign-up for our email list