As part of our 50th Anniversary celebration, we invite you to participate in #SpottedAtMidpen, a year-long photo contest. When you spot something cool in a Midpen preserve, post your picture on social media, use the hashtag #SpottedAtMidpen and tag us @midpenopenspace — you could win a commemorative prize! Winners are chosen every two weeks until the end of the year. 
Image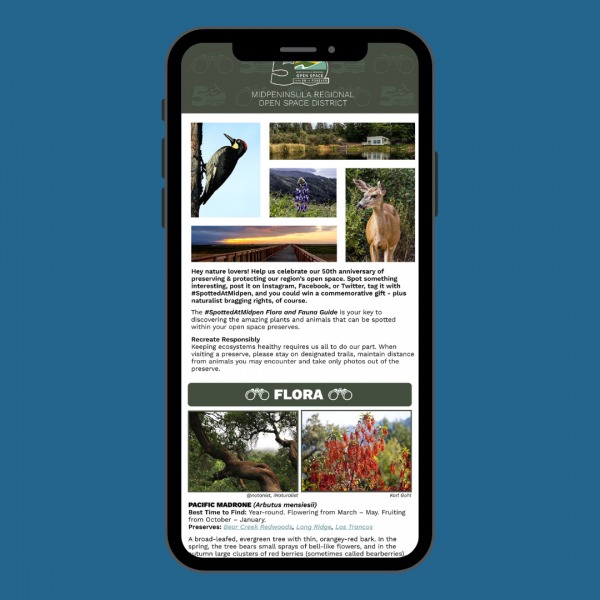 The Midpeninsula Regional Open Space District invites preserve visitors to enter #SpottedAtMidpen ("Contest"), part of the public agency's 50th Anniversary Celebration. BY ENTERING THE CONTEST, YOU ARE ACCEPTING AND AGREEING TO ALL RULES AND CONDITIONS ("RULES"). 
The Contest is open to participants regardless of residence or citizenship, so long as the laws of their jurisdiction allow participation. Employees of Midpen are not eligible to participate. 
YOUR RIGHTS 
You will retain all rights to any photograph you submit—including ownership if applicable—other than those rights licensed in these rules. By entering the Contest, you hereby grant to Midpen: 
a nonexclusive, worldwide, irrevocable, royalty-free license to reproduce, distribute, publicly display, and publicly perform the photographs you submit to the Midpeninsula Regional Open Space District, and 
 
the right to use your name in promotions and other publications. 
Any photograph reproduced will include a photographer credit as feasible. Midpen will not be liable for any errors in attribution other than to make reasonable efforts to correct such errors. Midpen has final approval of any language that appears on its website, in its Views newsletter, or brochures with any of the photos and will not promote or endorse third-party products or services. 
WHAT TO ENTER 
We are looking for digital images that capture the diversity of nature and activities in Midpen open space preserves. Your images must be taken in a Midpen open space preserve open to the public or be of a Midpen open space preserve. Your images may show wildlife, plant life, natural landscapes, people interacting with nature, or even abstract concepts like "peace of mind." 
If you choose to include people in your submission, you are responsible for obtaining the necessary releases from the individuals depicted, and must be able to provide copies of those releases to Midpen upon request. 
Entrants must not submit images that involve the handling or disruption of wildlife and/or plants, willful harassment of wildlife, damage to the environment by the photographer, or infringe on the rights of any other photographer or person. 
All photographs should accurately reflect the subject matter and the scene as it appeared. Photos that have been digitally altered beyond standard optimization will be disqualified. Acceptable methods for standard optimization include removal of dust, cropping, and reasonable adjustments to color and contrast. Multiple exposures that have been combined to produce a single "High Dynamic Range" image are acceptable. 
HOW TO ENTER 
Starting March 24, 2022, enter any number of images by posting a photograph taken in or of a Midpen open space preserve to your personal Facebook, Instagram, or Twitter feed and tagging #SpottedAtMidpen and @MidpenOpenSpace. At the end of each two-week period, Midpen staff will select a winner from the submissions. There will be 18 chances throughout the year to win. 
We do NOT accept entries submitted via email or through the postal mail. 
ELIGIBILITY AND JUDGING 
A panel of Midpen staff will select a winner each biweekly period. Photos will be judged on originality, technical excellence, composition, overall impact, artistic merit, and/or positive reflection of Midpen's mission. In addition, if applicable, adherence/appropriateness to theme may also be a judging criterion. 
In order to be eligible to win, we must be able to contact you via comment or direct message. If you are under the age of 18, you must have permission from a parent or guardian to submit. 
Winners will be asked to submit their images in .jpeg, .jpg or .gif format, at least 2,000 pixels wide (or tall if a vertical image) and no larger than 10 MB. Image should be submitted at the highest possible resolution (no larger than 300dpi). 
Previously published material for which non-exclusive rights were granted may win, as long as you still maintain the right to grant us a license (see "Your Rights" above). Upon request, you must be able to disclose to Midpen when and where the photo appeared previously. 
A People's Choice Award will be chosen by popular vote. Details of deadlines to be announced on social media.
The Midpeninsula Regional Open Space District reserves the right to adjust any deadline(s) as the result of causes beyond its immediate control. 
CONTEST CATEGORIES AND PRIZES 
Each biweekly winner will receive a $25.00 gift certificate to the Midpen webstore. 
The People's Choice Award winner will receive a $50.00 REI gift certificate. 
Prizes are non-transferable; no substitutions allowed. All federal, state, or other tax liabilities are the responsibility of the winner. All details of any prize not specified herein shall be determined solely by Midpen. 
LEGAL CONDITIONS 
By entering #SpottedAtMidpen ("Contest"), participants agree to indemnify, defend, and hold harmless the Midpeninsula Regional Open Space District ("Midpen"), its respective subsidiaries, affiliates, directors, officers, employees, attorneys, agents, and representatives, from any and all third party liability for any injuries, loss, claim, action, demand, or damage of any kind arising from or in connection with the Contest (collectively, "Losses"), including without limitation any third party claim for copyright infringement or a violation of an individual's right to privacy and/or publicity right. The Contest is void where prohibited by law. 
Each participant in the Contest ("Participant") is responsible for ensuring that he or she has the right to submit photos to the Contest per these rules. You agree that any and all disputes that cannot be resolved with Midpen, and causes of action arising out of or connected with this Contest, shall be resolved individually, without resort to any form of class action, before a court of competent jurisdiction located in Santa Clara, California, which court shall apply the laws of California without regard for rules of conflicts of law. IN ANY SUCH DISPUTE, PARTICIPANT SHALL NOT BE ENTITLED TO ANY PUNITIVE, SPECIAL, INDIRECT, INCIDENTAL OR CONSEQUENTIAL DAMAGES, INCLUDING WITHOUT LIMITATION ATTORNEYS' FEES, OR ANY DAMAGES OTHER THAN PARTICIPANT'S ACTUAL OUT-OF-POCKET EXPENSES (IF ANY) ASSOCIATED WITH PARTICIPATING IN THE CONTEST. YOU HEREBY WAIVE ANY RIGHTS TO HAVE DAMAGES MULTIPLIED OR INCREASED. The Contest and the Midpen's website are provided "as is" without warranty of any kind, either express or implied. 
Midpen is not responsible for any incorrect or inaccurate information, whether caused by website users or by any equipment or programming associated with or utilized in the Contest, or by any technical or human error that may occur in the processing of submissions to the Contest, including but not limited to any misprints or typographical errors. Midpen assumes no responsibility for any error, omission, interruption, deletion, defect, delay in operation or transmission, communications line failure, theft or destruction or unauthorized access to, or alteration of entries. Midpen is not responsible for any problems or technical malfunction of any telephone network or lines, computer equipment, servers, providers, computer on-line systems, software, or failure of email on account of technical problems or traffic congestion on the Internet or at any website, including injury or damage to participant's or to any other person's computer related to or resulting from participating or uploading images or information in the Contest. 
If, for any reason, the Contest is not capable of completion as planned, including but not limited to, any reason of infection by computer virus, bugs, tampering, unauthorized intervention, fraud, technical failures, or any other causes beyond the control of Midpen that corrupt or affect the administration, security, fairness, integrity, or proper conduct of the photo competition, Midpen reserves the right at its sole discretion to cancel, terminate, modify, or suspend the Contest. 
QUESTIONS 
Questions and inquiries about Contest rules can be emailed to info@openspace.org. 
Image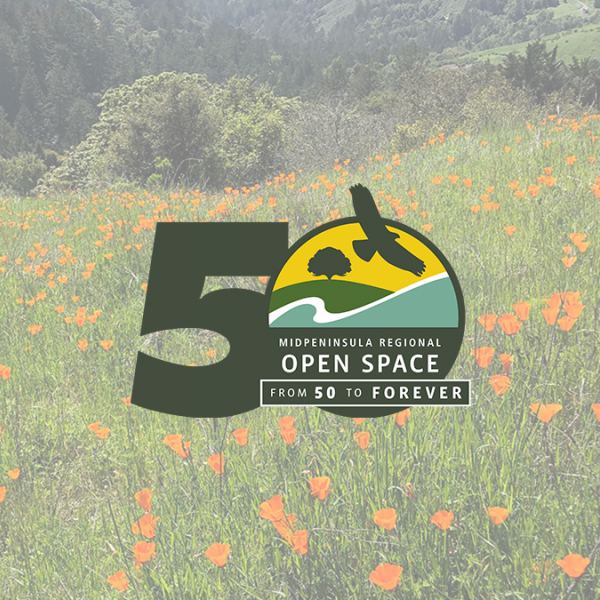 Caring for the Land that Cares for Us. Fifty years ago, our community prioritized clean air and water, healthy habitats for diverse native plants and animals, ecosystems that are resilient to the effects of our changing climate and places for people to connect with nature – that's what Midpen provides in perpetuity.