Thanks to local voters who passed Measure AA, we're hard at work preparing to open Bear Creek Redwoods Open Space Preserve to the public for the first time in 2019. We're creating a new entrance with a 50-space parking area off Bear Creek Road, an easy-access path around a historic pond, interpretive signs and six miles of new trail crossing creeks and traversing redwood and mixed hardwood forests in the Santa Cruz Mountains.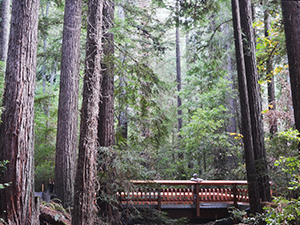 Through a partnership with the Santa Clara Valley Water District, we're also removing invasive plants like English ivy, French broom and Himalayan blackberry from the creek banks and forest understory. This improves water quality downstream and habitat for native plants while benefitting rare and protected wildlife that call Bear Creek Redwoods Open Space Preserve home such as California giant salamanders, Santa Cruz black salamanders and western pond turtles.
This is the first of several phased public access projects in Midpen's 20-year plan to restore the 1,432-acre preserve's natural environment and provide opportunities for the public to connect with nature and discover local history. Stay tuned as grand opening plans begin taking shape. We're excited to share this public open space preserve with you. Learn more at www.openspace.org/BCR.