Location | Preserve Plan | Bear Creek Stables | Alma College | E-mail List
Location and Background

The 1,432-acre Bear Creek Redwoods Open Space Preserve is located three miles south of Los Gatos. The preserve features shaded fir and redwood forests, cool perennial creeks and spectacular views of the Sierra Azul Range. It was slated to become a golf course with luxury homes during Silicon Valley's first tech boom, until a public-private partnership led by Midpen and the Peninsula Open Space Trust changed the course of history, protecting the land forever as public open space.
Thanks to supporters of the 2014 Measure AA open space bond, Midpen is able to protect and restore these lands for the enjoyment of future generations.
Bear Creek Redwoods Preserve Plan
In 2017, Midpen completed the Bear Creek Redwoods Preserve Plan, a long-term use and management plan for the preserve. Stewardship actions, including habitat restoration, erosion reduction to protect the watershed and cultural resources protection are given the highest priority. The preserve plan also includes three new parking areas, new and reconstructed hiking and equestrian trails and a multi-use trail connecting Lexington Basin to the Skyline-Summit Area, to be implemented in three phases.
The first phase of public access improvements to the western area of the Preserve is now open. Hikers and equestrians can access trails in the Phase I area.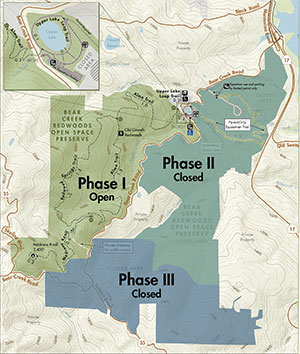 Phase I (2017- 2020):
Six miles of new hiking and equestrian trails in the western area
New parking area, trailhead and accessible vault-toilet restrooms
New pedestrian crossing at Bear Creek Road to access trails
Upper Lake Loop Trail easy-access interpretive walk
Webb Creek bridge replacement for emergency and patrol access
Restoration, including invasive species removal, drainage improvements to reduce erosion, and lake enhancements
Bat habitat replacement
Site security and design for former Alma College site rehabilitation
A $200,000 grant from the Santa Clara Valley Water District is allowing Midpen to remove invasive plants from 55 acres of forest understory, creek corridors and pond edges in Bear Creek Redwoods Open Space Preserve, creating a healthier watershed for people and wildlife. Find out more.
Future Phases (4-20 years)
Approximately 15 miles of future hiking and equestrian trails in the eastern area
Future multi-use, through-trail connections to Lexington County Park and the Skyline-Summit area for hiking, equestrian and bicycle use
Bear Creek Stables repairs
Rehabilitation and opening of former Alma College site
New trail connection to Summit Road in the eastern preserve zone
Further restoration and habitat enhancement of ponds and aquatic habitats
New parking area in northeastern area