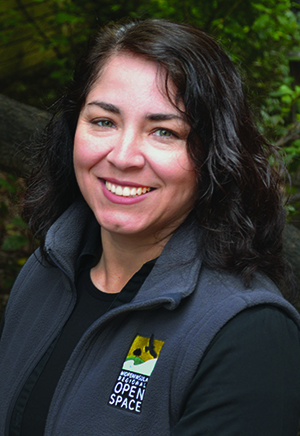 Reflecting on our fiscal year that ended June 30, 2021, Midpen's role in public safety was front and center. As the pandemic wore on, we continued to prioritize protecting staff and visitors, so our preserves could remain open as safe, outdoor spaces. We experienced record visitation, including many first-timers. We also brought nature closer to home with 80 interpretive videos and a livestream camera at the Daniels Nature Center and Alpine Pond.
As people marched in solidarity for racial and social justice, the Midpen board of directors passed a resolution reiterating our commitment to diversity, equity, and inclusion, affirming that nature is essential to all people. I launched two staff committees focused on community outreach and partnerships and recruitment, hiring and staff development to seek new ideas and strategies.
In the face of climate change, decades of fire suppression, and another year of drought, Midpen is directing unprecedented staff and financial resources to preventing and preparing for increased fire risk. We developed our Wildland Fire Resiliency Program that allows us to increase our ecologically sensitive vegetation management. We remain ready to respond to fires if they do occur. When the CZU Lightning Complex fire burned on nearby lands, Midpen fire-trained staff assisted Cal Fire in holding the fire at Old Haul Road. During these same lightning storms, Midpen rangers extinguished four fires that sparked on District lands.
Despite these challenges, it was a productive year in furthering our mission of land conservation, natural resource protection and ecologically sensitive public access. Midpen protected another 686 acres in perpetuity and expanded regional trail connections at several preserves: completing the small-but-mighty San Francisco Bay Trail connection at Ravenswood Preserve and supporting the Saratoga-to-the-Sea Trail. We removed numerous accessibility barriers to improve access for people with different physical abilities, began evaluating potential e-bike use, and explored new strategies to improve transit, bicycle and pedestrian access to popular preserves.
Staff completed field work to improve native habitats and in support of the Highway 17 project to create safe trail and wildlife crossings. We worked with researchers to study key species and inform our land management decisions: the endangered marbled murrelet in conifer forests; a migrating newt population at Sierra Azul Preserve; and two California species of special concern that depend on preserved grasslands: the burrowing owl and American badger. We also began a multiyear study of mountain lions at preserves near urban areas.
We closed the year by exploring a new partnership with Santa Clara County for enforcing a ridgeline easement that ensures Lehigh Quarry operations do not impact neighboring Rancho San Antonio County Park and Open Space Preserve. And last, but certainly not least, we secured nearly $10 million in grant funding to stretch our taxpayer funds in delivering projects and services for the public.
For a full recap of our fiscal year 2021 accomplishments, join us for the September 22 board of directors meeting.
Ana María Ruiz,

General Manager