Happy New Year! This year marks Midpen's 50th Anniversary and we invite you to celebrate with us! Read on to find out what's in store for 2022, learn about ongoing projects, find out about upcoming events and get public meeting updates.
A Tour Through Time
Image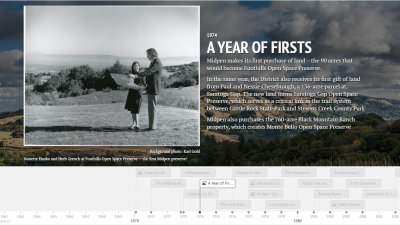 This year, Midpen celebrates 50 years of preserving, restoring and enjoying a 65,000-acre (and growing!) greenbelt of public open space. The foresight of local voters who came together in 1972 to pass the Measure R "Room to Breathe" Initiative, which founded Midpen to preserve the area's iconic cultural, working and scenic lands, is even more extraordinary today. The pandemic has provided opportunities for many to reconnect with nature and the plants, soils and hills on these lands represent key solutions for a changing climate. Clean air and water, healthy habitats for diverse native plants and animals, ecosystems that are resilient to the effects of our changing climate and places for people to connect with nature – that's what Midpen provides in perpetuity. Take a trip through time to celebrate the moments, people and partnerships that have brought us to where we are today.
See what we've accomplished together over the past 50 years!
---
Image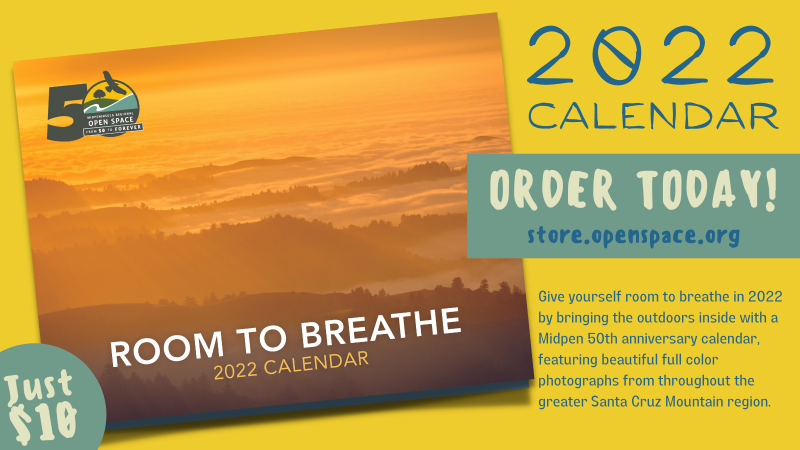 ---
Events & Activities
Due to ongoing pandemic precautions ALL activities require online reservations. No walk-up participation allowed. Masks are required when physical distancing cannot be maintained.
Docent-Led Guided Activities
All Preserves Great & Small
January 14 - Sierra Azul Preserve
January 23 - Ravenswood Preserve
February 11 - Thornewood Preserve
To celebrate Midpen's 50th Anniversary in 2022, docent naturalists are offering an "All Preserves Challenge" hike series that includes opportunities to visit all Midpen preserves. Join one of these guided experiences to explore what makes each preserve a special place. More walks will be coming your way throughout the year!
Signs of Winter
January 18 - Pulgas Ridge Preserve
Enjoy a morning hike to look for signs that winter has arrived. Watch for dusky-footed woodrat nests and trees displaying berries and nuts along the Blue Oak and Dick Bishop Trails. 
---
Volunteer Projects
Sometimes a little time outdoors caring for the planet is just what you need! Join Midpen staff for a fun workday for new volunteers. Staff will provide training on plant identification, removal techniques, and information about why we remove invasive plants from our local landscape. The projects below are excellent for first-time volunteers, but there are opportunities for many skill levels!
 
Habitat Restoration/French Broom Removal 
January 22 - Bear Creek Redwoods Preserve
February 12 - Bear Creek Redwoods Preserve
Staff will provide training on plant identification, removal techniques, and information about why we want to remove French broom from our local landscape. This project is an excellent opportunity for first-time volunteers! 
---
Image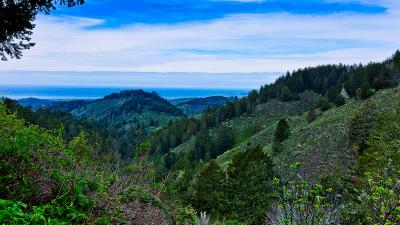 Public Access Projects at Purisima Creek Redwoods Preserve
Multiple public access-related projects are happening at Purisima Creek Redwoods Open Space Preserve to keep you updated on. On December 1, the Midpen board of directors held a virtual public meeting for interested community members to learn about and provide input on the multiyear planning process for the long-envisioned Purisima-to-the-Sea Trail that will connect the Bay Area Ridge Trail in Purisima Creek Redwoods Open Space Preserve to the California Coastal Trail, and improve parking capacity for this preserve.

Midpen staff shared opportunities and constraints compiled from completed technical studies and trail-scouting efforts, along with a draft of the project's vision and goals. Participants gave feedback on a variety of topics including priority planning considerations, strategies to achieve the project goals and multimodal access during Zoom breakout sessions. Learn more and sign-up to stay informed at our Purisima-to-the-Sea Trail project page. 

Staff also presented an update on the Purisima Multimodal Access Study, which is identifying strategies to manage parking and visitation demand at this popular preserve. January is the last opportunity to take our public survey and help us better understand challenges visitors encounter and collect ideas that will help inform solutions. Learn more and take the survey at our Purisima Creek Redwoods Multimodal Access project page. 
---
New Year, New Wildland Fire Resiliency Projects
Midpen works year-round to prevent, prepare for and respond to wildland fire. One of the main ways we do this is by working to restore healthy, fire-resilient ecosystems. Beginning this week, our partners at Ecological Concerns are hard at work creating a new fuel reduction area for ecosystem resiliency and forest health in Midpen's Thornewood Open Space Preserve. The work, along the first half-mile of the Schilling Lake Trail, includes removal of nonnative invasive species such as periwinkle and acacia, and thinning of Douglas firs less than 10 inches in diameter, as well as other small trees less than eight inches in diameter.
The project is supported by a grant from the State Coastal Conservancy. No parking area, road or trail closures are expected during the work.
---
Donations
Donations and gifts from generous individuals and organizations help protect and restore open space, and enhance visitor experience in the preserves.
We missed a few donations when we published our acknowledgements in November. We've updated the information and we apologize for the oversight.

Thank you to our donors!
---
Board Meeting Updates
The Science of Balancing Recreation and Environmental Protection 
Here at Midpen, trails are one of the things we do best, along with environmental preservation and restoration. We approach balancing these goals using the best-available science.
At a public meeting on December 8, our Science Advisory Panel shared their findings on the impacts of recreation on the environment with Midpen's board of directors and the public. Previously, the panel had researched the benefits of recreation in nature. Together, the information provided will be used to help inform decision-making as Midpen works to balance all aspects of our mission. For more information and to read the report, visit openspace.org/science-panel.
---
Midpen Board to Select Redistricting Map to Consider for Adoption
Midpen's once every 10-year redistricting process to balance ward representation continues. In October 2021 the Midpen board of directors selected three draft maps to consider for adoption and solicited public feedback on those options. At a public meeting on January 26, the board will consider feedback and choose a preferred redistricting map which will be brought back for a public hearing on March 23 to consider for adoption. Information about redistricting and the draft maps up for consideration can be found at openspace.org/redistricting.
---
Upcoming Public Meetings
January 11: Bond Oversight Committee
January 12: Board of Directors
January 18: Legislative, Funding and Public Affairs Committee
January 26: Board of Directors
Currently all Midpen board meetings are held via teleconference only. The meetings may be viewed online. Links to the meetings are posted with each agenda. There is also a dial in number to listen by phone. Links are included in the meeting agendas posted online 72 hours before the meeting.

Members of the public may provide written or oral comments by submitting a public comment form.