Your Coastside Open Space
Midpen is celebrating 15 years of partnership with the Coastside community. Since our boundaries expanded to include the San Mateo County Coast in 2004, Midpen has protected more than 11,000 acres of natural and agricultural lands that contribute to the area's rural identity, natural beauty and quality of life.
Midpen Coastside Mission

To acquire and preserve in perpetuity open space land and agricultural land of regional significance, protect and restore the natural environment, preserve rural character, encourage viable agricultural use of land resources, and provide opportunities for ecologically sensitive public enjoyment and education.
Coastside Protection Area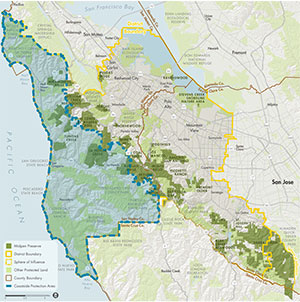 In the 1990s, as development pressure threatened the Coastside's scenic beauty, rural character and agricultural heritage, Coastsiders expressed their support for extending the Midpeninsula Regional Open Space District boundaries to include the San Mateo County Coastside. In 2004, the coast to ridgeline, from Montara to the San Mateo Santa Cruz county line, officially became Midpen's Coastside Protection Area. Our Coastside Protection Area Service Plan, which we spent more than seven years developing in collaboration with Coastside residents and agricultural community, guides our work in the region.
Funding
In 2014, voters passed Measure AA, a 30-year, $300 million bond funding open space projects in Midpen's community-supported Vision Plan, including dozens of Coastside preservation, restoration and public access projects. Coastside property tax payers contribute to Measure AA. Midpen's remaining funding comes from a small share of property tax on ridgeline and bayside properties within our service area.
---
---
Measure AA
To date, more than $16 million in Measure AA funding has been invested in Coastside open space and agricultural preservation, restoration and public access projects. These include:
Funding habitat restoration, watershed protection and conservation grazing projects at Purisima Creek Redwoods, La Honda Creek and Miramontes Ridge preserves.
Supporting local ranching and farming families in viable agriculture including 11,000 acres in conservation grazing, and seven acres of row crops
Offering environmental education programs at local schools.
Opening La Honda Creek Preserve to public access in 2018, and improving public access at Purisima Creek Redwoods.
Current and Future Projects
Planning the Purisima-to-the-Sea Trail to connect Skyline Boulevard to Cowell Ranch State Beach.
Removing abandoned oil facilities at the newly purchased Purisima Creek Uplands property
Expanding the trail system at La Honda Creek Preserve to provide new loop opportunities
Restoring Mindego Pond in Russian Ridge Preserve to support sensitive aquatic wildlife and grazing livestock at Mindego Ranch.
See the complete list of Measure AA-funded Coastside projects in the Welcome to Your Coastside Open Space brochure.
SERVICE PLAN
Midpen worked with multiple stakeholders to develop the Coastside Protection Area Service Plan (Service Plan). Through the Service Plan the District is committed to:
Protect watershed integrity and water quality
Protect sensitive resources such as habitats for special-status species
Provide key links to existing District and other public open space and park lands
Provide visitor-serving facilities (unpaved trails and small, gravel-surfaced parking lots) for low-intensity recreation (hiking, bicycling and horseback riding)
Support development of an integrated regional trail system coordinated with the San Mateo County Trails Plan
Provide opportunities for scientific research, resource conservation demonstration projects, outdoor environmental education programs, and interpretive programs, and
Preserve existing and potential agricultural operations in order to keep the maximum amount of prime agricultural land and other lands suitable for agriculture in agricultural production
CONSERVATION GRAZING PROGRAM
Midpen manages approximately 11,000 acres of grazing lands with 8,011 acres located in the coastal area, and 2,034 acres in the District's original boundaries on the former McDonald Ranch at La Honda Creek OSP and the Big Dipper/Silva Ranch at Skyline Ridge OSP. In addition, the District has purchased 33 acres of agricultural land including 31 acres of row crops and 2 acres of tree farm. Following the development of the Grazing Management Policy, the District began livestock grazing as a resource management tool. The District now administers 10 grazing leases and 3 agricultural leases in the coastal area to ensure that these lands remain in sustainable agricultural production consistent with Board policy and the Coastside Protection Area Service Plan.
PUBLIC ACCESS PROJECTS
Mindego Gateway public parking and access was completed in 2014, and the Ancient Oaks Trail connection to Russian Ridge Open Space Preserve was completed in 2015. The completion of the Mindego Hill Trail to the top of Mindego Hill is expected to open in 2016 once cattle grazing is reintroduced to the area.
The La Honda Creek Open Space Preserve opened to the public in 2018 with ten miles of trail. Eventually, we will open over 25 miles of new trail, including 9.3 miles of multi-use trail open to bicycles, and 16.7 miles of hiking and equestrian only trail. Trails in the northern portion of the preserve, which is grazed, opened to dogs on leash by permit only in 2019.
SAN MATEO COUNTY FARM BUREAU
In January 2004, Midpen's Board of Directors approved a Memorandum of Understanding in which we agreed to consult with Farm Bureau on new land purchases and public access projects to avoid adverse impacts to adjacent agricultural operations.
LA HONDA - PESCADERO SCHOOL DISTRICT
In March of 2004, the District entered into an Agreement with La Honda – Pescadero Unified School District to meet the following goals:
1. Tax Compensation Fee – For lands purchased in the School District boundaries and within the Coastside Protection Area, the District will pay a service fee to offset tax revenues received by the School District. These fees will increase annually by 2%.
2. Environmental Education – The District will work with the School District to support environmental education such as " field trips to local fish habitat or a study of erosion control methods".
The term of this Agreement is 20 years and in year 19 (2023), the District and School District are to begin negotiations on a Successor Agreement.
SAN MATEO COUNTY FIRE SERVICE
In March of 2004, the District entered into an Agreement with San Mateo County regarding Fire Services to meet the following goals:
1. Fire Service Fee – For lands purchased in the County's District boundaries not covered by Cal Fire's State Responsibility Area, and within the Coastside Protection Area, the District will pay a service fee to offset tax revenues received by the County. These fees will increase annually by 2%.
2. County will provide Fire and Medical Services on District lands within the Coastside Protection Area.
3. District and County have entered into a Mutual Aid Agreement.
4. District will consult with County on its Fuel Management Program.
5. District will consult with County on installation of additional water resources for fire suppression.
This agreement was renewed in March 2019.
GOOD NEIGHBOR POLICY
The purpose of the Good Neighbor Policy is to establish guidelines and principles for ensuring good relationships between the District and its neighbors. In both the day-to-day conduct and in the long-range planning for public open space preserves, the District will make every effort to cooperate with neighbors, to take into account their perspectives, address their concerns, and engage and involve them in the process of making decisions regarding the public preserves.
For more information about the services provided by the District under the Coastside Protection Program, please download the Service Plan.
San Mateo Coastal Annexation - Final Environmental Impact Report