Overview | Updates | Schedule | Funding | E-mail List
Project Update

Before the pandemic, we were making great progress constructing this small-but-mighty new segment of the San Francisco Bay Trail. The 0.6-mile trail will close a critical gap connecting 80 continuous miles of the Bay Trail and will provide the surrounding community with a bridge to nature.

"The current health crisis has underscored how essential Midpen preserves are for providing free and safe public access to nature for mental, emotional and physical health," Midpen General Manager Ana María Ruiz said. "This small trail will provide big benefits to the community."
A new sidewalk along University Avenue will connect with the new trail and its bayland views, educational signs and a raised boardwalk and bridge across salt marsh wetlands.

While construction was temporarily slowed by the recent shelter-in-place orders, we are hoping to finish the project and open it to the public later this summer. Join our email list to receive information about the trail opening.
Location and Background

The Ravenswood Bay Trail project will complete a 0.6-mile critical gap in the San Francisco Bay Trail on the peninsula, between University Avenue and Ravenswood Open Space Preserve. Completing this trail gap will connect 80 miles of continuous Bay Trail connecting from Menlo Park to Sunnyvale and across the Dumbarton Bridge to the East Bay.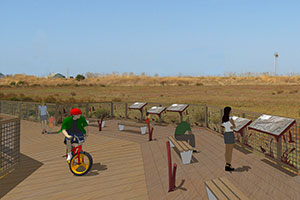 The new trail segment will provide:
improved access to the bay for the East Palo Alto and Menlo Park communities
opportunities for outdoor enthusiasts, including hikers, joggers and bicyclists
a setting for wildlife viewing and environmental education
important commute alternatives for cyclists
San Francisco Bay Trail

The San Francisco Bay Trail is a planned 500-mile walking and cycling path around the entire San Francisco Bay running through all nine Bay Area counties, 47 cities and across seven toll bridges. With over 350 miles in place, the Bay Trail connects communities to parks, open spaces, schools, transit and to each other, and also provides a great alternative commute corridor. Established in 1989, the Bay Trail is celebrating its 30th anniversary.
Construction
The project involves both trail construction and wetlands restoration including:
Redwood boardwalk and bridge over sensitive wetlands
New and resurfaced asphalt multi-use trail through the preserve between University Avenue and Bay Road
Concrete sidewalk linking the University Village neighborhood to the new trailhead at University Avenue
Interpretive educational panels
Restoration seeding along new trail
High-tide refuge islands for wildlife within Cooley Marsh.
Vegetation planting of high-tide transition zone along the levee Bay Trail.
A Mitigated Negative Declaration and Initial Study for the Ravenswood Bay Trail Connection Project was approved on November 16, 2016.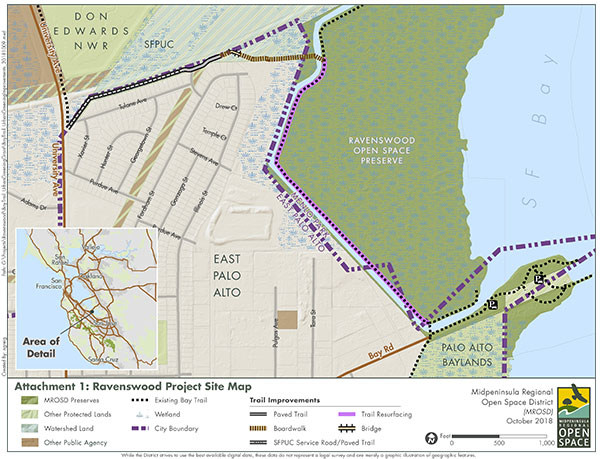 Project Schedule
| | |
| --- | --- |
| 2017-2019 | Design and Engineering |
| 2018-2019 | Permitting |
| 2019-2020 | Construction |
Funding Partners
This project is funded by Midpen Measure AA funds to help complete Vision Plan Portfolio #2 – Build New Bayfront Trails. Partners provided additional funds for:
Trail Planning
- Association of Bay Area Governments/Coastal Conservancy: $40,000
Trail Design and Permitting
- County of San Mateo Measure K: $1,000,000
- Santa Clara County Measure A: $400,000
Trail Construction
- California Natural Resources Agency – Urban Greening Grant: $1,055,328
- Facebook: $300,000
E-mail List