Background
Midpen set out in 2012 to chart a course for the next 40 years and beyond with Imagine the Future of Open Space, an 18-month public visioning process designed to help Midpen focus, inspire, and coordinate open space conservation and management on the San Francisco Peninsula, San Mateo Coast, and South Bay regions.
The Vision Plan below, which includes the full report, a summary, and other material, articulates the core values of the region about open space — the results of an extensive process that provided a current look at the values and opinions of community stakeholders, combined with the results of extensive scientific study.
Vision Plan Documents
The Vision Plan and Conservation Atlas recently won 3rd Prize in the Map Series and Atlas category at the 2016 Esri International Users Conference Map Gallery. Competition was fierce — the display of entries from around the world took up a convention hall the size of a football field! Congratulations to all the dedicated staff who worked on this project.
The Vision Plan Report consolidates community feedback, along with analysis findings, and priority actions prepared by Midpen during the development of the Vision Plan.
The Vision Plan Summary Report focuses on the highlights of the Vision Plan organized by its themes.
The Conservation Atlas contains maps that illustrate many of the resources, conservation values, and opportunities identified in the planning and analysis assessments conducted for the Vision Plan.
Appendices
These appendices are a collection of technical and planning documents prepared during the Vision Plan process, including but not limited to reports describing the existing conditions, assessing the variety of open space resources, and identifying opportunities for action within the Vision Plan area.
These documents informed the development of the Vision Plan, and provided the scientific and qualitative data, summarized community and stakeholder input, and consolidated other important background information to guide the development of the Vision Plan's goals and priority actions. These appendices also provide a basis for implementing the Vision Plan, serving as the starting point for gathering additional, more detailed information to support site-specific projects.
These reports are not intended to replace Midpen's adopted policies and land use plans, nor describe final decisions of the Board. Instead these reports provide a baseline of existing conditions to build upon later with additional evaluations and findings.
Appendix A: Vision Plan Work Plans
Appendix B: Community Conversations Report
Appendix C: Healthy Nature Planning and Analysis Reports
Appendix D: Recreation and Education Report
Appendix E: Natural, Cultural, and Scenic Resources Planning and Analysis Reports
Appendix F: Working Lands Planning and Analysis Report
Appendix G: Public Deliberation Report
Interactive Story Map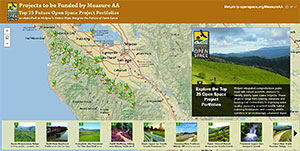 Following the board's approval of the Vision Plan in February 2014, Measure AA was approved by the voters in June 2014. This $300 million general obligation bond will fund the land conservation, public access, and restoration project components of the Top 25 Vision Plan Priority Actions.