Image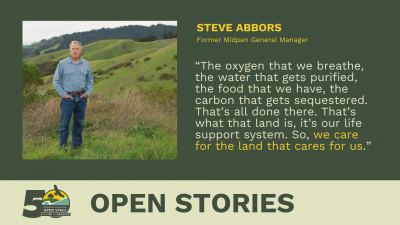 Former Midpen General Manager Steve Abbors is a naturalist at heart. In conversation he casually throws out facts about birds and butterflies. He logs hundreds of trail miles per month.
Caring for the land was a main driver throughout his career. "If you look at a map of the Bay Area, it's surrounded by this great, green area of land in public ownership," Abbors explains.  "The oxygen that we breathe, the water that gets purified, the food that we have, the carbon that gets sequestered. That's all done there. That's what that land is, it's our life support system. So, we care for the land that cares for us."
After growing up and spending the majority of his career in the East Bay with lengthy stints at East Bay Regional Parks and the East Bay Municipal Water District, Abbors moved across the bay and finished out his career as Midpen's general manager from 2008 through 2017.
While at the helm of Midpen, Abbors led the District in the creation of a public vision plan, working together with the public to chart a 40-year course forward. This plan helped Midpen realign our focus to equally embrace all elements of our braided mission: preservation, protection, education and enjoyment. The subsequent passage of Measure AA, a $300 million general obligation bond approved by voters in 2014, followed, and allowed Midpen to complete, among many other projects, the long-awaited opening of the Mount Umunhum summit in 2017.
In one of his final acts as General Manager, Abbors oversaw the creation of a conservation easement over the Mount Umunhum summit with the Amah Mutsun Tribal Band. Mount Umunhum is a sacred site to the Amah Mutsun people and is central to their creation story. "We view the conservation easement a unique opportunity, and a responsibility, to help reconnect the Amah Mutsun people with their culture. That connection, to their culture and the land that supported it, was severed centuries ago," Abbors said when the agreement was first approved.
When asked to name his favorite preserve or trail, Steve hesitates before calling out the former PG & E Trail in Rancho San Antonio Preserve – now named the Stephen E. Abbors Trail. During his time at Midpen, Steve hiked this trail nearly every day after work. "You get a lot of exercise, but it's also a place where you can see wildlife…rabbits, deer and pale swallowtail butterflies," Steve remembered.
Once a naturalist, always a naturalist.