In honor of our 50th Anniversary, and to help tell the story of 50 years of open space protection, restoration and enjoyment, we are delighted to bring you this series we're calling Open Stories, a collection of conversations about the many ways to connect with nature and your public open space.
Image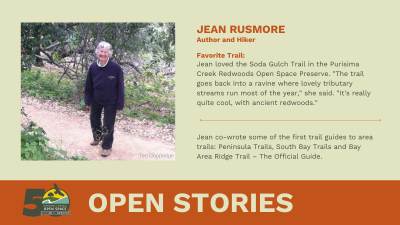 In her 101 years on this earth, Jean Rusmore did much to promote the preservation of open space. She contributed to her local neighborhood, community and to the larger world through hiking, writing and advocating for the environment.
Rusmore was the San Mateo County Advocate for Committee for Green Foothills in the 1960s. "Her enthusiasm, warm smile and laughter were tremendous assets in convincing decision makers to protect the Skyline and coastal areas of San Mateo County." said Green Foothills' Legislative Advocate Lennie Roberts.
Image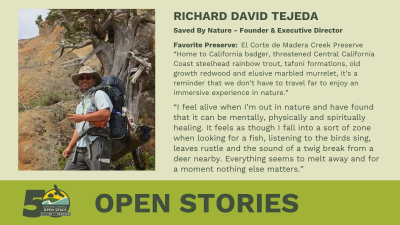 Richard Tejeda knows first-hand the power of nature to transform a life. While growing up in South San Jose he became familiar with the revolving-door system many youth and adults can suffer due to social injustice. "I was surrounded by negativity like drug dealers, drug addicts—including family members," he says. "Nature literally saved my life. I was supposed to be a statistic, but I couldn't let that happen. I had to reinvent myself, and nature was a positive escape from the everyday negativity of my neighborhood."
Image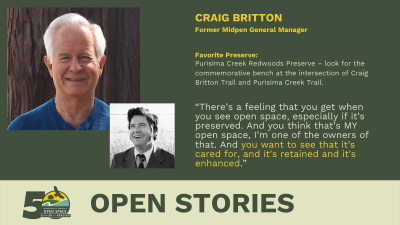 Much of the land protected by Midpen can be attributed to the efforts of former General Manager Craig Britton. After joining Midpen in 1977 as land acquisition manager, Britton was promoted to assistant general manager in 1979 and served as the District's second general manager from 1994 until his retirement in 2008. During his time at Midpen, the District grew from just eight preserves to the 26 we now own and manage!
Image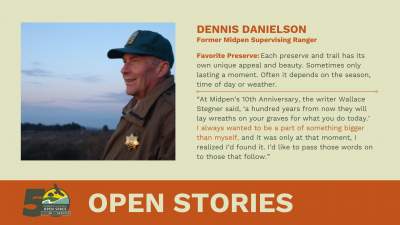 Dennis Danielson joined the Midpeninsula Regional Open Space District as a ranger in 1979, joining some of the first to be hired by newly formed agency. "When I was hired there was no maintenance staff so the ranger staff 'did it all'. We were the ambassadors and face of the District. Building and maintaining trails was a major element as well as enforcing the regulations, responding to emergencies and providing information to visitors."  
Image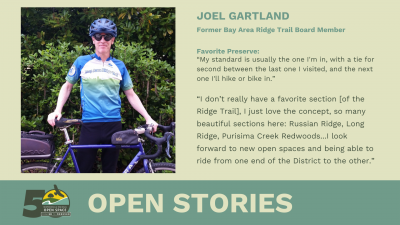 As a Bay Area transplant, Joel Gartland was looking for ways to get to know the region. What he found was the Bay Area Ridge Trail. Enamored by the vision of circumnavigating the San Francisco Bay through connected hiking and cycling trails on the region's ridgelines, he began attending meetings, learning about different trails, preserves and areas to explore. His curiosity propelled him to begin participating in volunteer events, join the Board of Directors and eventually become the organization's Volunteer and Events Coordinator.
When he worked for the Ridge Trail, Gartland partnered closely with Midpen staff. "I was consistently impressed," he said. "We did large trail events and numerous volunteer trail workdays with the District." One annual event he organized, Ridge Trail Cruz, organized hikers, bicycle riders and equestrians to travel along the Ridge Trail through Russian Ridge Open Space Preserve, Skyline Open Space Preserve, Long Ridge Open Space Preserve, Castle Rock State Park and multiple county parks.
Image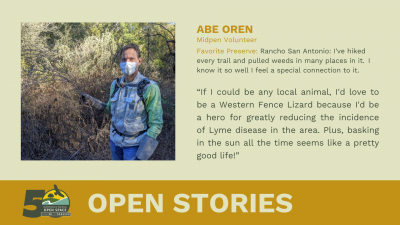 April is #NationalVolunteerMonth, and in some areas, wildflowers are blooming more profusely as a direct result of the work of our many indispensable volunteers. Abe Oren is one of those volunteers!
He began his journey as a Midpen volunteer a few years ago when he joined a volunteer group project removing French broom at St. Joseph's Hill Open Space Preserve. "It was a blustery day with a bit of rain, and we were pulling big broom plants up to 10 feet tall," said Abe. "It was hard work and muddy, but from that first day I was hooked!"
Image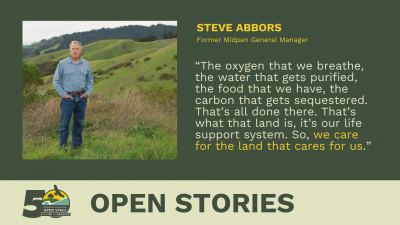 Former Midpen General Manager Steve Abbors is a naturalist at heart. In conversation he casually throws out facts about birds and butterflies. He logs hundreds of trail miles per month.
Caring for the land was a main driver throughout his career. "If you look at a map of the Bay Area, it's surrounded by this great, green area of land in public ownership," Abbors explains.  "The oxygen that we breathe, the water that gets purified, the food that we have, the carbon that gets sequestered. That's all done there. That's what that land is, it's our life support system. So, we care for the land that cares for us."
Image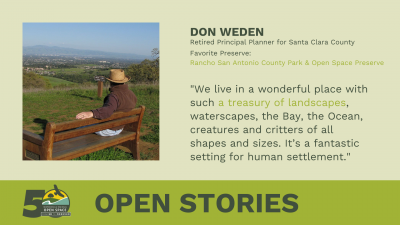 Perched high above the sprawling neighborhoods, downtowns and business districts of Silicon Valley, Don Weden often thinks about balance. The need for intelligently designed urban cores needs to be juxtaposed by nearby, easily accessible open space. "I've always been drawn to the 30,000-foot view," he said as he explained both his penchant for sweeping vistas and his career in long-range planning.
In his 32 years as a Planner for Santa Clara County, Weden has been involved in crafting Master Plans for the County and Midpen, helping guide the future of the region. "Fifty years ago, most of the regional parks, trails and public open space lands did not exist," he said. "We have an excellent ecosystem in this county of agencies, advocates and nonprofit organizations that helped create and now expand open space preservation." The key efforts and decisions made in the 1970s laid the roots for subsequent successes.
Image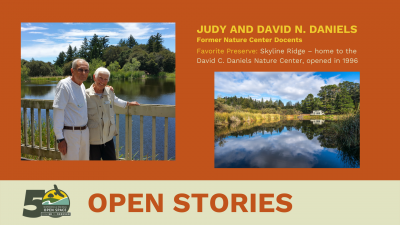 As we prepare to welcome visitors back to the David C. Daniels Nature Center next Saturday, April 2, this week Open Stories remembers Judy and David N. Daniels.
As nature center hosts and significant contributors to Midpen, Judy and David felt honored to welcome countless weekend visitors to the David C. Daniels Nature Center (established and funded in large part by the Daniels' and named in memory of their son).
Image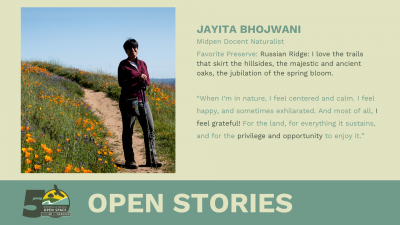 Shortly after moving to the Bay Area to work in tech, Jayita Bhojwani took a hike that would change the course of her career.
"I had signed up to attend a docent-led wildflower hike at Russian Ridge and came back completely awed – by the enormity of Midpen's story of the land they'd protected, by the magnificence of the vistas, and by the wildflowers, which felt nothing short of miraculous," said Jayita.
Image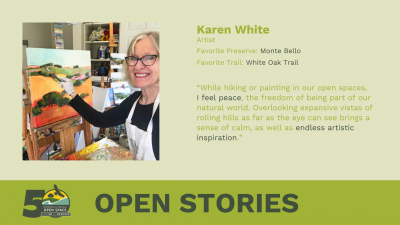 Karen White's oil paintings capture the vibrant color of Bay Area open space through every season. Not only does Karen paint scenes depicting open space, but she also paints outdoors in open space. She will often paint small color studies "en plein air," and then return to the studio to create larger, stylized versions of the small paintings she created while out in open space.  
According to Karen, "painting Bay Area landscapes – Midpeninsula Regional Open Space Preserves, County parkland, community gardens and more – [is] part of who I am as an artist." She first discovered Midpen's preserves not as a painter, but as a parent. 
Image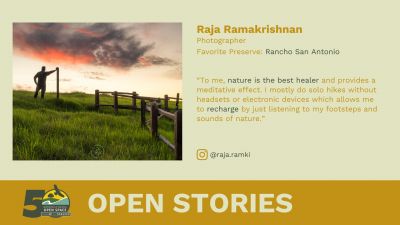 Raja Ramakrishnan travels the world with his camera, capturing nature "in its most pristine form." His photos show us glimpses from Singapore, New York, Vermont, Hawaii, and southern India's wash of lush green. From first light to nightscapes, backpacking camps to busy city streets and lighthouses to cathedrals, Raja calls himself the chaser of light. Luckily for us, Midpen is one of his regular chasing grounds. His first preserve visit was to Rancho San Antonio Open Space Preserve back in 2004. 
Image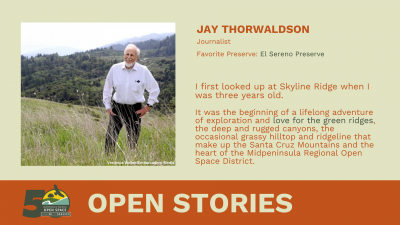 Growing up in Los Gatos below what is now Midpen's El Sereno Open Space Preserve, Jay Thorwaldson learned to ride a horse when he was just 3 years old. He spent his childhood riding the ridges and valleys of the Santa Cruz Mountains, exploring from Mount Umunhum to the town of Alma, now under Lexington Reservoir. Growing up with near unlimited access to these hillsides instilled in him the importance of permanently protecting the land for future generations. 
Image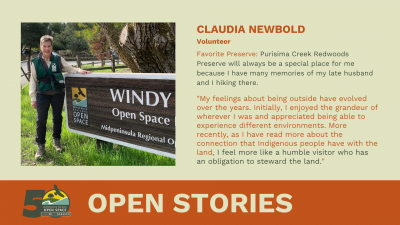 After retiring from a career in finance in 2001, Claudia Newbold wanted to "do something useful." This meant finding out how to help care for the open space that she loves so deeply. Claudia first became interested in protecting open space when she and her late husband were hiking the trails together and began attending some of Midpen's docent-led hikes.  
Image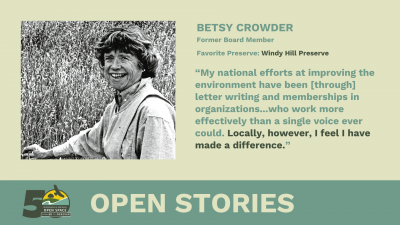 An advocate, environmentalist and public servant through and through, Betsy Crowder dedicated much of her life to the preservation and the restoration of natural habitats within the Santa Cruz Mountains. 
Her early love of the outdoors was sparked by her family's regular camping trips in the province of New Brunswick, Canada. A Boston native, she moved to the Peninsula in 1948 to attend Stanford University. While there, she began to understand the collective power of organized advocacy through her participation in multiple environmental and civic organizations such as the Audubon Society, Wilderness Society, Sierra Club, Nature Conservancy and the League of Women Voters.
Image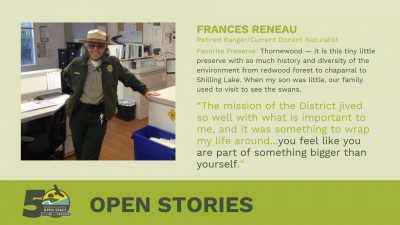 In 1998, Frances Reneau decided to reevaluate her life. "I was 43 and going through a midlife crisis in my career," she recalls, "I wanted a change." Having worked seasonally with Midpen in the past, she knew spending her time outdoors brought meaning to her life, but she wasn't sure which career path was right for her. After speaking with a few Midpen rangers, Frances decided to apply to be one of them. She got the job. 
Image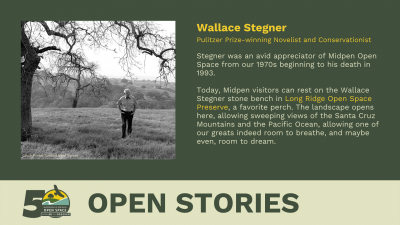 For this Open Story, we honor the late Wallace Stegner, Stanford's own Pulitzer Prize-winning novelist and dedicated conservationist. Stegner was an avid appreciator of Midpen Open Space from our 1970s beginning to his death in 1993. Given his place in history as one of the most venerable voices of the American West, it's easy to imagine how his time in the open space fed his passion for the sanctity of the outdoors. His 1960 "Wilderness Letter" helped Congress pass the 1964 Wilderness Act, establishing the national wilderness preservation system.
Image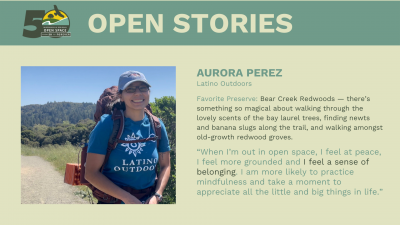 Born and raised in Southern California, Aurora Perez's earliest outdoor memories are of camping trips in the Angeles National Forest. She celebrated many birthdays together with her family amongst the trees, in the snow and under the stars.
Image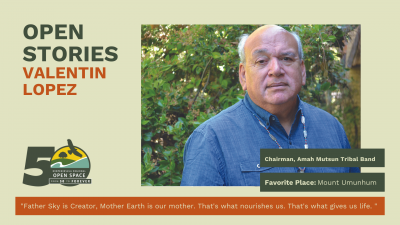 Valentin Lopez had recently been elected chairman of the Amah Mutsun Tribal Band when the elders paid a visit. They said we needed to get back to taking care of Mother Earth and all living things, Lopez explained. "We didn't know how we were going to do that because whenever we would look at the lands, we'd see 'private property,' 'keep out,' 'no trespassing,'" he said. "So, we did what we always do, we prayed. We prayed as a tribe, asking Creator to help us find a way back." 
Read More
---
Image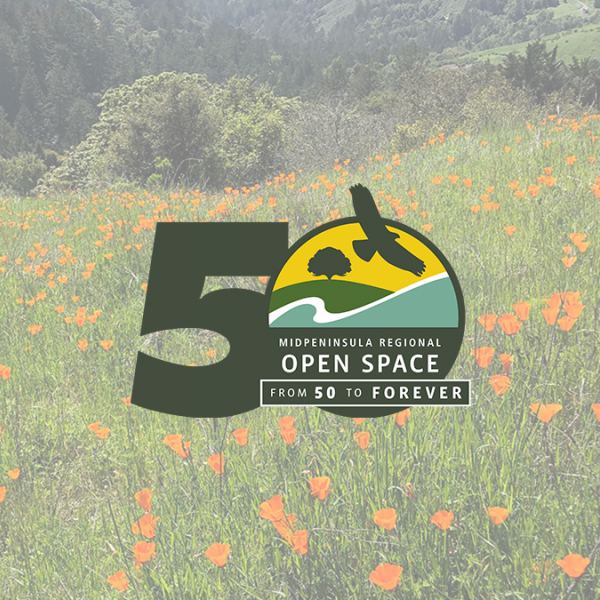 Caring for the Land that Cares for Us. Fifty years ago, our community prioritized clean air and water, healthy habitats for diverse native plants and animals, ecosystems that are resilient to the effects of our changing climate and places for people to connect with nature – that's what Midpen provides in perpetuity.