Looking south from the Monte Bello Preserve parking lot, you see almost no signs of civilization, just nature spreading out in front of you. The first part of the Stevens Creek Nature Trail, which can accommodate a wide array of physical abilities, takes you to a dramatic vista point and bench to sit and soak in the expansive rolling hills and oak woodlands of Stevens Creek Canyon, with the peaks of Mt. Umunhum and Loma Prieta in the distance. You are at the headwaters of Stevens Creek – here begins its 21-mile journey down the watershed, flowing into Stevens Creek Reservoir and then out to San Francisco Bay.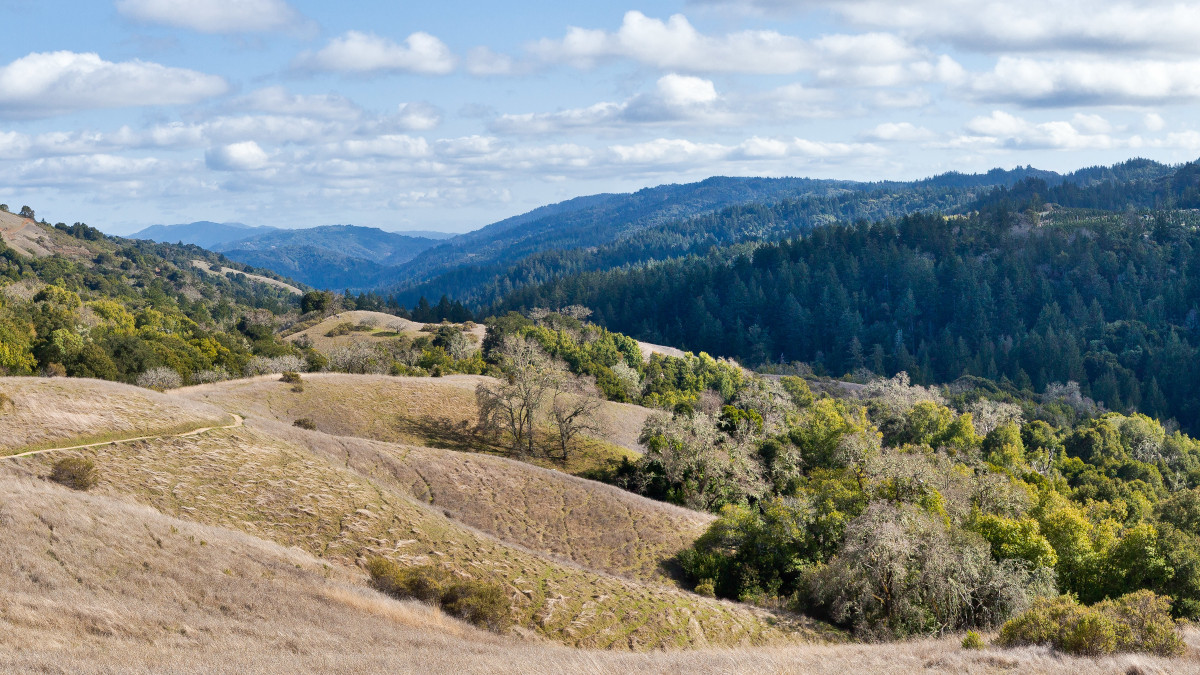 In total, the 3-mile loop of the Stevens Creek Nature Trail takes about three hours at a leisurely pace. From the bench, the trail descends 450 feet into a forested canyon to Stevens Creek itself and then continues along the creek before looping back and returning along the San Andreas Fault (on the Canyon Trail). Along the way, interpretive signs provide insights into the wonders around you.
As you continue along the trail under the canopy of bay laurels, madrones and tanoaks you will come to a point where Stevens Creek makes a wide S-turn before passing beneath a trail bridge. This can be a great spot to stop and experience the captivating sights and sounds of the rushing waters. Here's a video clip from the S-turn (turn on your sound for the full experience):
And here is a 360-degree photo, from the same spot (place your cursor over the image, click and drag to explore the image):
When the water is flowing after rain, you will pass by several small streams along the trail that connect into Stevens Creek, like fingers on a hand. Here is a video clip of one of these streams:
There are a number of bridges along the trail, giving you ample opportunity to stop and enjoy Stevens Creek from another vantage point.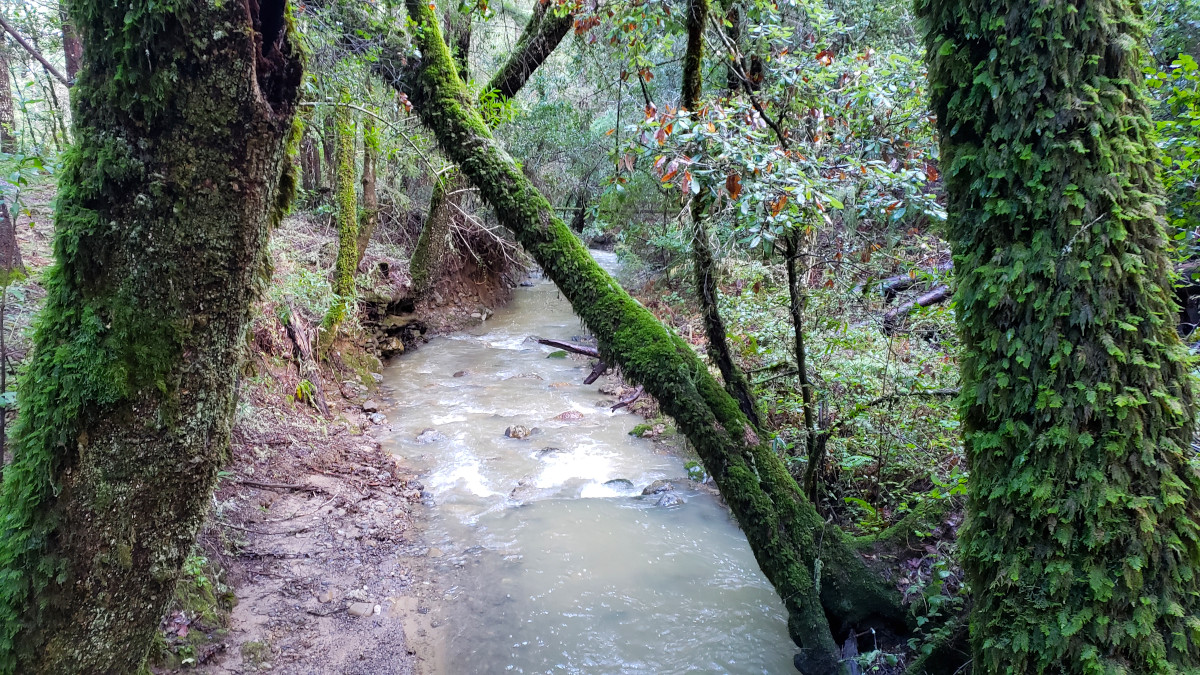 Watch your step and look in the shallow waters. You might discover some four-legged friends, like this newt, below. As a friendly reminder, streams and ponds are habitat for many wild creatures. To help protect them, and for your own safety, swimming, wading and other water activities are not allowed in Midpen preserves.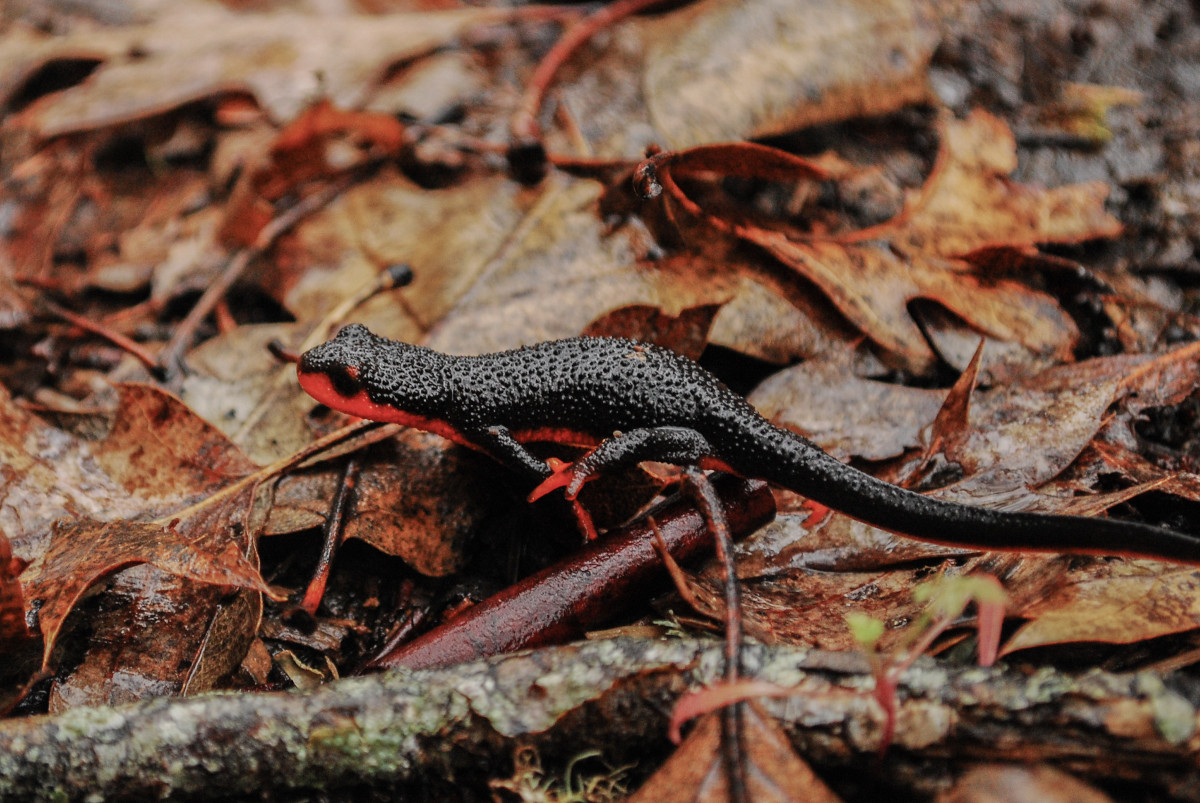 Ready to visit? See the Monte Bello Preserve page for directions, map, trail conditions, and more. And check out our Waterfalls and Water Wonders list for more great hikes.