Italian for "Beautiful Mountain," Monte Bello Open Space Preserve is a place of rolling grasslands, dense creekside forests and spectacular vistas. The preserve encompasses the upper Stevens Creek watershed from Monte Bello Ridge to Skyline Ridge.  The 3,436-acre preserve is one of Midpen's richest in wildlife and ecosystem diversity.
Monte Bello Preserve is surrounded by other open space preserves and parks, which makes trip options nearly limitless. Black Mountain offers visitors incredible views of Santa Clara Valley and over to Mt. Hamilton.
Image

Hiking: All Trails
Image

Bicycling: Designated Trails
Image

Equestrian: Designated Trails
Image

Easy Access: Designated Trails
Image
Camping: Designated Areas
Image

Restrooms: Available
Image

Kid Friendly
Description
The spine of the Monte Bello Preserve trail system is a popular route among bicyclists. From here, several trails connect to the top of the ridges. This old road descends 400 feet from Page Mill Road through cool forests into the Stevens Creek Canyon.
Description
This self-guided 3-mile loop takes about three hours at a leisurely pace. The first segment, from the Monte Bello Parking Area to the vista point, is an easy-access portion that can accommodate a wide array of physical abilities. At an average grade of 5%,this gently sloping segment takes visitors to a dramatic vista point and to a bench where visitors can sit and look down Stevens Creek Canyon to see Mt. Umunhum and Loma Prieta, the epicenter of the 1989 earthquake. The rest of the trail then descends 450 feet into the headwaters of Stevens Creek, continues along the creek, and returns along the San Andreas Fault. Interpretive signs provide insights to the wonders around you. See more.
Preserve Highlights & Features
Image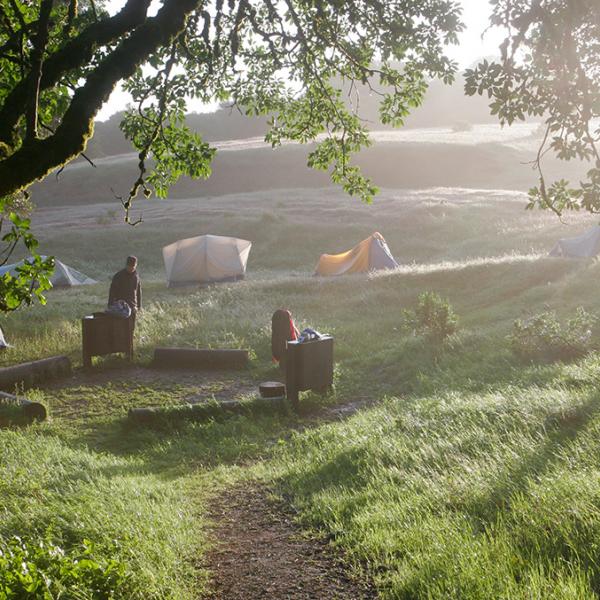 Black Mountain Backpack Camp
Midpen's only campsite provides visitors with a camping experience just one half-hour away by car from the cities below. The camp is a 1.5-mile hike from Page Mill Road, including a 500-foot uphill climb from the parking area.
A permit is required and the fee is $2 per night per camper. Reservations are required. 
Stories from the Preserves
Nature
Here are some of the plants and animals that other visitors have observed at this preserve and recorded in iNaturalist. Protected species may be excluded and some species may not yet have been observed. Help improve iNaturalist by adding your observations to the Midpen Biodiversity Index project
Join our e-mail list to stay up-to-date on this preserve and other Midpen news! 
Know Before You Go
Preserve regulations help provide a safe, enjoyable visit while protecting sensitive areas and wildlife. 
Share the Trail 
Use designated trails to avoid damage to natural resources and prevent injury. 

Avoid blocking the trail. Step aside to allow others to pass .  

Whether you're walking or biking, always yield to equestrians. 

Leave no trace. Pack out what you pack in. Most preserves do not have trash cans. Littering is prohibited. 

Abuses of trail etiquette should be brought to the attention of a ranger or call the Midpen main office at 650-691-1200. 
History
Monte Bello Ridge and Black Mountain provide the scenic backdrop to the communities of Palo Alto, Los Altos, Los Altos Hills and Cupertino. Settlers to this area named one of their towns Mountain View because they had a view of Black Mountain. From the top of Black Mountain, visitors have an incredible view of Santa Clara Valley and the Mt. Hamilton Range. On clear days, visitors can see beautiful sunsets from the Black Mountain backpack camp, or watch the fog roll in from the coast. As the fog breaks like a giant wave over the peninsula, one can see why it is often referred to as "waterfog."
Dairy ranching was prevalent in this area and Monte Bello Ridge was once dotted with cattle. In the late 1800s and early 1900s, this area was the site of several ranches: the Black Mountain Ranch, the Stevens Creek Road Ranch and the Monte Bello Ranch. The Waterwheel Creek Trail follows an old ranch road, where remnants of orchards and vineyards can be seen. 
Monte Bello Gallery
Image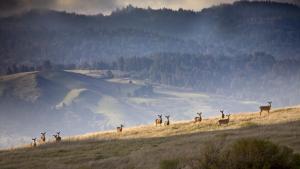 Some additional resources to help you enjoy the preserves!