Visitors are responsible for knowing and obeying all rules and regulations before visiting the preserves.
Our rules are for the protection of our visitors and natural resources, and to make everyone's visit a safe and enjoyable experience. The information given below is a compilation of rules, regulations, preserve policies, and safety. Please observe them for your safety and enjoyment as well as the safety and enjoyment of others. It will save our preserves and make them a valuable resource now and in the future. 
District Regulations and Ordinances
Hours of Operation
Most preserves are open from dawn until a half hour after sunset. Check individual preserve pages for specific hours of operation.
General Rules & Regulations
Closed Areas: Certain trails or areas within the preserves are closed either as regular seasonal/interim closures or as sensitive/hazardous closures. Entering a closed area is punishable as an infraction or a misdemeanor, depending on the classification of the closure. 
 
Dogs: Dogs are allowed only in designated preserves or trails as posted and must be controlled on a maximum 6-foot leash at all times. NEVER leave dogs inside parked cars. In accordance with the Americans with Disabilities Act, Midpen accommodates service dogs in preserves wherever we allow public access. For more information visit the Dog Access page.
 
Bicyclists: Bicycles are allowed on designated trails only (marked on map). Helmets are required. Observe the 15 mph trail speed limit (5 mph when passing). Avoid startling hikers and equestrians by announcing your presence when approaching from behind. E-bikes are not allowed on most Midpen trails. For more information visit the Bicycle Access page.
Equestrians: Horses are allowed on designated trails (marked on map). Helmets are recommended for all equestrians. For more information visit the Equestrian Access page.
 
Groups: For safety reasons, permits are required for all groups of 20 or more people. See the Permit Information page for details.
 
Drone and Model Aircraft Use: Drones and model rockets are NOT allowed on any preserves. Model airplanes are allowed in the designated area at Rancho San Antonio County Park ONLY.
 
Plants and animals: Please leave plants and animals undisturbed. This not only preserves the natural environment, but is also a safety precaution. If you are fortunate enough to encounter wildlife during your visit, do not approach, startle, or feed it. Please see Wildlife Safety for more information.
 
Permits: Some activities on Midpen open space preserves require a use permit. See the Permit Information page for details.
 
General Safety
Midpen trails and facilities are generally very safe. However, you are entering an environment where there are some naturally occurring hazards. Reasonable caution and common sense should be utilized when venturing into any outdoor environment. 
Do not leave valuables in your vehicle! Please lock your vehicle and store valuables out of sight or take them with you on the trail.
 
Travel in groups of two or more. Two of more people can assist each other in the event of an accident or emergency.
 
Dress for the environment. Temperature extremes can be experienced and you should dress in layers. Dress appropriately for the location, time of year and planned activities. 
 
Carry water with you. Drinking water is not available at most Midpen preserves so you should bring your own. Two quarts per person per two hour hike is recommended.
 
Apply sunscreen and drink plenty of water prior to and during your outdoor activities.
 
Be aware that cell service is very sporadic on the preserves. 
Trail Conditions
Trail conditions can vary depending on the time of year, storms which have occurred, and the impact of rain and other natural occurrences. Check the Trail Conditions page for up to date information on trail conditions. 
Be Prepared and Aware
Plan ahead before you leave. Check regulations and weather, download a map, pack water and first aid. 

Know your limits and take safety precautions. 

Rattlesnakes are native to this area and are especially active in warm weather. 

Poison oak grows on most preserves: Learn to identify and avoid it in all seasons. 

Ticks are present in this area and may carry diseases. 

Mountain lions are a natural part of this region's environment and are occasionally seen. 
Visit the Wildlife Safety page for more information on what to do if you encounter a rattle snake, mountain lion, or coyote.
Image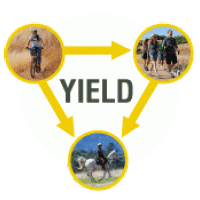 Share the Trail 
Use designated trails to avoid damage to natural resources and prevent injury. 

Avoid blocking the trail. Step aside to allow others to pass .  

Whether you're walking or biking, always yield to equestrians. 

Leave no trace. Pack out what you pack in. Most preserves do not have trash cans. Littering is prohibited. 

Abuses of trail etiquette should be brought to the attention of a ranger or call the Midpen main office at 650-691-1200.