You don't need to venture far to experience nature. Here is a list of engaging activities to explore nature close to home, or even at home! Share your neighborhood discoveries and homemade artwork with us on social media by tagging us on @midpenopenspace and using #hiddennature. For upcoming virtual events, visit our activities calendar.
Virtual Tours and Activities
You can connect with nature from your computer! Click on the virtual tours tab to virtually "walk" through some of our preserves, or maybe try out a nature game to have fun with the nature in your own backyard. If you want to learn about bats, badgers, wildflowers or woodpeckers in depth, try out one of our virtual events. 
Join Midpen Environmental Education Specialist Nina Vuoso on a Virtual Field Trip around Alpine Pond at Skyline Ridge Open Space Preserve. Learn about habitats, making nature observations, and taking notes outside. Then, take your nature observation skills on a walk around your habitat: your neighborhood! 
In this activity, with support from an adult, students will plan and carry out a Field Trip at home. This activity is designed for students grades 3-5, but some parts can be modified for grades K-2 with ample adult support and supervision. Student and Teacher guides are available for download here.
Native Plants
Image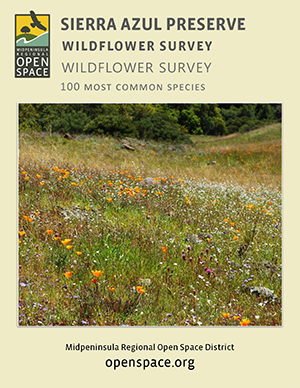 Common Wildflower Guide
This guide was developed for use at Midpen's Annual Wildflower Survey at Sierra Azul Open Space Preserve. It features the 100 most common flowering species seen during the wildflower surveys. See what type of wildflowers you can spot in your neighborhood or local park!
Calflora Planting Guide
Use this handy guide to identify what native plants would grow well in your local area.
Become Weed Whacking Warriors
Weeding is a great way to relieve stress. While at home, take this time to pull out those pesky invasive weeds that travel through yards and into public lands. For instance, removing early invading weeds like slender false brome and hanging sedge can really help. Get details on these two plants from San Mateo Resource Conservation District or check out the free Weed Workers Handbook from the California Invasive Plant Council.
 Nature Art
Image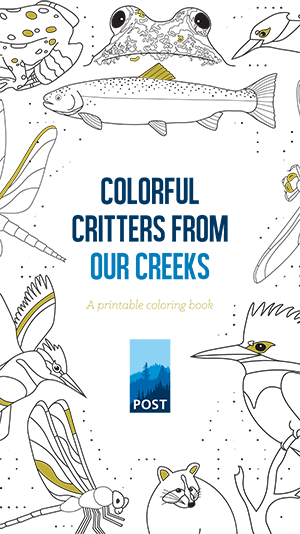 Keep a Nature Notebook
Keep a nature notebook, recording your local nature explorations: observations, drawings, pressed fallen leaves or flowers, images and more. You never know what you'll discover once you start looking!
Get Crafty with Nature Art
Enjoy art and crafts with your family using everyday nature items. Go outdoors and find leaves, flowers and plants from around your home. Arrange your findings on top of a piece of paper on a stable, flat surface. Once you are happy with the arrangement, place another piece of paper on top. Use tape to secure the pages in place, then use a hammer to hammer over the entire arrangement. Once you have finished hammering, remove the top sheet of paper and remove remnants of plant material. Your nature art project is complete! 
Local Wildlife Coloring Book
Learn with your family about local wildlife through a fun coloring activity! The five critters you'll meet in this booklet created by our friends at Peninsula Open Space Trust are all Bay Area natives that live in or near local creeks. Print the coloring pages at home, grab your crayons or colored pencils and have fun. Download coloring book.