With options for short hikes, rides to scenic overlooks, and longer loop trips, Long Ridge Open Space Preserve provides something for everyone. Connecting to Skyline Ridge Open Space Preserve by one of the longest continuous segments of the Bay Area Ridge Trail (13 miles from Sanborn-Skyline County Park to the northern boundary of Russian Ridge Open Space Preserve), Long Ridge preserve is popular among hikers, cyclists, and equestrians alike.
The Sempervirens Fund provided major support for acquisition of portions of Long Ridge Open Space Preserve.
Image

Hiking: All Trails
Image

Bicycling: Designated Trails
Image

Equestrian: Designated Trails
Image

Dogs on Leash: Designated Trails
Image

No Easy Access
Image

Camping: No Camping
Image

Restrooms: Not Available
Description
 This Trail begins at a pullout on Skyline Blvd. and follows an old roadbed through a forest of majestic canyon oaks. A narrow trail off the road leads to a spot called "Turtle Rock" with views of Big Basin State Park, Butano Ridge and the Pacific Ocean. 
Description
This flat, 4.3-mile loop trail winds through a little valley to the headwaters of Peters Creek, and then emerges onto a ridge with striking views of the Santa Cruz Mountains. To complete this loop, take Peters Creek trail from the parking lot until it intersects with Long Ridge trail, and then take Long Ridge trail until it meets back up with Peters Creek trail.
This trail features beautiful oak woodlands and wildflowers in the spring. You can also take a rest on the granite bench dedicated to conservationist and author Wallace Stegner.
Preserve Highlights & Features
Image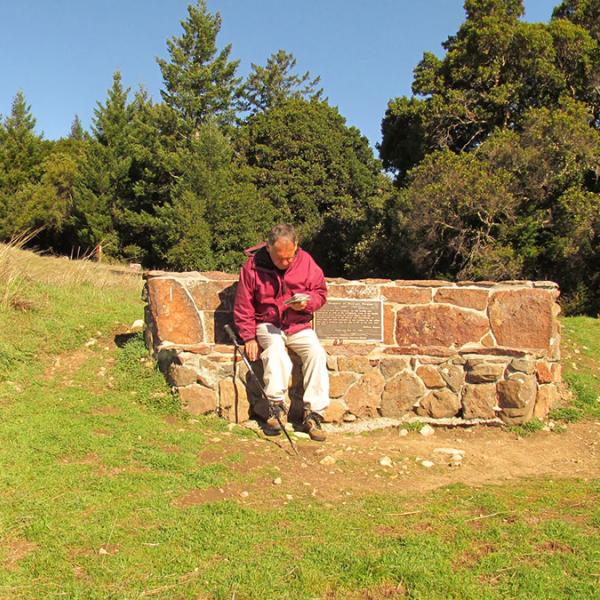 At the intersection of Long Ridge Road and Long Ridge Trail, visitors can stop and enjoy the spectacular view from the Stegner Memorial Bench. Dedicated in 1996 in memory of Pulitzer Prize-winning author and noted environmentalist Wallace Stegner, a great supporter of Midpen.
Stories from the Preserves
Nature
Here are some of the plants and animals that other visitors have observed at this preserve and recorded in iNaturalist. Protected species may be excluded and some species may not yet have been observed. Help improve iNaturalist by adding your observations to the Midpen Biodiversity Index project
Join our e-mail list to stay up-to-date on this preserve and other Midpen news! 
Know Before You Go
Preserve regulations help provide a safe, enjoyable visit while protecting sensitive areas and wildlife. 
Share the Trail 
Image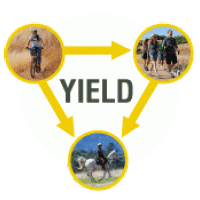 Use designated trails to avoid damage to natural resources and prevent injury. 

Avoid blocking the trail. Step aside to allow others to pass .  

Whether you're walking or biking, always yield to equestrians. 

Leave no trace. Pack out what you pack in. Most preserves do not have trash cans. Littering is prohibited. 

Abuses of trail etiquette should be brought to the attention of a ranger or call the Midpen main office at 650-691-1200. 
History
The first property owner on Long Ridge was Winston Bennett, who lived in a spot then called Pot Hollow. Born in Georgia, Bennett came west in the 1840s, caught gold fever and headed for the Sierra foothills. After a career as a trader, a constable and a deputy sheriff, Bennett sold his ranch in 1884. Throughout the years, the land has been everything from a ranch, an orchard and even an alternative boarding school. By the time Midpen bought the property in the 1980s, it was the last real working cattle ranch in the area.
Image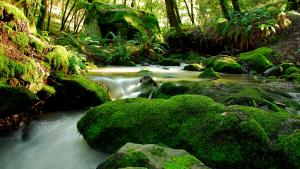 Image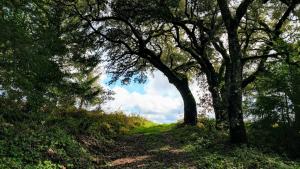 Image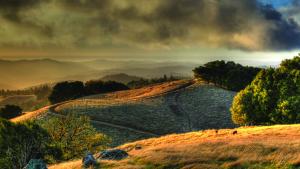 Some additional resources to help you enjoy the preserves!