It's official! We have kicked off "From 50 to Forever," a year-long community celebration of Midpen's 50th anniversary.  
"Fifty years ago, a small group of concerned citizens came together, and with the support of local voters, created Midpen around a vision of 'Room to Breathe' in our region for people, plants and animals," Midpen General Manager Ana María Ruiz said. "We invite you to join us in 2022 to celebrate how far we have come together as a community in realizing our vision, to share stories and to recognize the contributions of people past, present and future." 
Read on for fun ways you can celebrate with us and get the latest news on Midpen programs and projects including free guided activities with Midpen docent naturalists, mountain lion research, an upcoming public meeting on e-bikes and more.
Image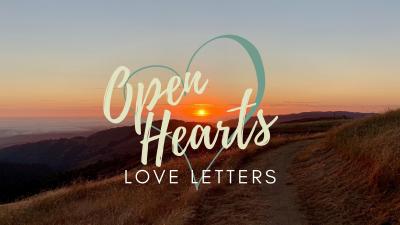 Write a love letter to your open spaces
This month, we invite you to write a love letter to the nature that surrounds you. Take part in Open Hearts - Love Letters to express your appreciation for the more than 65,000 acres of public open space lands that our community had the foresight to begin protecting 50 years ago. Let us know what you cherish most about open space, which Midpen preserve is your favorite and what special memories you've made in the Santa Cruz Mountain greenbelt. As a thank you for participating, you'll receive a special commemorative gift. Follow @midpenopenspace on Facebook, Instagram and/or Twitter to read all of your neighbors' valentines.
Image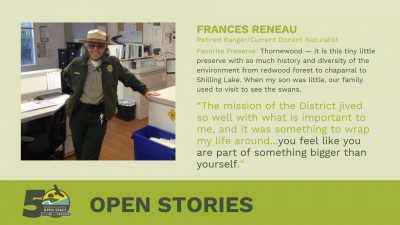 In 1998, Frances Reneau decided to reevaluate her life. "I was 43 and going through a midlife crisis in my career," she recalls, "I wanted a change." Having worked seasonally with Midpen in the past, she knew spending her time outdoors brought meaning to her life, but she wasn't sure which career path was right for her. After speaking with a few Midpen rangers, Frances decided to apply to be one of them. She got the job. 
Before becoming a ranger, Frances enjoyed other careers but quickly realized that this was where she belonged. "Being a ranger is a total life highlight," she says. "The mission of the District jived so well with what is important to me, and it was something to wrap my life around." Frances had so many unforgettable experiences that she decided to write about them in her memoir, Ranger Chick, which features many exciting tales of her life in green pants.
"I've lived in places with little park or open space lands — when you don't have open space, you miss it," says Frances. She believes there is a part of every person that loves the feeling of looking out into open land and only seeing vistas and nature. Frances knows firsthand how overwhelming it can feel to care for open space but is not ready to throw in the towel yet, "we need to do our best to make the land healthy for the future."
Even though Frances is now retired, she still spends her time at Midpen volunteering as a docent naturalist. For many years, Frances has dreamed of leading a series of 24 hikes in the preserves. This year, as part of Midpen's 50th anniversary, Frances has made her dream a reality with the All Preserves Great & Small hike series. "I will feel very proud when this has been accomplished," says Frances "what better way to honor the district than to visit these preserves and talk about what makes them special."
Events & Activities
Below is just a sample of the many activities at Midpen this month. Make plans to join us!

Due to ongoing pandemic precautions ALL activities require online reservations. No walk-up participation allowed. Masks are required when physical distancing cannot be maintained.
---
Guided Activities
All Preserves Great & Small
Feb. 20 - Picchetti Ranch Preserve
To celebrate Midpen's 50th Anniversary in 2022, docent naturalists are offering an "All Preserves Challenge" hike series that includes opportunities to visit all Midpen preserves. Join one of these guided experiences to explore what makes each preserve a special place. More walks will be coming your way throughout the year!
Latino Outdoors Art for the Heart Hike
Feb 12 - Los Trancos Preserve
Join our partner, Latino Outdoors, for a family-friendly hike and crafts event. After a hike along the rolling grassland hills and through oak woodlands, we'll have craft supplies for you to create art from the heart for a loved one! 
Wander and Wonder
Feb. 26 - Skyline Ridge Preserve
Join us for a children-focused discovery walk on the trails around Alpine Pond. The rainy season brings out so many little wonders! Get ready to get down and look around at nature from a child's eye view. 
---
Volunteer Projects
Join Midpen staff to help us care for the land. Staff will provide training on plant identification, removal techniques, and information about why we remove invasive plants from our local landscape. The projects below are excellent for first-time volunteers, but there are opportunities for all skill levels!

Feb. 12 - Bear Creek Redwoods Preserve
Feb. 17 - St. Joseph's Hill Preserve
Visit our Events & Activities page for a complete schedule of events
Midpen Budget Publications Win the Triple Crown
The Government Finance Officers Association (GFOA) of the United States and Canada recently presented Midpen the special 2021 Triple Crown medallion for receiving all three GFOA awards: the Distinguished Budget Presentation Award, the Certificate of Achievement for Excellence in Financial Reporting Award and the Popular Annual Financial Reporting Award.

"Winning this award is recognition of Midpen's strong financial operations and reporting," said Chief Financial Officer Stefan Jaskulak. "It's a reflection of our ongoing commitment to open government and transparency.
Board Meeting Updates
Human-Mountain Lion Interaction Study
On Wednesday, February 9, the board of directors will receive a progress report on the first year of a five-year research study to understand factors that influence human-mountain lion interactions and to develop a management plan to reduce human-mountain lion conflicts. During the first year of the study, our project partner, the Santa Cruz Puma Project, has collared three mountain lions within Midpen preserves. In the second year of the study, the Puma Project will attempt to associate human voices with behavioral modification to encourage mountain lions to avoid preserve users recreating on trails.

Tracking information from these and other collared lions in the area will be combined with trail use information to help develop a mountain lion population estimate and help determine what factors may influence wildlife behavior within our preserves. Join the meeting to learn more or visit openspace.org/puma-research.
---
E-bikes Policy Evaluation
In November 2019, the Midpen board began considering options for designating specific trails, paved and unpaved, as open to specific classes of e-bikes. Two studies of e-bike use on both paved and unpaved trails where biking is currently allowed on select Midpen preserves and lands of a regional partner agency concluded at the end of 2021. At a public meeting on Tuesday, February 15, the Planning and Natural Resources Committee will review the results of the studies and make recommendations to the Midpen board. Information about the e-bikes policy evaluation can be found at openspace.org/e-bike.
Upcoming Public Meetings
February 8: Measure AA Bond Oversight Committee
February 9: Board of Directors 
February 15: Planning and Natural Resources Committee
February 16: Board of Directors 
February 23: Board of Directors
Currently all Midpen board meetings are held via teleconference only. The meetings may be viewed online. Links to the meetings are posted with each agenda. There is also a dial in number to listen by phone. Links are included in the meeting agendas posted online 72 hours before the meeting.

Members of the public may provide written or oral comments by submitting a public comment form.