Page Content
The new year brings early flowers, burrowing owls and badgers, and a new way to enjoy the view at El Sereno Open Space Preserve. Read on to discover what's new at Midpen — learn about ongoing projects, find out about upcoming virtual events and get public meeting updates.
---
Winter Wonders: Manzanitas Flowering
January is a wonderful time to enjoy our region's amazing diversity of manzanitas, many of which are found nowhere else on earth. Ranging from shrubs to small trees, these fire-adapted evergreens with smooth, and sometimes peeling, red bark are winter bloomers. Look for delicate white or pink clusters of small, bell-shaped flowers along trails at St. Joseph's Hill and other Midpen preserves. Smell their delicate fragrance and listen for the buzz of hummingbirds and other pollinators utilizing them as an important winter food source. By spring, the pollinated flowers become fruit resembling tiny apples, which translates to manzanitas in Spanish.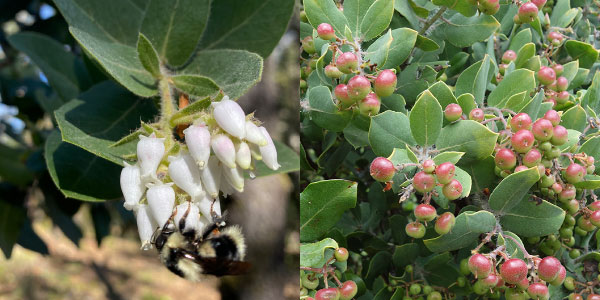 ---
Midpen Honors Sen. Beall with Commemorative Bench
A new bench overlooking Lexington Reservoir now awaits visitors along the Aquinas Trail in El Sereno Open Space Preserve, honoring departing California state Sen. Jim Beall for his service to Midpen and his long-time dedication to the health of the open space lands of the Santa Cruz Mountains. "Over the past last several years, Sen. Beall has actively worked to enable our ability to protect and restore lands in the Upper Guadalupe Watershed and enhance the movement of wildlife in and out of the San Francisco Peninsula," said Midpen General Manager Ana María Ruiz.  Recently, funding secured by Sen. Beall, allowed to Midpen acquire a privately held 182-acre tract of land in the El Sereno preserve.

"I'm honored and excited about the placement of the bench in our beloved Santa Cruz Mountains," Sen. Beall said. "I'm hopeful that the open space district will be able to acquire and preserve more open space for future generations to enjoy, as my family long has."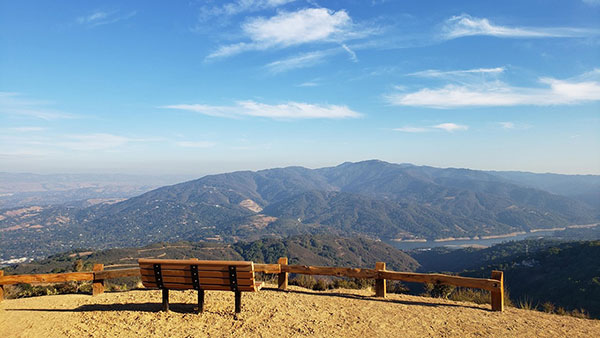 Plan a visit to El Sereno Preserve
---
Awards
Midpen recently received several awards in recognition of our work to serve the public during the COVID-19 pandemic. 
The Municipal Information Systems Association of California awarded Midpen its 2020 Innovation Award for the design and development of a COVID-19 Health Check application created to streamline required daily self-health checks. The application has been used daily by Midpen's 100 essential workers since mid-March. IST staff can easily update the checklist as CDC guidelines change. The COVID-19 Health Check Application is open source and is available to any organization upon request.
Santa Clara County Supervisor Joe Simitian awarded Midpen a medal for exemplary service for efforts to keep our public open space preserves safely open to the public during the shelter-at-home orders. Outdoor recreation and time spent in nature is considered an essential service under state and county health orders.
"We are honored to receive these awards, which are a great testament of the continued dedication and commitment of our agency and staff," Midpen General Manager Ana Maria Ruiz said. "We will continue to do all that we can to keep our preserves open safely for the community to enjoy and find much needed respite in nature."
---
Project Updates
Wildlife Study Updates
Midpen uses wildlife cameras to gather information on wildlife activity across regional open space lands to inform our land management that help people and wildlife to coexist in the Bay Area. Check out these recent pictures!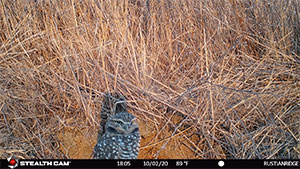 New wildlife camera footage is giving Midpen biologists a first-hand look at how burrowing owls use badger burrows as winter shelter. "These images from Russian Ridge Preserve are the first documentation of this behavior during our habitat study," Midpen biologist Karine Tokatlian said. Not only did the cameras show the presence of burrowing owls, but while biologists were checking on the camera, the owl flew out of the burrow!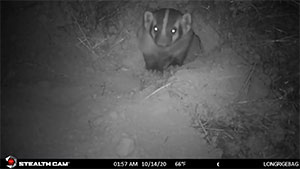 Following a visitor report of a badger burrow at Long Ridge Preserve, cameras placed at the location provided a great look at badger markings. While sometimes confused with raccoons (which have horizontal "masks"), badgers have white vertical stripes on their faces, and a stripe down the middle of their backs.
Both of these images are part of Midpen's badger and burrowing owl habitat study, which is being conducted with the help of wildlife cameras, trained volunteers and our partners Pathways for Wildlife and the San Francisco Bay Bird Observatory.
Watch the video and learn more
---
We Want to Hear From You
Wildland Fire Resiliency Program - Draft Environmental Impact Report 
We are continuing our essential wildland fire prevention and preparation work. This includes analyzing and identifying ways to reduce potential environmental impacts from our newly developed Wildland Fire Resiliency Program. The goals of this program are to proactively expand Midpen's ecologically sensitive vegetation management to establish healthy ecosystems, reduce wildland fire risk and facilitate fire suppression.

You can review and comment on the environmental analysis in the draft report during the public comment period from January 15 to March 1, 2021. Comments related to the environmental analysis and received by March 1 will be included and addressed in the final program environmental impact report later this year.

You can also participate in and submit comments for a virtual public hearing scheduled for February 25, 2021 regarding the draft report with the Midpen board of directors.   
---
Midpen's Financial Reports Available Online
Midpen strives to be good stewards of public funds and provide transparency of how those funds are used in pursuit of our mission. Our financial reporting and review process includes the publication of two financial reports for the fiscal year ending June 30, 2020. For a brief, top-level look, check out our Popular Annual Financial Report, which is designed for the general public. Or, find the details in the Comprehensive Annual Financial Report, which includes the audited financial statements and an independent auditor's report and complies with the principles and standards for financial reporting established by the Governmental Accounting Standards Board. 
---
Free Virtual Events
Lunch & Learn at Skyline Ridge
Thursday, January 14, noon to 1 p.m.
Join Bay Area Older Adults and Midpen for an exploration of Skyline Ridge Open Space Preserve. Enjoy a virtual hike along shaded trails with great views of the eastern foothills and take in the beautiful scenery at Horseshoe Lake. Learn about the local wildlife and find out more about the Skyline Chestnut Farm and the Skyline Ridge Christmas Tree Farm Restoration Project. 
---
Board Meeting Updates
E-Bike Updates: Paved Pilot Underway; Unpaved Pilot Discussion
In December we launched our pilot project at Ravenswood Preserve and Rancho San Antonio Open Space Preserve and County Park, allowing class 1 and class 2 e-bikes on select paved and improved trails where bicycles are currently allowed. A proposed pilot for class 1 e-bikes on select unpaved trails was postponed until next fiscal year (July 2021 – June 2022) due to the staff resources required for COVID-19 response. At a public meeting on January 27 (agenda item moved from January 20), the board of directors will discuss whether or not the unpaved pilot proposal will remain on this timeline or start sooner, which may require shifting resources from the paved pilot.
Rancho San Antonio Parking and Transportation Demand Analysis
Midpen has been working with a consultant to analyze and address parking and access issues at Rancho San Antonio Open Space Preserve and County Park. Last September, the Midpen Planning and Natural Resources Committee considered preliminary findings and discussed ways to prioritize strategies. On January 26, the committee will receive recommendations on potential ways to improve parking and access.

Learn more about the parking and transportation project and sign up for updates.
Upcoming Public Meetings
January 13: Board of Directors
January 14:  Measure AA Bond Oversight Committee
January 19: Real Property Committee
January 20:  Board of Directors 
January 26: Planning & Natural Resources Committee
January 27: Board of Directors
In accordance with public health shelter-at-home orders, all Midpen board meetings will be held via Teleconference ONLY. The meetings may be viewed online. There is also a dial in number to listen by phone. Links are included in the meeting agendas posted online 72 hours before the meeting.
Members of the public may provide written comments by submitting a public comment form.