El Sereno Open Space Preserve is named for 2,500-foot Mount El Sereno, part of a prominent ridge in the Santa Cruz Mountains that is located south of the city of Saratoga and west of the town of Los Gatos. A distinctive scenic backdrop to these cities, the 1,614-acre preserve rises from the foothills up steep slopes to the ridgeline. It is primarily an exposed chaparral community with meadows at higher elevations and a few shaded areas near creeks. El Sereno's seven miles of wide, gradual trails are open for hiking, biking and dog walking, as well as horseback riding on designated trails.
The multiuse Montevina Ridge and Aquinas Trails offer an approximately eight-mile out-and-back route along the ridge, giving visitors spectacular panoramic views of Sierra Azul and St. Joseph's Hill Open Space Preserves, Lexington Reservoir and Silicon Valley. While exploring this preserve, visitors may enjoy the fragrant smells of the California bay laurel and a variety of shrubs common in the chaparral habitat, including chamise, coyote bush and yerba santa. Visitors may also catch a glimpse of the mule deer, coyote, gopher snakes and brush rabbits that make their homes in the San Tomas Aquino Creek, Los Gatos Creek and Upper Los Gatos Creek watersheds.
Image

Hiking: All Trails
Image

Bicycling: All Trails
Image

Equestrian: Designated Trails
Image

Dogs on Leash: All Trails
Image

No Easy Access
Image

Camping: No Camping
Image

Restrooms: Not Available
Description
The Aquinas Trail provides a three-mile trek along the ridge that offers spectacular panoramic views of Lexington Reservoir, Sierra Azul and St. Joseph's Hill Open Space Preserves, and the South Bay. 
Description
This 1.2 mile trail begins with a gradual slope through open grassland, and then enters a lightly shaded forest. A six-car parking area is available near the trailhead; however, a permit (no fee) is required to park in this lot. For additional details or to obtain a parking permit, please see the Permit Information page. 
Preserve Highlights & Features
Image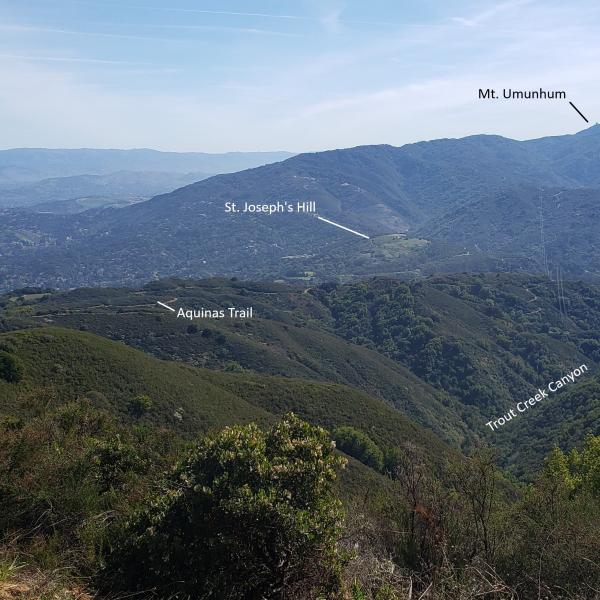 Most of your walk or ride will be filled with terrific views of the valley, Lexington Reservoir and Sierra Azul and St. Joseph's Hill preserves.
Image
In the fall of 2020 and summer of 2021, Midpen partnered with the Peninsula Open Space Trust to expand El Sereno Preserve, one of the oldest in the agency's management portfolio. Funded by a grant from the California Wildlife Conservation Board, the purchase of 182 acres from the San Jose Water Company provided an important link in the preserve's main trail and formally connected the 3.7-mile Aquinas Trail across the preserve. This advanced one of the priority action projects of the voter-supported Measure AA general obligation bond: the development of regional trail connections through El Sereno Preserve, which is also an important component of Midpen's ongoing Highway 17 Wildlife and Regional Trail Crossings project. In October 2021, the Midpen board dedicated 3.5 miles of trail in El Sereno Preserve as part of the Bay Area Ridge Trail.
Image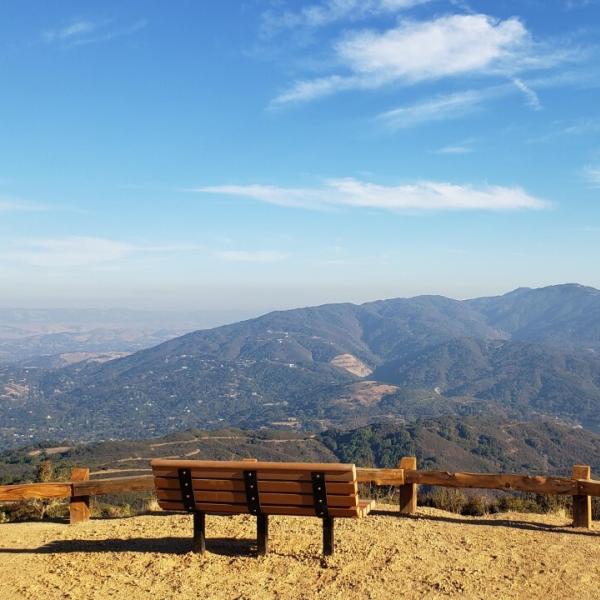 Senator Beall Commemorative Bench
On December 8, 2020, Midpen recognized state Sen. Jim Beall with a commemorative bench to honor his long-time dedication to the health of the open space lands of the Santa Cruz Mountains. Located on the Aquinas Trail, the bench faces south to overlook the lands surrounding Lexington Reservoir, with a view of San Jose to the east.
Image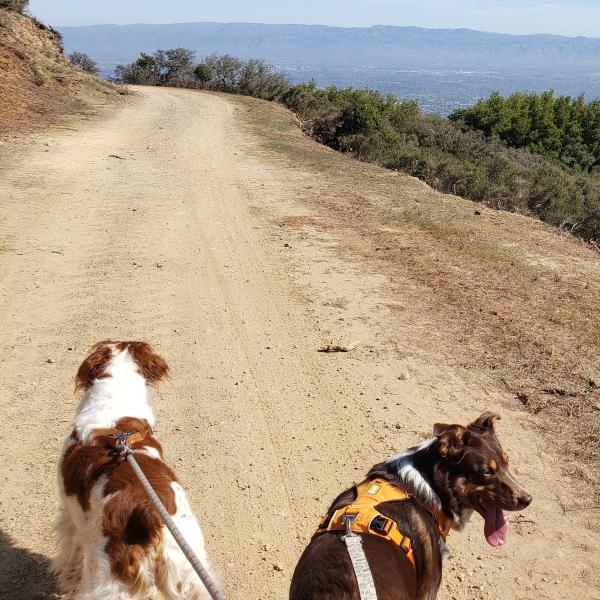 The landscape of Mount El Sereno is ideal for dog access. Dense brush and steep slopes help keep dogs within the trail corridor, which minimizes ecological disturbance, and the abundant chaparral plant communities have low sensitivity to any disturbance that might occur. During Midpen's 18-month public visioning process that began in 2012, many El Sereno Preserve neighbors highlighted expanding dog access at the preserve as a priority for their community. After the board of directors approved the project to be included on the Five-Year Measure AA Project Prioritization List in 2014, Midpen staff held a number of public meetings and conducted a successful environmental review. The board opened the preserve to on-leash dog access  in 2017.
Stories from the Preserves
Nature
Here are some of the plants and animals that other visitors have observed at this preserve and recorded in iNaturalist. Protected species may be excluded and some species may not yet have been observed. Help improve iNaturalist by adding your observations to the Midpen Biodiversity Index project
Join our e-mail list to stay up-to-date on this preserve and other Midpen news! 
Know Before You Go
Preserve regulations help provide a safe, enjoyable visit while protecting sensitive areas and wildlife. 
There are currently no events scheduled.
History
El Sereno Preserve was acquired in 1975 and gave Midpen an early opportunity to protect land in the Los Gatos/Monte Sereno area.
El Sereno Preserve
Image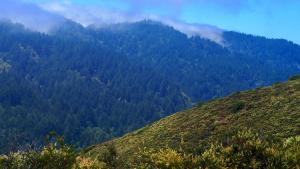 Image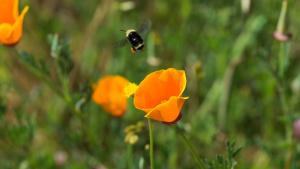 Image
Image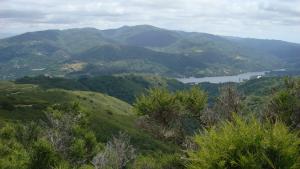 Image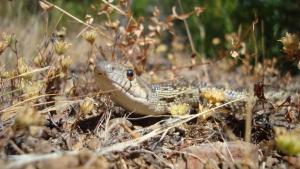 Some additional resources to help you enjoy the preserves!