Midpen is committed to making all practicable efforts to make facilities, programs, services, information, employment, and meaningful work opportunities accessible and usable by all people. Several preserves have easy-access trails built to accommodate wheelchairs, strollers, walkers and anyone desiring a less strenuous open space experience. Most of these easy-access trails are at least 4 feet wide, have a grade generally not exceeding 5%, and a fairly uniform surface. Please note that other Midpen trails may have grades up to 25% and uneven surfaces with rocks, ruts and roots.
Our ADA Barrier Removal project was created to systematically remove accessibility barriers at Midpen facilities and preserves. Projects include modernization and ADA upgrades to restrooms, parking and pathways, easy access trails, signage, facilities, and other amenities. 
Image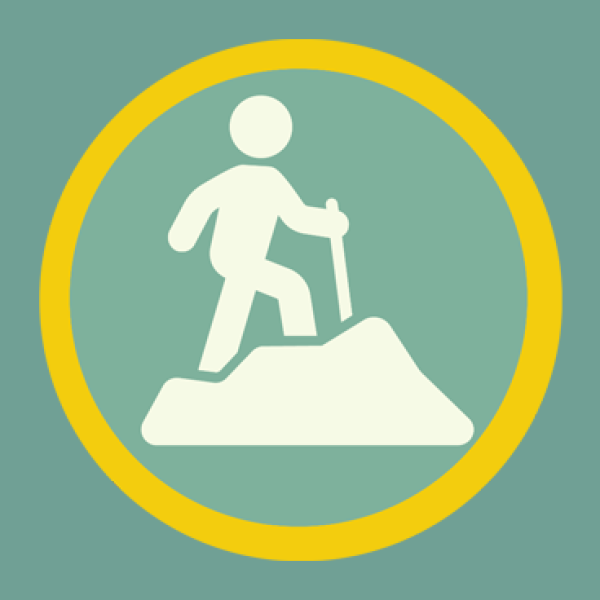 Before you head out on your next outdoor adventure, use the Trail Explorer tool to find the Midpen trails best suited to you. 
Image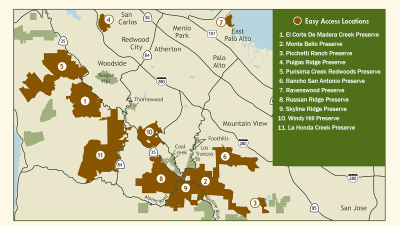 Preserves and Trails
This is a list of the easy access trails/preserves, and their attributes. 
Bear Creek Redwoods
Upper Lake Loop Trail - 0.2 mi.
This trail features habitat restoration sites and historical artifacts such as Ohlone mortars. Information for a self-guided interpretive tour is included in the brochure map available at the preserve entrance. The trail is an accessible pathway and can easily accommodate mobility devices, strollers, and users of all ages and abilities. Download interpretive tour map.
El Corte de Madera Creek
Sierra Morena Trail - 0.3 mi.
This trail travels through a lush mixed evergreen forest. Please note this is a narrow trail and a popular mountain biking destination.
La Honda Creek
Grasshopper Loop Trail – 1.3 mi.
This un-paved trail traverses working ranchlands with grazing cattle, coastal grasslands, oak woodlands and redwood forests with expansive viewpoints along the way. The trail has an elevation gain of 30 feet along approximately 3,000 feet. Dogs on leash allowed except during calving season: Aug. 1 – Dec. 15.
Monte Bello
Stevens Creek Nature Trail - 500 ft.
This trail leads to a dramatic vista point with a stone bench overlooking Stevens Creek Canyon.
Picchetti Ranch
Explore the historic winery complex, which has a nice picnic area and wheelchair lift into the winery. Trails outside the winery complex are not improved for easy access.
Pulgas Ridge
Cordilleras Trail - 0.8 mi.
From the parking area, take the short (0.1 mi.) connector trail to the Cordilleras Trail, which parallels a service-only road. The trail later breaks away from the road and brings visitors to a quiet wooded valley with a bench, next to the Cordilleras Creek.
Purisima Creek Redwoods
Redwood Trail - 0.25 mi.
There are three accessible picnic tables located along this peaceful trail. Roadside parking area (unpaved) at trailhead on Highway 35 located 6.5 miles south of Highway 92
Purisima Creek Trail - 1 mi.
This moderately accessible trail follows an old logging road along Purisima Creek. Please note there are short sections where the grade is 10-15% and the trail can be muddy after rain.
Rancho San Antonio
Service road • 0.6 mi. to Rogue Valley Trail - 0.4 mi.
From the county area, the Permanente Creek Trail will lead you to the service road, which goes to Deer Hollow Farm and the Rogue Valley Trail. Deer Hollow Farm is a working farm with many farm animals, an organic garden and historic ranch buildings. Permit-only area (unpaved) located 0.4 miles from Deer Hollow Farm for visitors with a disabled person parking placard. Call to obtain a permit.
Ravenswood
Ravenswood Trail - 1.9 mi.
Level trail with great views of the bay and excellent bird watching. No restroom.
Russian Ridge
Audrey C. Rust Commemorative Site
Site features a 300-foot paved path that leads to a wheelchair-accessible terrace with a bench and sweeping views to the Pacific Ocean. Parking at Mindego Gateway.
Sierra Azul
Mount Umunhum Summit pathways - 0.3 mi.
Enjoy breathtaking 360-degree views of our region, including San Francisco, Monterey Bay, the Pacific Ocean, and sometimes even the Sierras from ADA-accessible viewpoints. Accessible parking, restrooms, shade shelters and pathways are located at the Mount Umunhum Summit.
At the main parking area, there is accessible parking, restrooms, trailhead shelter and picnic tables. Restrooms are only available at this location.
At the Summit turnaround area, there are three (3) accessible parking spaces and a drop-off area. Visitors can enjoy the accessible pathway to the west Summit and ceremonial circle, the east Summit, Summit shelter and interpretive displays. Constructed using many ADA standards, the Summit walking paths are well suited to families with young children, the elderly and people with physical disabilities.
Skyline Ridge
Alpine Pond - 0.5 mi.
David C. Daniels Nature Center - A smooth and level trail that surrounds Alpine Pond, home to a variety of wildlife. Adjacent to the pond is David C. Daniels Nature Center as well as a wheelchair-accessible viewing scope and floating pier. Parking at the Russian Ridge parking area (unpaved), go through the pedestrian tunnel to pond and Nature Center.

Horseshoe Lake - 0.25 mi.
Starting from the accessible parking area, the trail hugs the shoreline of Horseshoe Lake and provides visitors with a more rural experience. For visitors with a disabled person parking placard, there is a nearby designated area (unpaved) allowing closer access to Horseshoe Lake.
Windy Hill
Anniversary Trail - 200 ft.
Trail leads to a point with views of Portola Valley, Stanford and even Mt. Diablo. Adjacent to the parking area is a picnic area with four picnic tables.