Los Trancos Open Space Preserve is a 274-acre area located in the Santa Cruz Mountains above Palo Alto. This is an ideal spot to learn about earthquake geology. The San Andreas Fault, one of the world's longest and most active faults, splits the preserve. 
The Preserve is situated at about 2,000 feet and always has fresh air scented with pungent bay leaves, sweet grass and damp woods. Here, visitors will find a pleasant environment of rolling grassland knolls alternating with oak woodland and cool shaded forest. On a clear day, one can spot the gleaming skyscrapers of San Francisco and pick out Mt. Diablo across the bay. 
Image

Hiking: All Trails
Image

Bicycling: Not Permitted
Image

Equestrian: Designated Trails
Image

Dogs on Leash: Not Permitted
Image

No Easy Access
Image

Camping: No Camping
Image

Restrooms: Not Available
Description
Visitors can hike the easy 1.5-mile trail and learn how the mighty San Andreas Fault has shaped our landscape. Download a guide.
Description
Discover seven points of interest along this 2.5-mile long trail, which takes you through grassland, chaparral, and mixed evergreen forest. This walk will have a total elevation gain of about 500 feet and will take about one to three hours, depending on your pace.
Preserve Highlights & Features
Image
San Andreas Fault Earthquake Trail
The San Andreas Fault Earthquake Trail is an ideal spot to learn about earthquake geology. Visitors can hike the easy 1.5-mile self-guided interpretive trail which gives visitors a chance to learn more about the lead player on California's geology.
Stories from the Preserves
Midpen staff research and monitor sudden oak death (SOD) in more than half the open space lands that…
Image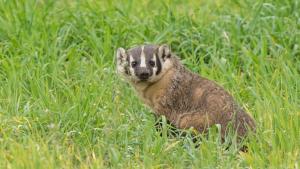 Midpen is researching American badgers and burrowing owls to gain additional expertise in the…
Nature
Here are some of the plants and animals that other visitors have observed at this preserve and recorded in iNaturalist. Protected species may be excluded and some species may not yet have been observed. Help improve iNaturalist by adding your observations to the Midpen Biodiversity Index project
Join our e-mail list to stay up-to-date on this preserve and other Midpen news! 
Know Before You Go
Preserve regulations help provide a safe, enjoyable visit while protecting sensitive areas and wildlife. 
Share the Trail 
Use designated trails to avoid damage to natural resources and prevent injury. 

Avoid blocking the trail. Step aside to allow others to pass .  

Whether you're walking or biking, always yield to equestrians. 

Leave no trace. Pack out what you pack in. Most preserves do not have trash cans. Littering is prohibited. 

Abuses of trail etiquette should be brought to the attention of a ranger or call the Midpen main office at 650-691-1200. 
History
Once part of a 13,300-acre ranch in the nineteenth century, the land that was to become Los Trancos Preserve was purchased in the early 1900s by Louis Oneal, a San Jose attorney and state senator who raised horses and owned the nearby O&O Breeding Stables. The property changed hands in the 1950s, and in the 1960s Palo Alto ran water and power lines to it, in anticipation of residential development. The Livingston-Blarney report detailing the high cost of providing city services to the foothills stopped a proposed subdivision. The District acquired most of the property in 1976. 
The 1.5-mile San Andreas Fault Trail was established in 1977 with volunteer assistance from former Foothill College geology professor Tim Hall and his students.
Some additional resources to help you enjoy the preserves!