Image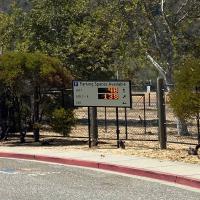 Parking Availability Signage
An electronic signboard displaying real-time parking availability at Rancho San Antonio Preserve now greets visitors at the entrance gate. The information is also displayed below, so visitors can check parking conditions before they leave home!
Sensors and speedbumps have been installed in the road just inside the park entrance as part of the infrastructure to maintain the counts. Drivers tend to exceed the 15 mph speed limit within Rancho San Antonio and these department of transportation approved speedbumps are similar to ones previously installed in other Midpen parking areas to curb speeding.
The numbers below indicate the number of available spaces out of total spaces in Lot 1 and all other lots (Lots 2-6). Lot 1 counts do not reflect the 4 ADA and 2 equestrian trailer spaces that may be available within the lot.
🅿 Parking Spaces Available
Lot 1
(Carpool on weekends and holidays)
-
Please refresh your browser to update counts.
The digital counter is currently in beta testing and we are continuing to refine the accuracy of the information displayed. 
Carpool Parking Area Pilot Program
Image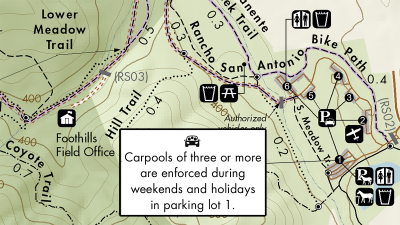 Lot 1 (at the Coyote Trail trailhead) will be reserved for carpools of three or more individuals on weekends and holidays. ADA-accessible spaces and equestrian trailer parking are not subject to carpool restrictions.
Lot 1 was deemed the most practical to use for the pilot program because it has a single entrance/exit point and is the only lot that could be monitored without significant physical modifications. 


 

Based on a year-long data collection effort at Rancho San Antonio, Midpen determined that nearly 40% of vehicles visiting on weekends already have two visitors.  As the goal of the pilot program is to promote a change to greener forms of transportation and based on the total number of carpool spaces available, it was determined that the carpool limit should be set at three or more for the program to be effective.
Leave your car behind and take the Via-Cupertino Shuttle, an on-demand shuttle service providing transportation anywhere in Cupertino or Sunnyvale Caltrain! The shuttle runs Monday through Saturday.
Image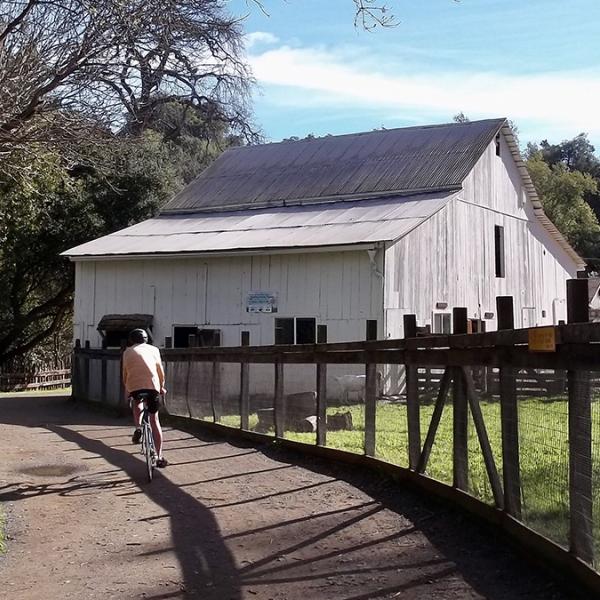 When you ride your bike to Rancho San Antonio you can use a bicycle-friendly route away from the main entrance and park at one of the many bicycle racks we have installed at multiple trailheads throughout the preserve. 
We are working on a variety of measures to encourage visitors to opt for greener forms of transportation and reduce parking demand and traffic at Rancho San Antonio County Park & Open Space Preserve, while maintaining equitable access for both local and regional visitors.
A study conducted in 2021 recommended a number of short and long term plans. Along with the elements listed above, the first set of priority projects are currently in progress.