Located on the urban fringe and extending towards Mt. Eden Road to the south and Stevens Creek County Park to the west, the 739-acre Preserve offers a variety of experiences to hikers, bicyclists, and equestrians. Local visitors will find Fremont Older Open Space Preserve of particular interest because of its proximity and richness in local history. 
Image

Hiking: All Trails
Image

Equestrian: Designated Trails
Image

Dogs on Leash: All Trails
Image

No Easy Access
Image

Camping: No Camping
Image

Restrooms: Available
Description
To summit Maisie's Peak, start at the Prospect Road parking lot and take the Cora Older Trail to the Seven Springs Loop Trail, to the Hayfield Trail, and finally to the Coyote Ridge Trail.  Maisie's Peak is named after Maisie Garrod, and is the highest peak in the preserve. From the top of the peak you can see sweeping views of the Santa Clara Valley.  
Maisie and her brother, R.V. Garrod purchased this property in 1910 and used the surrounding land for pasture, orchards, and hay. The remaining hayfields and fruit trees tell the story of this land's agricultural past.  
Description
Trek through open hayfields and along oak covered trails on this 2.5-mile loop trail. You'll climb the Cora Older Trail up to Seven Springs and Woodhills Loop Trails where you'll be rewarded with sweeping views of the Santa Clara Valley from the exposed hilltop of Hunters Point. Return along the Hayfield Trail.
Preserve Highlights & Features
Image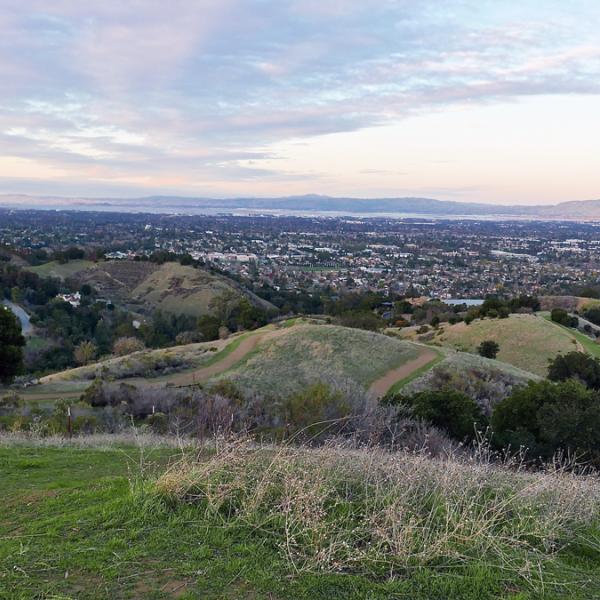 This 900-foot hilltop offers beautiful sweeping views of the Santa Clara Valley.
Nature
Here are some of the plants and animals that other visitors have observed at this preserve and recorded in iNaturalist. Protected species may be excluded and some species may not yet have been observed. Help improve iNaturalist by adding your observations to the Midpen Biodiversity Index project
Sign up for our newsletter to find out what's happening in your open space!
Know Before You Go
Preserve regulations help provide a safe, enjoyable visit while protecting sensitive areas and wildlife. 
Share the Trail 
Use designated trails to avoid damage to natural resources and prevent injury. 

Avoid blocking the trail. Step aside to allow others to pass .  

Whether you're walking or biking, always yield to equestrians. 

Leave no trace. Pack out what you pack in. Most preserves do not have trash cans. Littering is prohibited. 

Abuses of trail etiquette should be brought to the attention of a ranger or call the Midpen main office at 650-691-1200. 
There are currently no events scheduled.
History
The Preserve is named for Fremont Older, a noted San Francisco newspaper editor who, together with wife Cora, owned a portion of the Preserve for 60 years. Their home known as "Woodhills", once a gathering place for personalities of the day, has been leased to a private party and restored. It is listed on the National Register of Historic Places. The house and garden are not open to the public. While tours of the property have been offered in the past, there are no upcoming plans for tours at this time.
In 1975, Midpen purchased the property and the house was scheduled for demolition. Mort and Elaine Levine, local newspaper publishers, wanted to see the journalistic legacy of Fremont Older and "Woodhills" preserved. The District Board voted and approved a long-term lease with the Levines who absorbed the cost of the home's restoration, which was completed in 1979. The Levine family still lives at "Woodhills."
Preserving Woodhills
Produced by Midpeninsula Media Center, May 2011
The full length version is available to the public at the following locations:
• Oral History and Community Memory Archive, CSU Monterey Bay • California History Center, De Anza College • Saratoga Historical Foundation • Cupertino Historical Society • California Room, San Jose State University Library
Some additional resources to help you enjoy the preserves!