Rancho San Antonio County Park & Open Space Preserve offers visitors a unique experience with a sampling of diverse environments, interesting cultural history and a variety of activities. The area features over 25 miles of trail throughout the 3,988-acre open space preserve and adjoining 165-acre county park.
Rancho San Antonio County Park is managed by Midpen through an operations and management agreement with the Santa Clara County Parks and Recreation Department.
Stretching bars are available at the restroom parking area and equestrian staging area. The park provides hiking, bicycling and equestrian trails, which connect with additional trails within the open space preserve. Bicycles are restricted to designated trails only, and are not permitted west of Deer Hollow Farm. Equestrians are limited to the equestrian staging area and Coyote Trail, within the county park. 
Image

Hiking: All Trails
Image

Bicycling: Designated Trails
Image

Equestrian: Designated Trails
Image

Dogs on Leash: Not Permitted
Image

Easy Access: Designated Trails
Image

Camping: No Camping
Image

Restrooms: Available
Image

Kid Friendly
Description
This four-mile trail climbs through chaparral, grassland, and oak woodland to the top of Black Mountain, connecting with Monte Bello Preserve. From the top of the 2,800-foot Black Mountain, there are views west into Stevens Creek Canyon, the open space lands along Skyline Ridge and across Santa Clara Valley.
Description
This 2.1-mile trail ascends gradually to a tranquil, secluded meadow in the northern part of the preserve. This spot — which adjoins Hidden Villa Ranch, a non-profit environmental education facility — was once the location of a picturesque windmill from former ranch days when cattle freely roamed the hillsides. It's the perfect spot for a picnic amid fields of grass in the shadow of Monte Bello Ridge and Black Mountain.
Description
This trail provides challenging 3.7-mile hike with a 1,600-foot elevation gain, following the path of electrical towers up Black Mountain. Hikers are rewarded with great views of the Bay Area and the western foothills. Combine with Wildcat Canyon or Upper High Meadow Trails for a longer loop. 
Description
A popular route for hikers and joggers, this this three-mile loop trail follows a creek into a cool, fern-walled narrow canyon, ascends through chaparral to open meadows on the middle ridge, and loops back to Deer Hollow Farm. Lupine, poppies, and patches of blue-eyed grass bloom in the meadows in spring. Visitors can pause or picnic here and, on a clear day, enjoy spectacular views of Mount Tamalpais to the north and Mount Hamilton to the east. 
Preserve Highlights & Features
Stories from the Preserves
Nature
Here are some of the plants and animals that other visitors have observed at this preserve and recorded in iNaturalist. Protected species may be excluded and some species may not yet have been observed. Help improve iNaturalist by adding your observations to the Midpen Biodiversity Index project
Join our e-mail list to stay up-to-date on this preserve and other Midpen news! 
Know Before You Go
Preserve regulations help provide a safe, enjoyable visit while protecting sensitive areas and wildlife. 
Share the Trail 
Image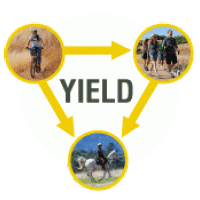 Use designated trails to avoid damage to natural resources and prevent injury. 

Avoid blocking the trail. Step aside to allow others to pass .  

Whether you're walking or biking, always yield to equestrians. 

Leave no trace. Pack out what you pack in. Most preserves do not have trash cans. Littering is prohibited. 

Abuses of trail etiquette should be brought to the attention of a ranger or call the Midpen main office at 650-691-1200. 
History
The Ohlone Indians lived in the Rancho San Antonio area for over 3,000 years prior to the arrival of the Europeans. A large village, known as Partacsi, was located in this general area. An expedition led by Colonel Juan Baptista de Anza passed through this area in March of 1776. Mission Santa Clara de Asis was founded in October of the same year. In 1822, Mexico became independent and the Secularization Act stripped the missions of their holdings. After 1833, land grants were mainly given to army veterans and many ranchos were established. The chief commercial products of the ranchos were cattle hides and tallow. Governor Alvarado granted Rancho San Antonio to Juan Prado Mesa in 1839. This 440-acre rancho was bounded by Adobe Creek to the north and Stevens Creek to the south, and included Permanente Creek. Mesa had been a soldier at the San Francisco Presidio since 1828, served as a corporal in the Santa Clara Guard. Mesa died in 1845. California became part of the United States in 1848 and all land grants issued by the Mexican government became subject to review under U.S. law.
In 1853, William Dana, a former seafarer and merchant, purchased the Rancho. During this time the original Mexican land grants were challenged and six persons laid claim to the Rancho. Two of the claims were patented by the United States in 1857, with Dana retaining 3,542 acres. In 1861, John and Martha Snyder purchased 850 acres of the original Rancho San Antonio lands on Permanente Creek. The Snyder's grain crop of 1862 was the first raised without irrigation in this area of the county and was so successful that it inspired others. The Snyder's had about 500 acres under cultivation, including a 16-acre vineyard with a large winery and 25 acres in orchard. John Snyder, born in 1828 in Indiana, arrived in Santa Clara County in 1850 where he was employed on local farms. In 1855, he married Martha Kifer. John died in 1901 and his wife continued to live on the ranch until her death in 1919.
In 1923, the Catholic Church purchased the Snyder Ranch and in 1926 constructed Saint Joseph's Seminary and the Maryknoll Seminary. St. Joseph's was badly damaged in the 1989 earthquake and was subsequently demolished. The Maryknoll Seminary, with its oriental motif, stands east of the park across Cristo Rey Drive. The Santa Clara County Parks Department purchased 130 acres in 1977 and another 35 acres in 1981 from St. Joseph's Seminary. The county park improvements were constructed in the early 1980s, with additional improvements completed in 1993.
Some additional resources to help you enjoy the preserves!