Explore the Trails
Stevens Creek Nature Trail – This trail passes through several plant communities as it forms a 3-mile loop at Monte Bello Open Space Preserve. Interpretive signs guide the way as you descend to the headwaters of Stevens Creek and return along the San Andreas Fault. 
Fault Trail – Visitors can walk the easy 1.5-mile Nonette Hanko San Andreas Fault Trail at Los Trancos Open Space Preserve and learn how the mighty San Andreas Fault has shaped our landscape. Download the brochure or use the OuterSpatial smartphone application to view it.
Docent Naturalist-Led Walks and Hikes – District docent naturalists lead over 200 outdoor activities each year. Many of these focus on a particular theme or natural history topic. Check out our event calendar to see what docent-led activity interests you!
OuterSpatial App
Access Midpen preserve maps and information in the palm of your hand with the FREE OuterSpatial app. Follow the map instructions below to find locate yourself on the map while you are out on the trail, even when you are offline. OuterSpatial also provides access to maps and info from many other park agencies in our region and beyond. Download it today!  
OuterSpatial Guided Trail Outings
There are many guided trail outings available through the OuterSpatial app. Once the app is downloaded, you can either look through the available outings on the Midpen home page, or click on one of the links below (if you already have the app downloaded).
Explore the New Bay Trail: Ravenswood Open Space Preserve - This new section of the Bay Trail opened at Ravenswood Open Space Preserve in August 2020. There are 1.5 miles of wheelchair-accessible trail on levees at this bay-front preserve. Note that this OuterSpatial tour uses graphics and information in English and Spanish from the six interpretive panels physically located on the new boardwalk (around stop #5 on this tour), but in this tour we show you the information at different locations in the preserve to enhance your experience as you explore.
San Andreas Fault Trail: Los Trancos Open Space Preserve - Learn about earthquake geology on this relatively flat, self-guided interpretive hike. One of the world's longest and most active, the San Andreas Fault splits this preserve The trail starts on the left side of the Los Trancos Parking Area. Go through the fence and up the hill to station number 1; follow your map from there. This easy hike with minimal elevation change is well suited for children and those needing a less physically challenging outing.
Triple Loop Hike: Los Trancos Open Space Preserve - This digital docent-led outing will take you through grassland, chaparral, and evergreen forest, and teach you about the incredibly interesting natural history of this area. This 2.5-mile triple loop hike will have an elevation gain of about 500 feet. 
Unique and Unusual: Pulgas Ridge Open Space Preserve - On this digital docent-led outing, you'll discover some of the unique characteristics that make Pulgas Ridge Open Space Preserve so special. On this moderate, 2.5-mile walk, you will follow along the Cordilleras, Polly Geraci, Dick Bishop, and Blue Oak Trails. This preserve is open to some amazing, but often-overlooked plants such as blue oak, and a delicate wildflower in the lily family called fetid adder's tongue. The dusky-footed woodrat, a California species of special concern, builds a large number of nests in this preserve.
Upper Lake Interpretive Walk: Bear Creek Redwoods Open Space Preserve - Beginning at the Alma Parking Area, the 0.2-mile long, easy-access Upper Lake Loop Trail features habitat restoration sites and historical artifacts such as Ohlone mortars. This self-guided interpretive tour features nine stops along an accessible pathway that can easily accommodate mobility devices, strollers, and trail-users of all ages and abilities. 
Image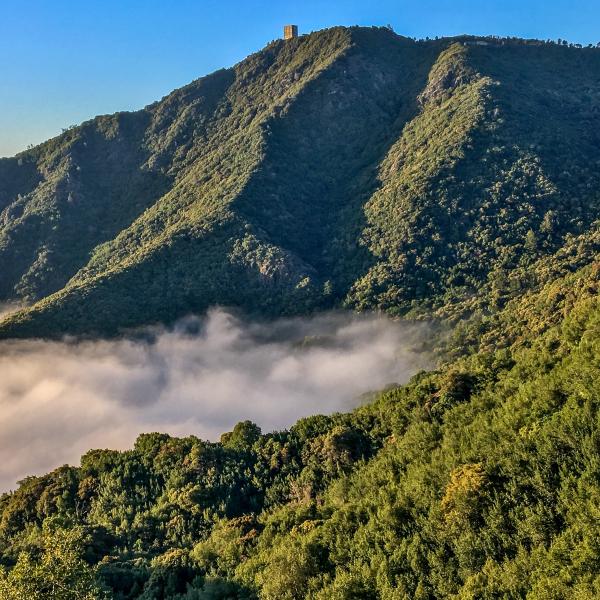 The Stories of Mount Umunhum audio tour app allows you experience a virtual guided tour around the summit of Mt. Umunhum at your own pace. Learn how Mount Umunhum got its name and hear Air Force veterans, Native Americans and others tell their personal stories about life on the mountain.
The Stories of Mount Umunhum app is available for free on the App Store and Google Play. We recommend downloading the audio tour app before your visit, because cell service and wireless connectivity can be limited in the area.
Multimedia Tours
Two self-guided, multimedia nature tours, similar to audio tours found in museums are available for hikes at Skyline Ridge Open Space Preserve:
Alpine Pond Tour - A short family-focused walk around Alpine Pond adjacent to the Daniels Nature Center
Skyline Ridge Habitat Tour - A longer, almost 2-mile walk, offered for a general audience, that guides visitors through four different habitat types.
In limited formats, the Alpine Pond Nature Tour is also available in Spanish and Mandarin.
The starting point for all Nature Tours is the Daniels Nature Center.
Midpen's audio-based nature tours are designed to involve new audiences, including families, and to enrich visitor experiences at Skyline Ridge Preserve by delivering fun and engaging content using mobile devices. The multimedia tours enhance visitor awareness and understanding about not only the flora and fauna of varied habitats, but also about the effect of human history on the landscape.
Download the Nature Tours
iTunes (Audio and Slideshow)
mp3 Format
View the Nature Tours On YouTube
Take a tour now, wherever you are, by watching and listening to the nature tours on YouTube. Each video in this playlist also includes a slideshow of nature photos to accompany the audio. These videos won't load in the limited cell reception at Skyline Ridge Open Space Preserve, so make sure you choose one of the downloadable options instead if you want to listen to the tour on-site.