Overlooking Alpine Pond at Skyline Ridge Open Space Preserve, the David C. Daniels Nature Center features imaginative displays that both children and adults can enjoy. Opened to the public in 1996, the nature center was partially funded through the generosity of the Peninsula Open Space Trust and the Judy and David C. Daniels Sr., family in memory of their son David C. Daniels.
Operating Schedule
The Daniels Nature Center is open for the season.  
The facility will be open Saturdays and Sundays: 
April through mid-October, 12 p.m. to 5 p.m.

 

Mid-October through mid-November, 11 a.m. to 4 p.m.

 
Exhibits and Activities at the Nature Center
The Daniels Nature Center serves as the starting point for exploring the environment of Alpine Pond and surrounding Skyline Ridge Open Space Preserve. A trip here includes a 1/2-mile easy access trail that loops around Alpine Pond.
Larger-than-life pond creatures;
A creative mural featuring pond-dwellers and their food chains;
A live, captive-bred gopher snake;
Touchable wildlife skulls and skins
Picnic tables, restrooms, drinking faucet and bicycle parking available year-round!
There are no trash cans on Midpen preserves-- all garbage must be packed out.
Alpine Pond Webcam
Enjoy a peaceful peek at Alpine Pond without leaving home. You may catch a glimpse of wildlife, view changing weather and observe seasonal variations as Midpen's new streaming webcam transports you to a serene setting and opens a window to this special place at Skyline Ridge Preserve. Check back often to see what wonders nature has to share at the pond and compare your observations each time you make your virtual visit! 
Wildlife observations in the area that might be seen on the webcam include: western pond turtles, ring-necked ducks, mallards, double-crested cormorants, great egrets, great blue herons, bats, ospreys and more.
The webcam may be offline periodically, or wildlife only visible and active during certain times of the day or year.
Self-Guided Walks
Two self-guided, multimedia nature tours, similar to audio tours found in museums are available for hikes at Skyline Ridge Open Space Preserve:
Alpine Pond Tour - A short family-focused walk around Alpine Pond adjacent to the Daniels Nature Center
Skyline Ridge Habitat Tour - A longer, almost 2-mile walk, offered for a general audience, that guides visitors through four different habitat types.
In limited formats, the Alpine Pond Nature Tour is also available in Spanish and Mandarin.
Image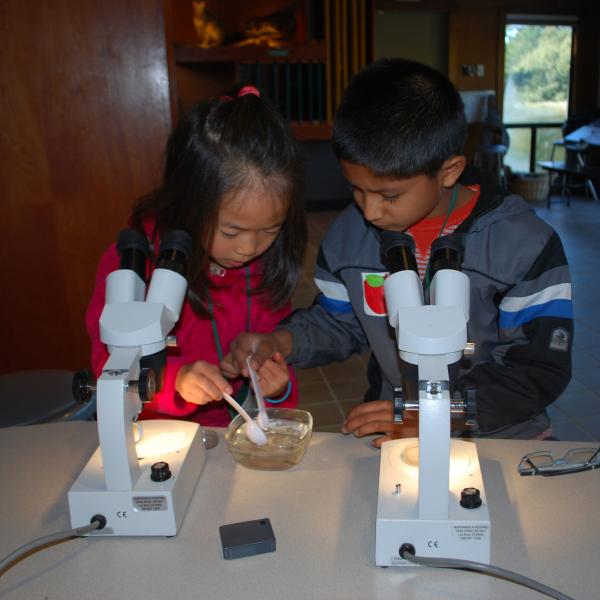 Find out how to volunteer as a nature center or outdoor education docent. As part of the Midpen docent community, you will learn techniques to share your knowledge and passion with preserve visitors. Additionally, you will have access to many training and enrichment opportunities.