August brings a new trail to explore at Ravenswood Open Space Preserve—find out how to join us for the opening celebration, or plan an upcoming visit on your own! Plus, we bring you updates on some of the many other projects currently underway in the preserves.
---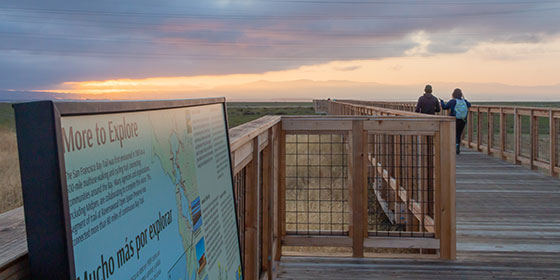 Ravenswood Bay Trail Opening Virtual Celebration
Friday, August 7 at 11 a.m.
Be among the first to see the newest section of the San Francisco Bay Trail at Ravenswood Open Space Preserve. Join Midpen to celebrate the opening of this small-but-mighty 0.6-mile trail segment that now connects 80 miles of continuous Bay Trail across three counties and links local communities to the bayside preserve.
Tour the preserve virtually to learn more about the area's native wildlife and unique saltwater marsh habitat. We'll also share a behind-the-scenes look at the careful planning and construction techniques this project required and highlight the new features Midpen built to enhance the habitat for local wildlife, especially the endangered species that call this area home.
The new Ravenswood Bay Trail will be open to the public on Friday, August 7. Plan your visit!
---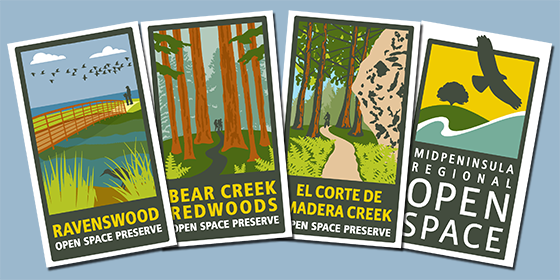 #RavenswoodBayTrail Photo Challenge
Snap a picture or a selfie during your visit to Ravenswood Preserve and receive a free starter pack of collectible Midpen postcards! Just post your photo on social media with #RavenswoodBayTrail, tag @midpenopenspace and submit the photo to us online. Postcards available while supplies last.
---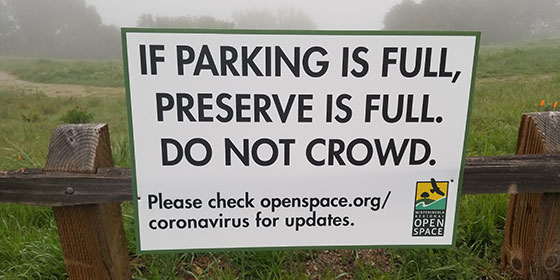 Staying Safe in Open Space
We continue to experience high visitation on weekends at most preserves. Please avoid areas where parking lots are full — do not park along the roadside, plan your visit for a less crowded time or place and remember the following guidelines:
Face coverings are required when you can't stay 6 feet away from persons you don't live with. Many Midpen trails are narrow — wear a mask, bandanna or gaiter you can pull over your mouth and nose as needed.
One-way routes are in place on some popular loop trails to assist in social distancing. Please follow all posted guidelines.
Picnic tables are open again at all preserves except Picchetti Ranch. You must bring your own sanitizer to clean tables before and after use and pack out all trash. The 6-foot social distancing rules apply here as well.
Other changes may be implemented as needed in the future. Please check the Midpen website before leaving home.
---
Keep it Crumb Clean in the Redwoods This Summer
You may not know it, but your summer picnic in the redwoods can affect the fate of an rare bird called the marbled murrelet (MER-let). These mysterious seabirds spend most of their life on the ocean, but mated pairs journey inland each spring and summer to hatch and raise one single chick in nests in old-growth forests. Despite more than a century of searching by scientists, the unconventional location of their nests remained North America's last great ornithological mystery until a chance discovery by a treeworker in Big Basin State Park in 1974.

Leaving garbage and food in the forest attracts ravens, crows and jays — the primary predators of marbled murrelet eggs and chicks. Thank you for joining Midpen in helping to protect these amazing and threatened birds by keeping it crumb clean and packing out everything you pack in on your redwood (and all!) outings this summer.
---
Native Plants on the Rebound
We are happy to report that three years of effort to remove invasive English ivy (Hedera helix) from a number of hotspots in Bear Creek Redwoods Preserve is paying off — native plant species are rebounding! English ivy is slow to regrow after removal, which allows for native plants such as California blackberry (Rubus ursinus) and wake-robin (Trillium ovatum) to reestablish in its place. To carefully protect sensitive creekside areas, staff and volunteers remove the plants by hand and with manual tools. English ivy spreads by having its seeds eaten by birds who disperse them, and the plant is able to produce an abundance of flowers and seeds by climbing trees. By cutting the large climbing vines, we are able to remove a large amount of seeds and help protect the wider area from additional invasion. Grant funding from Valley Water supports this habitat restoration project.
Help prevent the spread of invasive plants at home
---

Planning for New Public Access at Sierra Azul
Midpen is working on developing new public access in the northern area of Sierra Azul Open Space Preserve, near Lexington Reservoir. Project elements currently under evaluation include:
Permit only parking area
1.3-mile multi-use trail connection to the Priest Rock Trail
The Midpen Planning and Natural Resources Committee will meet on Tuesday, August 4 to discuss the project and provide feedback on a concept plan for the trail and parking area.
Find out more and sign up to receive project updates
---

New Mountain Lion Conservation Research
Midpen biologists and UC Santa Cruz Puma Project scientists are beginning a five-year mountain lion study that will help us better understand how these secretive animals are using popular popular open space near urban areas, such as at Rancho San Antonio, Picchetti Ranch and Fremont Older preserves.

This information, along with a concurrent study using wildlife cameras, will help us best manage our public open space preserves for the protection of both mountain lions and preserve visitors. We hope you'll follow along and learn more about the many challenges these important big cats face, how we can best safely coexist to help them survive and thrive in the Santa Cruz Mountains region and beyond. Stay Tuned!
Learn more about mountain lions
---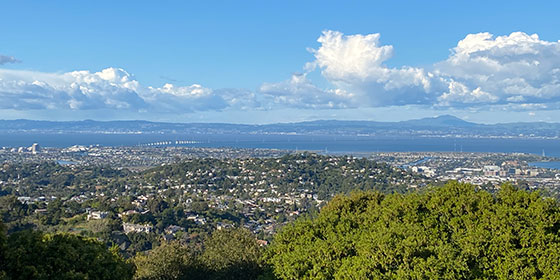 Climate Program Gets a Boost from Shelter in Place Orders
Midpen continues work on our Climate Change Action Plan, a roadmap for reducing agency greenhouse gas emissions 80% by 2050. Many in the Bay Area are noticing cleaner air in these past few months, and we were curious about how shelter-in-place orders may be impacting our greenhouse gas emissions. While our field offices used by ranger and maintenance staff remain operational, all administrative office staff continue to work remotely, which lowers emissions attributable to employee commutes.
Analyzing the data from March 16 to May 1 showed the reduced natural gas use for heating the office combined with the reduced employee commuting resulted in keeping approximately 30 tons of carbon dioxide out of the atmosphere. We're working to continue to reduce our operational emissions and manage the preserves in ways that help remove carbon from the atmosphere.
---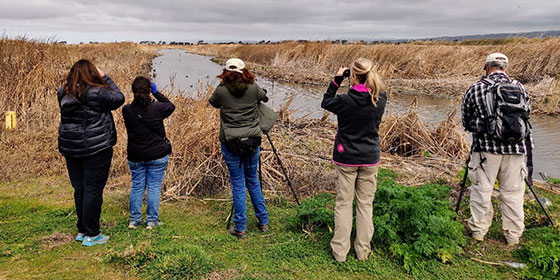 Grantee Spotlight
Midpen's grantmaking program supports organizations and projects that align with our mission. This is the third spotlight in a series of profiles of this year's grantees.
San Francisco Bay Bird Observatory is a Milpitas based non-profit dedicated to the conservation of birds and their habitats through science and outreach including bird walks, science talks, bird banding demos, bird language workshops, hands on avian science activities, bird ID workshops and more. Midpen awarded SFBBO a $25,000 grant to fund a part-time outreach specialist to provide free programming to increase science literacy, appreciation for birds and the issues birds face. In response to COVID-19, SFBBO has pivoted to offer educational virtual events, hosting a series of Birdy Hour Speaker Series events, and their webpage provides family-friendly resources and games to engage the community with birds from home.
Learn more about the San Francisco Bay Bird Observatory
---
Upcoming Public Meetings
August 4: Planning and Natural Resources Committee Meeting
August 12: Board of Directors Meeting
August 12: Board of Directors Meeting - Closed Session
August 17: Board Appointee Evaluation Committee Meeting
August 18: Action Plan and Budget Committee Meeting
August 25: Legislative, Funding, and Public Affairs Committee Meeting
August 26: Board of Directors Meeting
In accordance with public health shelter-at-home orders, all Midpen board meetings will be held via Teleconference ONLY. Meeting agendas and info on how to comment and attend are posted online 72 hours before the meeting.