The Midpeninsula Regional Open Space District is committed to making all practicable efforts to make Midpen facilities, programs, services, information, employment, and meaningful work opportunities accessible and usable by all people.
The ADA Barrier Removal project was created to systematically remove accessibility barriers at Midpen facilities and preserves. Projects include modernization and ADA upgrades to restrooms, accessible parking and pathways, easy access trails, signage, facilities, and other amenities. We track and report annual accomplishments of completed projects and tasks to the Board of Directors as part of the annual ADA Transition Plan implementation.
Public Meeting

Wednesday, April 14, 2021 at 7 p.m.

At this meeting, the Midpeninsula Regional Open Space District board of directors will receive a progress report on the implementation of the ADA Transition plan that was approved in May 2019. No board action will be taken.
Fiscal Year 2020-21 Projects
Midpen is replacing existing old restrooms and installing accessible parking and pathways at Windy Hill, Russian Ridge and Monte Bello Open Space Preserves. Work includes ADA-complaint upgrades to restrooms, accessible parking stalls, pathways and signage, as well as drainage infrastructure and split-rail fences.
Work is tentatively scheduled to take place: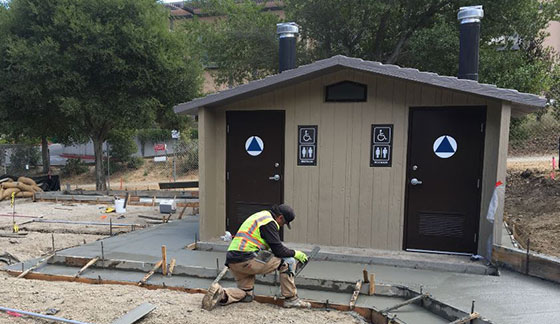 Completed Projects
Retrofitted 95% of preserve entry stiles to comply with ADA barrier width limits for improved accessibility at entry/exit locations.
Adjusted restroom doors throughout preserves for improved accessibility.
Background
In May 2019, the Board of Directors approved our ADA Self-Evaluation and Transition Plan Update. This project identified programmatic and physical barriers limiting accessibility at Midpen. The ADA Plan update provides recommendations for removing physical barriers based on accessibility requirements mandated by the ADA and State of California access codes, and will provide the basis for prioritizing, budgeting, implementing, and monitoring the removal of barriers.
Find out more about the ADA Self-Evaluation and Transition Plan Update