Coal Creek is an ideal place for a quick afternoon hike with one's dog. Several trails can be combined to create a pleasant 2- or 3-mile loop. Views of the San Francisco Bay Area can be seen from the open grassland ridges below the Caltrans vista point parking area.
Image

Hiking: All Trails
Image

Bicycling: Designated Trails
Image

Equestrian: Designated Trails
Image

Dogs on Leash: Designated Trails
Image

No Easy Access
Image

Camping: No Camping
Image

Restrooms: Not Available
Description
You will be treated to stunning views of the South Bay if you venture down this 0.9-mile long out-and-back trail that meanders through grassy meadows below the Caltrans vista point on Skyline Boulevard. A longer 2.4-mile long loop can be constructed by connecting this trail to the Meadow Trail and Alpine Road. 
Description
This 1.7-mile long loop winds through oak woodlands, and features a small seasonal waterfall, and views of the South San Francisco Bay. This hike is almost entirely shaded, and is pleasant even in the middle of the day. Dogs on leash are allowed on this loop. 
Preserve Highlights & Features
Image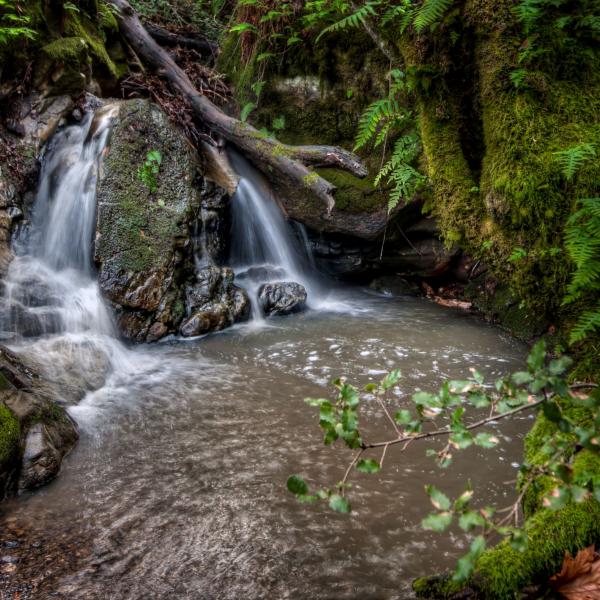 Seasonal waterfalls can be found in Coal Creek Preserve in the wetter winter months.
Stories from the Preserves
Nature
Here are some of the plants and animals that other visitors have observed at this preserve and recorded in iNaturalist. Protected species may be excluded and some species may not yet have been observed. Help improve iNaturalist by adding your observations to the Midpen Biodiversity Index project
Join our e-mail list to stay up-to-date on this preserve and other Midpen news! 
Know Before You Go
Preserve regulations help provide a safe, enjoyable visit while protecting sensitive areas and wildlife. 
Share the Trail 
Use designated trails to avoid damage to natural resources and prevent injury. 

Avoid blocking the trail. Step aside to allow others to pass .  

Whether you're walking or biking, always yield to equestrians. 

Leave no trace. Pack out what you pack in. Most preserves do not have trash cans. Littering is prohibited. 

Abuses of trail etiquette should be brought to the attention of a ranger or call the Midpen main office at 650-691-1200. 
There are currently no events scheduled.
History
Although Coal Creek Preserve is only around 500 acres, there is much to enjoy about its rich history. Once a place where Native Americans gathered and ground acorns and other seeds, purchase by Midpen saved this area from being turned into a residential subdivision. 
Some additional resources to help you enjoy the preserves!