This tiny 212-acre preserve's steep and forested ravines form part of the Adobe Creek watershed above Hidden Villa Ranch and are adjacent to Palo Alto's Foothills Park.
Image

Hiking: All Trails
Image

Bicycling: Not Permitted
Image

Equestrian: All Trails
Image

Dogs on Leash: All Trails
Image

No Easy Access
Image

Camping: No Camping
Image

Restrooms: Not Available
Description
A short 0.3-mile Trail leads from Page Mill Road to a grassy knoll offering a fine view of the South Bay. Views of Mount Hamilton, Mission Peak, and the East Bay hills are revealed on a clear day. 
Preserve Highlights & Features
Image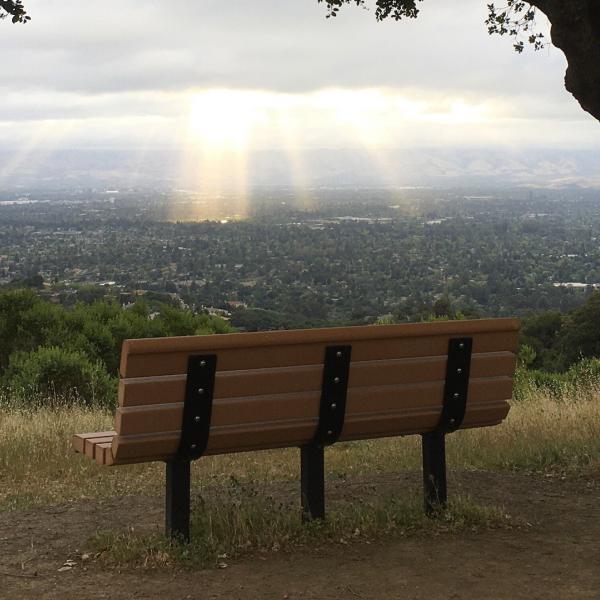 The single trail in this preserve leads to a hilltop that offers 360 degree views of the San Francisco Bay communities from San Jose to San Francisco.
Nature
Here are some of the plants and animals that other visitors have observed at this preserve and recorded in iNaturalist. Protected species may be excluded and some species may not yet have been observed. Help improve iNaturalist by adding your observations to the Midpen Biodiversity Index project
Join our e-mail list to stay up-to-date on this preserve and other Midpen news! 
Know Before You Go
Preserve regulations help provide a safe, enjoyable visit while protecting sensitive areas and wildlife. 
Share the Trail 
Use designated trails to avoid damage to natural resources and prevent injury. 

Avoid blocking the trail. Step aside to allow others to pass .  

Whether you're walking or biking, always yield to equestrians. 

Leave no trace. Pack out what you pack in. Most preserves do not have trash cans. Littering is prohibited. 

Abuses of trail etiquette should be brought to the attention of a ranger or call the Midpen main office at 650-691-1200. 
There are currently no events scheduled.
History
The opportunity to purchase the initial 90 acres of this Preserve came at a time when the District (known then as the Midpeninsula Regional Park District) was in its infancy and the criteria for land purchases were still being established. When the District was formed in 1972, it was a year or so before funds were available to buy land. So the general manager at the time, Herb Grench, sought out people who were willing to make gifts of land to the District to get the ball rolling. One such gift, made in 1974, was this small parcel tucked between Hidden Villa and Foothills Park south of Palo Alto. Later this gift was used to obtain a matching grant for the purchase of Stevens Creek Shoreline Nature Study Area.
Some additional resources to help you enjoy the preserves!