Teague Hill Open Space Preserve is located in the Santa Cruz Mountains just above the town of Woodside. For those interested in visiting Teague Hill Preserve, the only accessible route is along the Bay Area Ridge Trail.
Image

Hiking: All Trails
Image

Bicycling: Not Permitted
Image

Equestrian: All Trails
Image

Dogs on Leash: Not Permitted
Image

No Easy Access
Image

Camping: No Camping
Image

Restrooms: Not Available
Description
For those who are interested in visiting Teague Hill, the only accessible route is along a portion of the Bay Area Ridge Trail (Skyline Trail), which can be accessed approximately 0.25 miles east of Skyline Boulevard on Kings Mountain Road. The trailhead is located on the south side of the road.  This trail can also be accessed from Skyline Boulevard.
The trail will take hikers or equestrians through a small portion of the northwest corner of Teague Hill on the way to San Mateo County's Wunderlich Park, or Midpen's El Corte de Madera Open Space Preserve.
Image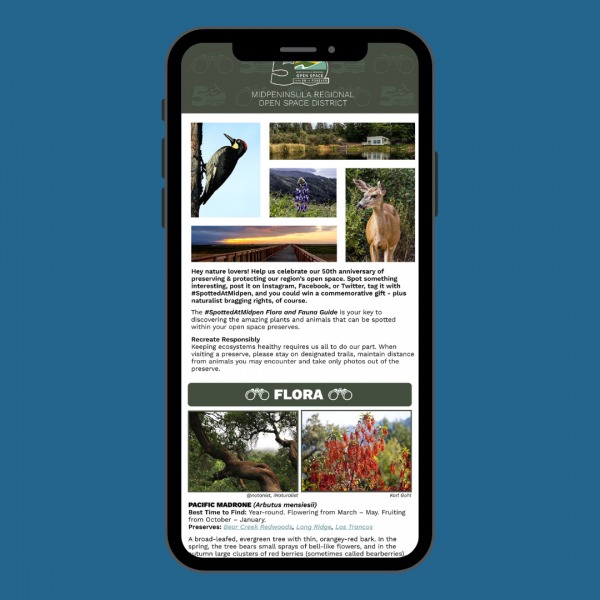 Preserve Highlights & Features
Image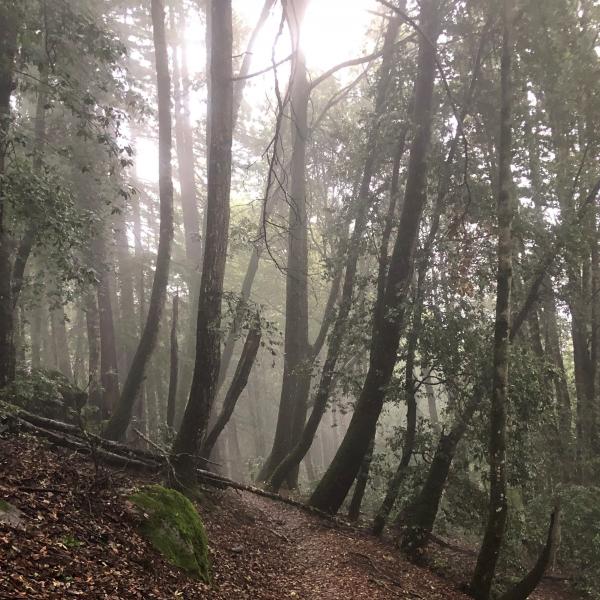 The Bay Area Ridge Trail, a regional trail which links the ridges encircling the Bay Area, passes through Teague Hill Open Space Preserve. In fact, the Skyline Trail section of the Bay Area Ridge trail is the only way that one can access Teague Hill! Even though the majority of Teague Hill is inaccessible, the preserve helps improve public trail access by providing this immensely important regional trail connection. 
Image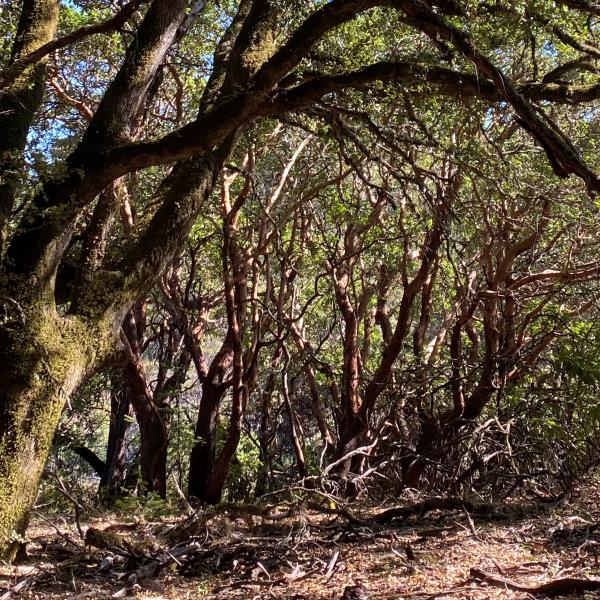 The corner of Teague Hill that visitors can hike through offers a beautiful example of oak and madrone woodlands, which are a defining feature of Bay Area ecology. If you are lucky, you may even get to see a Kings Mountain Manzanita, a rare plant that is endemic to the mountain that Teague Hill is located on. 
Nature
Here are some of the plants and animals that other visitors have observed at this preserve and recorded in iNaturalist. Protected species may be excluded and some species may not yet have been observed. Help improve iNaturalist by adding your observations to the Midpen Biodiversity Index project
Sign up for our newsletter to find out what's happening in your open space!
Know Before You Go
Preserve regulations help provide a safe, enjoyable visit while protecting sensitive areas and wildlife. 
Image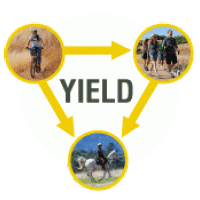 Share the Trail 
Use designated trails to avoid damage to natural resources and prevent injury. 

Avoid blocking the trail. Step aside to allow others to pass .  

Whether you're walking or biking, always yield to equestrians. 

Leave no trace. Pack out what you pack in. Most preserves do not have trash cans. Littering is prohibited. 

Abuses of trail etiquette should be brought to the attention of a ranger or call the Midpen main office at 650-691-1200. 
No reported trail closures.
Parking is not available for Teague Hill Preserve. Access is only available via the Bay Area Ridge Trail that connects through the adjacent Huddart Park (Santa Clara County Parks)
Bicyclists: Bikes are NOT allowed in this Preserve. For information on preserves open to bikes visit the Bicycle Access page.
Fires are prohibited in preserves.

Plants & Wildlife: Please leave undisturbed. If you encounter wildlife during a visit, do not approach, startle or feed it. Although wild animals are generally fearful of humans and will run away, some wildlife can be dangerous.

Smoking is prohibited in preserves.

Water Areas: Swimming, wading or engaging in any water-contact activity is prohibited.

Weapons are prohibited in preserves.
Drones and Model Aircraft: Drones,

model airplanes and model rockets are NOT allowed.
A general access permit is required for any activity or event that:
may be attended by twenty (20) or more people; OR
would restrict the use of any part of Midpen lands by members of the public; OR
requests or requires a fee be paid or a donation made for participation. This includes events where the fee is in the form of a mandatory purchase, such as a t-shirt.
Midpen trails and facilities are generally very safe. However, you are entering an environment where there are some naturally occurring hazards. Reasonable caution and common sense should be utilized when venturing into any outdoor environment. 
Do not leave valuables in your vehicle! Lock your vehicle and store valuables out of sight or take them with you on the trail.
 
Travel in groups of two or more. Two of more people can assist each other in the event of an accident or emergency.
 
Dress for the environment. Temperature changes can be occur and you should dress in layers appropriate for the location, time of year and planned activities. 
 
Carry water with you. Drinking water is not available at most Midpen preserves so you should bring your own. Two quarts per person per two hour hike is recommended.
 
Apply sunscreen and drink plenty of water prior to and during your outdoor activities.
 
Be aware that cell service is very sporadic on the preserves. 
Be Prepared and Aware 
Plan ahead before you leave. Check regulations and weather, download a map, pack water and first aid. 

Know your limits and take safety precautions. 

Rattlesnakes are native to this area and are especially active in warm weather. 

Poison oak grows on most preserves: Learn to identify and avoid it in all seasons. 

Ticks are present in this area and may carry diseases. 

Mountain lions are a natural part of this region's environment and are occasionally seen. 
In Case of Emergency 
If you experience an emergency (fire, accident or other immediate threat to life or property), call 911. For nonemergencies, call 650-691-1200. 
History
In Spanish times, pre-sawmill lumbering occurred at the fringe of forests around Portola Valley and Woodside to provide hand made shingles, hand hewn logs, and hand cut lumber for the construction of the Presidio, Mission of San Francisco, Mission Santa Clara, and pueblo of San Jose. 
Sawmilling in the Bear Gulch area, adjacent to Teague Hill, was started by San Mateo County's first really large lumbering enterprise: the Baker & Burnham Gang Mill. This highly mechanized operation was set up in 1852. The exact site of the mill is not known, but it was perhaps near the upper end of Tripp Court, where small pieces of heavy equipment have been found. Large redwoods in Bear Gulch and Appletree Gulch (on the Preserve) surrounded the mill to the north. A financial crash and legal trouble ended this operation in 1855. The former creditors of Baker & Burnham became the owners and, headed by M. S. Gibbs, moved the mill to Squealer Gulch Creek, just to the other side of the current Preserve. The area continued to be logged under various owners, and was timbered out around 1865. Shingle mills could continue to operate, because they could work in canyons too deep or remote for lumbermen by using pack animals to carry the shingles out.
The first shingle mill in San Mateo County was introduced in 1856 by John G. Moore in Tripp Gulch, now a part of Teague Hill Open Space Preserve. The mill was later acquired by Dr.Tripp, a prominent Woodside merchant (and the town dentist), who for some time operated the small lumber yard. He made shingles with machinery; an innovative new process in the 1850s. Lumber went out via Old La Honda Road and past Woodside's Whiskey Hill, heading for Redwood City. Woodside reached its peak as a lumbering center about 1859-60.
The County of San Mateo was formed by a separation from San Francisco County in 1856, and the lumber port of Redwood City was chosen as the seat of county government. Andrew Teague was elected San Mateo County District Attorney in 1869. Presumably Teague Hill was named after Andrew Teague. 
The information is taken primarily from "SAWMILLS IN THE REDWOODS, Logging on the San Francisco Peninsula, 1849-1967," by Frank M. Stanger, published by the San Mateo County Historical Association.
Some additional resources to help you enjoy the preserves!