A key thread that runs throughout Midpen's Vision Plan is our community's commitment to regional trails. With nonprofit, government and other partners, Midpen has long shared the goal of developing an interconnected network of multiuse trails that link open space lands throughout the San Francisco Peninsula to each other and to population centers. Midpen's commitment goes back to 1989, when we dedicated the first few miles of the Bay Area Ridge Trail, the regional trail system that will eventually circumnavigate the entire the San Francisco Bay.
Here's some of the latest from our trails.
Bay Area Ridge Trail
Image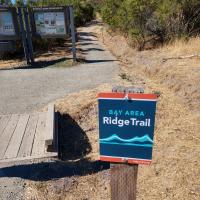 At El Sereno Open Space Preserve, 3.5 miles of trail were dedicated as Bay Area Ridge Trail. This not only helps Midpen's long-time nonprofit partner reach the milestone of 400 miles of dedicated trails this year, but it also adds to the already 45 miles of Ridge Trail that you can visit in Midpen preserves!
Stevens Creek Trail
Image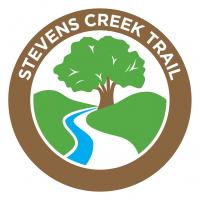 At Monte Bello Open Space Preserve, 4 miles of trail were dedicated as Stevens Creek Trail, a regional trail that follows the 21-mile Stevens Creek corridor from the Santa Cruz Mountains to the San Francisco Bay. As a Board-approved Measure AA 5-Year Project, this is just the beginning. Midpen and Santa Clara County Parks will be collaborating on future planning efforts to complete trail connections between Stevens Creek County Park, Picchetti Ranch Preserve and Monte Bello Preserve.
Trail Information Sharing System Pilot Project Underway
In the summer of 2021, we began a pilot project to assist visitors with wayfinding and trail route decisions. Midpen staff hiked approximately 50 miles of trail across Rancho San Antonio, Skyline Ridge, and Monte Bello preserves while measuring the physical terrain. The quantitative data collected will help us characterize the physical attributes of our trails, from steepness to tread width and obstacles. Ultimately, we hope to incorporate this information into trail descriptions, signage and maps.