In August we're bringing you stories of shared celebrations, how we're helping local wildlife, plans for preserve parking and ways for you to get involved. Read on to discover what's new. Learn about ongoing projects, find out about upcoming virtual events and get public meeting updates.
Limited edition 50th Anniversary commemorative items are now available for sale online in the Midpen store. 
Image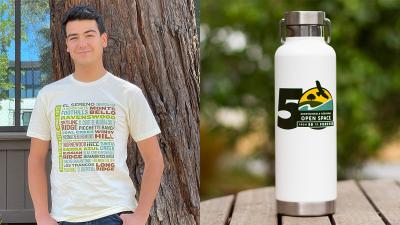 Image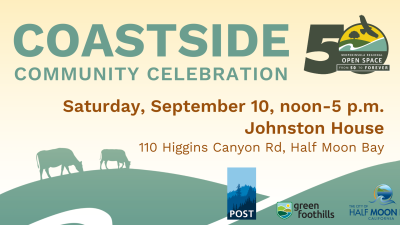 Come celebrate Midpen's 50th Anniversary of public open space preservation, protection, restoration, access and education. This free-admission community celebration at the historical Johnston House in Half Moon Bay promises fun for nature lovers of all ages.

Event entertainment and activities include:
Wildlife and conservation presentations
Agricultural talks and demonstrations
Historical tours of Johnston House
Food trucks
Live local music
Insect Discovery Lab by SaveNature
Face-painting
Exhibitor booths hosted by our partners: Peninsula Open Space Trust (POST), Green Foothills, the City of Half Moon Bay, San Mateo County Parks Foundation, Sequoia Audubon Society, Half Moon Bay and Woodside Libraries, Half Moon Bay State Beach, Latino Outdoors, Ayudando Latinos A Soñar (ALAS), The HEAL Project, Coastside Farmers' Market, San Mateo County Fire/CalFire, Coastside Land Trust, OneShoreline, Coastside Mountain Bikers, Half Moon Bay Historical Association, PMAC, San Mateo County Resource Conservation District, Groundswell Coastal Ecology, Midcoast Community Council, Save the Redwoods, Rancho San Benito, Te Kwe A'naa Warep Farm, Climate Resilient Communities, and more!
Docent Naturalist Guided Activities
Here are just a few of the upcoming guided activities offered this month by our volunteer docent naturalists.  

August 7  - Earthquake Walk at Los Trancos Preserve
August 18  - Horses, History & Views – Equestrian Ride at La Honda Creek Preserve*
August 25 - Transitions & Life Cycles at El Corte de Madera Creek Preserve

All Preserves Great & Small
Immerse yourself in nature and history to celebrate Midpen's 50th anniversary with docent naturalists as your guides for the "All Preserves Great & Small" year-long hike series. Each preserve offers something special and retired Midpen ranger Frances Reneau, now a docent naturalist, created this series.
August 21 -  El Corte de Madera Creek Preserve
August 30 - Purisima Creek Redwoods Preserve*

*Requires reservations
Project Updates
Parking Update: Rancho San Antonio
Visitors to Rancho San Antonio County Park & Open Space Preserve will soon be greeted with new electronic signs displaying current parking availability in all lots. This real-time information will also be available on Midpen's website for potential visitors to check before they leave home.

Later this month our pilot carpool parking program at Rancho San Antonio will begin. On weekends and holidays, the 80 vehicle spaces in the equestrian lower parking area at the Coyote Trail trailhead will be reserved for carpools of three or more people. ADA-accessible spaces and equestrian trailer parking will remain available at all times.

Both of these projects are part of Midpen's Rancho San Antonio Multimodal Access project, which is designed to encourage visitors to opt for greener forms of transportation and reduce parking demand at the preserve while maintaining equitable access for both local and regional visitors.
Stay up-to-date at openspace.org/rsa-parking.
---
Grasshopper Loop Trail Seasonally Closed to Dogs Aug. 1-Dec. 15
The Grasshopper Loop Trail in the La Honda Creek Open Space Preserve is seasonally closed to dogs August 1 through December 15 and remains open for hiking and equestrian use year-round.

The 1.3-mile easy access trail, which opened to the public with much fanfare in June, is in one of just two areas on Midpen lands where trails traverse pastures actively grazed by cattle as part of Midpen's Conservation Grazing Program. This program is a mutually beneficial partnership between Midpen and local ranchers to protect and enhance coastal grasslands, improve wildland fire safety and support viable agriculture land use on the San Mateo County coast in alignment with Midpen's Coastside mission.

The seasonal closure to dogs occurs during cattle calving season to protect the health and safety of visitors. Mother cows can be naturally protective of their newborns in the presence of dogs, which they may perceive similarly as natural predators such as coyotes.

We appreciate your patience and understanding and welcome your four-legged hiking companions back to the Grasshopper Loop Trail on December 15.
Board Meeting Updates
Applications Open for the Measure AA Bond Oversight Committee
Midpen is currently accepting applications from qualified individuals interested in serving a four-year term on the Measure AA Bond Oversight Committee.
This committee convenes several times a year to review annual Measure AA expenditures and Midpen's Annual Audit and Accountability Report.
Midpen seeks individuals to serve on the Oversight Committee who are committed to transparency and accountability to provide oversight for all Measure AA funds collected and expended. Members of the Oversight Committee MUST be residents living within Midpen's jurisdiction.
Applications are due by 5 p.m. on September 5, 2022
---
Purisima-to-the-Sea Trail and Parking Area Virtual Public Meeting - August 30 at 1 p.m.
Join the Midpen board members on our Planning and Natural Resources Committee for a public meeting to learn about and comment on the preferred trail alignment and conceptual parking area designs for the Purisima-to-the-Sea Trail. When built, this long-envisioned trail will link the California Coastal Trail to the existing trail network in Purisima Creek Redwoods Open Space Preserve, including the Bay Area Ridge Trail.

The project is guided in part by the early results of a soon-to-be completed study of public access to Purisima Creek Redwoods Preserve that seeks proposed strategies for promoting greener modes of travel and better managing parking and visitation at this popular preserve. On August 2, Midpen's PNR Committee held a public meeting to learn about the results of data collection and visitor survey efforts and to review the proposed transportation demand management strategies being recommended. The committee confirmed the proposed strategies, which will now be incorporated into a draft report for further review at a public meeting later this year.

The August 30 public meeting agenda, staff report and zoom link will be available online on August 26.
Upcoming Public Meetings
August 10: Board of Directors 
August 11: Board of Directors - Closed Session
August 16: Board Appointee Evaluation Committee
August 24: Board of Directors
August 30: Planning and Natural Resources Committee
Currently all Midpen board meetings are held via teleconference only. The meetings may be viewed online. Links to the meetings are posted with each agenda. There is also a dial in number to listen by phone. Links are included in the meeting agendas posted online 72 hours before the meeting.

Members of the public may provide written or oral comments by submitting a public comment form.