Midpen offers 11 dog-friendly preserves. Before heading out to one of these with your dog, please review our dog access guidelines below. Your cooperation and compliance is essential to ensure continued dog access, preserve visitor safety, resource protection, and an enjoyable experience for everyone using the trails.
Dog-friendly Preserves
You and your canine companion are invited to experience many dog-friendly trails on our preserves:
* While in this area, visitors must have a leash in their possession and keep their dog under voice control so that they do not harass other park users, dogs, or wildlife.
In accordance with the Americans with Disabilities Act, we accommodate service dogs in preserves wherever we allow public access. 
Image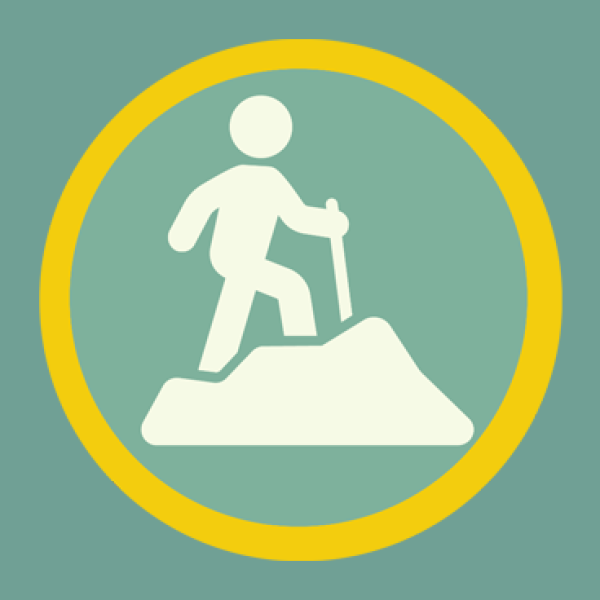 Before you head out on your next outdoor adventure, use the Trail Explorer tool to find the Midpen trails best suited to you. 
Why are dogs allowed on some preserves and not others?
Midpen is committed to providing an open space experience for every type of user. Our preserves support, protect, and conserve wildlife and nature alongside low-impact recreational use. Some preserves and areas contain more vulnerable natural resources that can be negatively impacted by the presence of dogs. We strive to find the balance between public access while also continuing to protect these precious habitats.
Dog Access Guidelines
The following rules apply at all times:
Visitors may have no more than three (3) dogs per person.
Dogs are not allowed in any Midpen water areas, including streams or ponds.
Dogs must be on a leash 6' long or less. Self-retracting leashes are allowed with a maximum extended length of 25 feet. 

Extended leashes must be locked at 6' when in the presence of other visitors.

Do not allow dogs to harass wildlife or other visitors.
Bag and remove dog waste from the preserve by packing it out. Do NOT leave bagged waste at the preserve or outside preserve restrooms.
Why is a leash required?
Protecting Wildlife — The preserves are a sanctuary for many types of wildlife, with some habitats offering unique breeding grounds. Dogs roaming freely, or simply wandering in and out of vegetation can disturb these creatures, for example driving birds away from their nests.
Keeping your Dog Safe — A leash prevents a dog from accidents like getting lost, falling, or possibly being injured by a fast moving bicyclist. It is possible that dogs can encounter wildlife such as rattlesnakes, bobcats, or even a mountain lion and behave in a way that places them in danger. Leashes also protect your dog from other dogs. Even if your dog is friendly, it doesn't mean the other dog it approaches will be. Dogs may become aggressive in a surprise encounter.
Other Users — Not all visitors enjoy dogs. Some people are afraid of them and can become highly stressed when approached by a strange dog.
The Scoop on Poop
Midpen preserves follow the "leave no trace" philosophy.  Visitors are asked to bag dog waste and carry out any trash they generate. This includes dog waste which, when left on the trail, can harm wildlife or allow bacteria to be carried by storm water into nearby streams. 
We realize driving home with a bag of poop isn't the best way to end a day on the trails. As part of a new pilot program, dog waste receptacles have been installed at the following preserve parking areas: Pulgas Ridge, Fremont Older, Lower Windy Hill, and Thornewood Open Space Preserves. The success of this pilot program is dependent on you. Please help keep our trails, shoes and waterways clean by bagging dog waste and disposing in the new bins (or packing it out)!
We often get asked: "Why can horses poop on the trails but not dogs?"
Since horses don't eat meat, horse poop is relatively "clean," with so few bacteria, parasites or viruses, that cases of humans and wildlife getting sick from contact with horse manure is incredibly rare.
Being plant-based, horse manure breaks down quickly (within a few weeks), but dog poop sticks around a lot longer. It gets into groundwater and spreads illness-causing bacteria. So, even though they are both domestic animals, dog poop has a much larger impact on the ecosystem than horse poop.
Image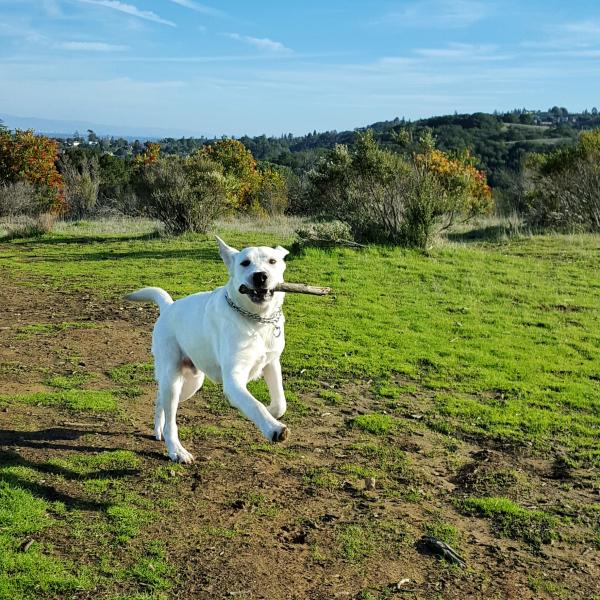 Dog waste disposal bins have been installed in some parking areas at four Midpen preserves on a trial basis: Pulgas Ridge, Lower Windy Hill, Fremont Older and Thornewood. The success of this pilot program is dependent upon help and compliance from visitors. 
Please help keep our trails, shoes and waterways clean by bagging dog waste and disposing in the new bins or packing it out.
Health and Safety
Remember, a dog depends on its owner! Be aware that dogs can overheat, particularly on strenuous trails and warm, summer days. With no sweat glands and only panting available to disperse body heat, dogs are much more susceptible to heat stroke than we are. Symptoms of heat exhaustion include heavy panting, dry gums, weakness, confusion and inattention.
Always carry water for your dog. No water is provided.
Choose a hike within the limits of your dog's ability.
Restrict exercise in the heat of the day and hike in the shade whenever possible.
When your hike is finished, give your dog a thorough once-over for ticks and other bugs.
Stay informed!
Sign up to receive updates and notifications about dog trail access at Midpen preserves.