Inside this issue: celebrating our work on the coastside, events and activities for you to join, new projects and programs, plus ways for you to share your feedback.
Image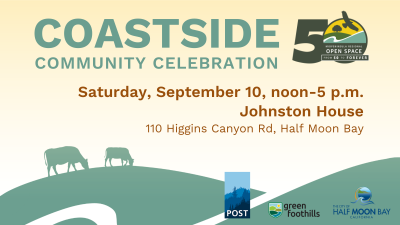 Come celebrate Midpen's 50th Anniversary of public open space preservation, protection, restoration, access and education. Come see wildlife demonstrations, listen to live local music, learn about local agriculture through talks and live demonstrations, and visit exhibitor booths from local conservation and community partners.
Events & Activities
Here is just a sampling of what's happening in our preserves. See our Event Calendar to find more activities!
Docent-Led Guided Activities
September 7 - Explorer Hike: Lichens 101 at Saratoga Gap Preserve
September 14 - Morning Meander: Orchard to Creek at Picchetti Ranch Preserve
September 18 - Ferns and other Ancient Plants at Monte Bello Preserve

All Preserves Great & Small
Immerse yourself in nature and history to celebrate Midpen's 50th anniversary with docent naturalists as your guides for the "All Preserves Great & Small" year-long hike series. 
September 18 - Long Ridge Preserve
---
Volunteer Projects
September 15 - Yellow-star Stomp! Habitat Restoration
Join Midpen and Grassroots Ecology for a fun workday of removing invasive yellow-star thistle at Rancho San Antonio Open Space Preserve. This project is an excellent opportunity for first-time volunteers and a great way to care for the planet while caring for yourself through exposure to the natural world.
Project Updates
Carpool Lot Pilot Program Begins September 3
Have you seen this new sign at Rancho San Antonio County Park & Open Space Preserve? The digital display shows the number of available parking spots. The information is also posted online on our website, so you can check it out before you leave home!

Also, beginning this Saturday, Sept 3, our carpool pilot program begins. On weekends and holidays, lot 1 (at the Coyote Trailhead) will be reserved for carpools of 3 or more. ADA-accessible spaces and equestrian trailer parking are not subject to carpool restrictions. Both of these programs are part of our ongoing multimodal access program which aims to encourage visitors to opt for greener forms of transportation and reduce parking demand and traffic at Rancho San Antonio, while maintaining equitable access for both local and regional visitors.
Midpen Receives Excellence in Technology Award
On August 25 Midpen received the 2022 Excellence in Technology Award from the California Special Districts Association (CSDA) for its "Equal Representation: Midpen's Ward Boundary Redistricting Project."  The award recognizes the extent a technology-related district program or project has improved efficiency within the district, service to its constituents or improved transparency. The project utilized new, interactive mapping tools to assist residents throughout the latest redistricting process. Find out more about the redistricting project.
Join us for Hawthorns Area Open Houses
Midpen is now collecting information to characterize existing conditions at the Hawthorns Area and hopes to receive public input on key considerations for the property. Based on the information received, Midpen would identify priorities for long-term management of the property
Midpen is offering both in-person and virtual public open houses this fall to introduce people to the Hawthorns Area, a 79-acre property located within the Town of Portola Valley that is part of Windy Hill Open Space Preserve. The property is currently closed to the public.  
Please drop by either session to learn more about the Hawthorns Area and provide your input.   
Virtual: Thursday, Oct. 20, 2022 from 6 – 8 p.m.  
https://openspace.zoom.us/j/85348501842
Join the meeting at 6 p.m. for a brief overview of the Hawthorns Area, followed by smaller breakout room sessions for informal discussions. Late attendees can still attend the breakout room sessions if they miss the overview presentation.  
Donations
Donations and gifts from generous individuals and organizations help protect and restore open space, and enhance visitor experience in the preserves.
Board Meeting Updates
Public Study Session: Agriculture Policy Development
Wednesday, September 28 at 5 p.m.
Through a public process, staff is updating our agricultural policy to clarify and define Midpen's role in encouraging viable agriculture on the San Mateo County Coast in alignment with our Coastal mission. Join Midpen's board of directors at this public meeting to hear a staff presentation on the findings to date from the public process, and to provide feedback that will help inform Midpen's agricultural policy update. Find out more at openspace.org/ag-policy.
---
Upcoming Public Meetings
September 13 - Legislative, Funding & Public Affairs Committee Meeting
September 14 - Board of Directors Meeting
September 15 - Board of Directors Meeting - Bond Oversight Committee Interviews
September 28 - Board of Directors Meeting 

Currently all Midpen board meetings are held via teleconference only. The meetings may be viewed online. There is also a dial in number to listen by phone. Links and numbers are included in the meeting agendas posted online 72 hours before the meeting.

Members of the public may provide written or oral comments by submitting a public comment form.