The past few months have illuminated the vital role Midpen plays in providing everyone in our region safe, accessible places where they can connect with nature. We've seen how important it is for you to get outside and explore the trails and we're committed to keeping our preserves as open as possible for you to enjoy responsibly.
---

Staying Safe in Open Space
Midpen follows public health guidance from Santa Clara, San Mateo and Santa Cruz counties to determine how to safely allow access for the community. Based on the latest guidelines, the following areas and activities have reopened in Midpen preserves:
All restrooms are OPEN
The off-leash dog area in Pulgas Ridge Preserve is OPEN
Picnic tables at Purisima Creek, Skyline Ridge and Windy Hill Preserves are OPEN
The Black Mountain Backpack Camp at Monte Bello Preserve is OPEN.
Safe social distancing is still required -- keep 6 feet apart from others not in your household. Face coverings are required outdoors in public spaces when you can't stay 6 feet apart and recommended at all times when recreating outdoors!
We continue to experience high visitation on weekends at most preserves. Please avoid areas where parking lots are full and plan your visit for a less crowded time or place. Google maps now shows real-time data for how busy an area is for our more popular preserves so you can know before you go.
Thank you for your cooperation as we have adjusted public access over the past months. Please continue to check our website for the latest information before you visit.
Preserve updates and information
---

Wildland Fire Safety Work in Midpen Preserves
Midpen staff has wrapped up annual maintenance on fuel breaks for wildland fire safety throughout the preserves. This essential work begins early each spring, and continued through the ongoing shelter-at-home orders this year. Staff is now focused on trimming back brush and grasses along Midpen roads and trails.
We're also preparing to expand our environmentally sensitive vegetation management with our new Wildland Fire Resiliency Program and are currently drafting an environmental impact report for this work.
Stay Fire Safe this Fourth of July

Due to fireworks celebration cancellations and to maintain public safety and social distancing, Midpen will not permit access to traditional fireworks viewing areas after sunset on July 4 this year. Summer is fire season in California. Help us stay safe – don't park your vehicle on or near dry grass and remember that smoking, fires and fireworks are never allowed in Midpen preserves.
---

Vegetation Mapping: Knowledge is Open Space Power
Vegetation maps show us detailed information about an area's habitat — the types of plants, their location and density, potential bottlenecks to wildlife passages, and more. As maps are updated they can be used to track changes in the landscape that have occurred over time.
We are currently working with partner organizations across the region to create high-resolution vegetation maps to improve the collective scientific understanding of the natural lands throughout the Santa Cruz Mountains region. The multiyear project began in San Mateo County last year and the Midpen board recently approved funds to help launch the project in Santa Clara and Santa Cruz counties. These detailed vegetation maps will help Midpen make the best land management decisions possible: prioritizing wildland fire resiliency projects, routing to protect sensitive habitat, focusing resources to reduce invasive plants and accessing the impacts from climate change and Sudden Oak Death.
Learn more about resource management
---

Preserving Cultural History at Bear Creek Redwoods
Along with awe-inspiring redwoods, Bear Creek Redwoods Open Space Preserve is also home to fascinating cultural history from Indigenous inhabitation, to logging, lavish estates and even a religious institution. The County of Santa Clara's Historic Grant Program recently awarded Midpen $200,000 to help us preserve historic structures on site. This grant helps Midpen's Measure AA funds for this project go farther.
We look forward to sharing this cultural site with you in a few years, so you can explore the evolution of uses that reflect broader events in our state's history. Luckily, you don't have to wait to dive into the rich history:
Birds of Bear Creek Redwoods - Virtual Event
Friday, July 17 at noon

Join Midpen, Peninsula Open Space Trust, and the San Francisco Bay Bird Observatory for a fun and educational webinar about birds in Bear Creek Redwoods Preserve! Local Naturalist Jeff Caplan will teach you about common birds you might meet when you're out on the trails using bird language and other tools. Suitable for all ages, especially kids and adults ages 12 and up!
---

Bring the Outdoors Inside!
Enjoy open space views wherever you are! We've created a series of nature backgrounds of Midpen preserves for your video calls, screensavers or backgrounds. From peaceful redwoods to lush rolling grasslands, we hope these images will bring a bit of the outdoors to you and inspire a future adventure to a Midpen open space preserve.
---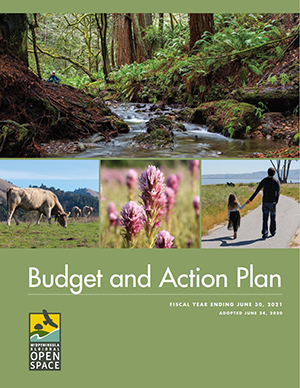 Annual Budget and Priority Open Space Projects
The Midpen board approved the operating Budget and Action Plan for the fiscal year running July 1, 2019, through June 30, 2020. In response to COVID-19 economic impacts, general fund expenditures will remain flat and no new positions will be budgeted. A few priority projects include:
Progress on the Highway 17 wildlife corridor to provide safe crossing for mountain lions and other wildlife
Continue implementation of the ADA barrier removal plan to provide equal access to programs, services and activities
Prepare Bear Creek Redwoods for the next phase of public access, including construction of the Alma cultural landscape and planning new trails
Finalize the Wildland Fire Resiliency Program to help with wildland fire prevention and preparedness in coordination with local fire agencies and surrounding communities
---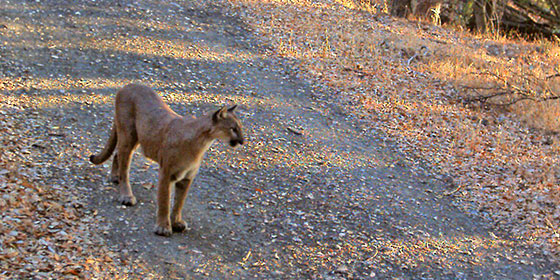 Mountain Lion Conservation Efforts
Midpen's nearly 65,000 acres of preserved public open space provide prime habitat for mountain lions, a top predator facing many challenges in our region. We are committed to the continued support of healthy lion populations by furthering efforts to preserve and connect habitat throughout the Santa Cruz Mountains and beyond. Specifically, our Highway 17 wildlife crossing project, our support of anticoagulant rodenticide regulation and research that improves our understanding of lion populations, ecology and behavior.

Midpen staff will be sharing information about mountain lion conservation efforts at an upcoming board of directors special meeting on Wednesday, July 8 at 5 p.m.

Complete information on how to join the online meeting will be available at openspace.org/board-meetings.
---

La Honda Public Access Working Group
The Public Access Working Group is made up of citizens and Midpen board members who are evaluating options for expanding public access to the central area of La Honda Creek Preserve. The group was formed in June 2019 and has met regularly for site tours and discussions of alternatives and site use options. The group will share its recommendations for consideration to Midpen's Planning and Natural Resources Board Committee on Tuesday, July 28 at 1 p.m.
---
Upcoming Public Meetings
In accordance with public health shelter-at-home orders, all Midpen board meetings are currently being held via teleconference ONLY. The public can view the meetings online or listen by phone. Links and phone numbers are included in the meeting agenda which is posted online 72 hours before the meeting.
Members of the public may provide written comments by submitting a public comment form.
July 7: Legislative, Funding and Public Affairs Committee Meeting
July 8: Board of Directors Meeting
July 22: Board of Directors Meeting
July 28: Planning & Natural Resources Committee Meeting