Midpen is governed by a seven-member board of directors. The District is divided into seven geographic wards, each represented by an elected board member for a four-year term.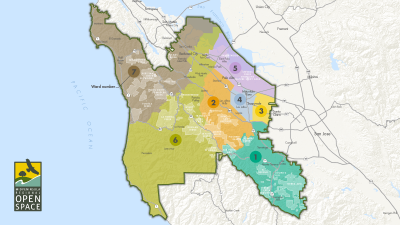 Midpen Board of Directors
The next election will be held in November 2024 for Ward 3, 4 and 6 Directors. 
Anyone who is 18 years of age and who is a resident and registered voter in the ward from which they are nominated may run for a seat on the Board of Directors.
Potential candidates are required to gather fifty (50) valid signatures of registered voters from their Ward on a required nomination form furnished only by the District Clerk.
Prior to soliciting or receiving campaign contributions, a candidate must file Form 501, Candidate Intention Statement, with the District Clerk. The form is available from the district clerk or can be downloaded from the Fair Political Practices website.