Mudstomps, wildfire grants, the Alma cultural landscape, and more! Read on to discover what's new. Learn about ongoing projects, find out about upcoming virtual events and get public meeting updates.
Image
Nature in November: The Ramifications of Rodenticides 
Several Midpen preserves border neighborhoods and other densely populated areas. While having nature so readily accessible at the doorstep of many is a privilege, it also comes with a responsibility to help ensure the health of wildland ecosystems. At-home use of rodenticides (pesticides that target rodents) pose a significant threat to the wildlife in our preserves and are especially dangerous to predators and scavengers – such as owls, coyotes, mountain lions and bobcats. When rodents consume these toxins and are preyed upon or scavenged by predators, these toxins can accumulate in the predator's body and weaken their immune systems making them more susceptible to diseases like mange, and if consumed in large enough quantities can be fatal.
Midpen has taken proactive steps to reduce rodenticide within our region, but more help is needed from our neighbors and nearby communities. Our award-winning Invasive Pest Management program guides our organization in managing plant and animal pests while protecting human health and the environment. Midpen also supported state Assembly Bill 1788, "The California Ecosystems Protection Act," which prohibits most uses of second-generation anticoagulant rodenticides (SGARs)
How can you help?
We're glad you asked! Discouraging rodent populations and using manual methods for removal are effective and safer to wildlife than the use of rodenticides. For suggestions, visit openspace.org/rodenticides.
Midpen is working with the University of Santa Cruz Puma Project on a five-year study to learn more about how mountain lions use open space lands frequently visited by people and to better understand factors that influence human-mountain lion interactions.
Several preserves may be closed for one to four weekdays between November 14 and December 2 so that this research may be conducted safely. Confirmed dates will be posted on our website the evening before a closure.
Image

If you have ever attended a Midpen educational event, you may have seen Reggie, a taxidermy mountain lion that serves as Midpen's Puma concolor ambassador. In life, Reggie was a 4-year-old, 130-pound male mountain lion that lived near Ukiah in northern California. He has been with Midpen since 1997 after he was acquired from the Department of Fish and Wildlife. When he is not out helping us educate the public, he resides in the front lobby of our office.
Reggie reminds us of the value of maintaining wildlife corridors away from areas of human activity – giving mountain lions and other animals safe spaces in protected habitat.
Midpen has a big role in protecting species such as mountain lions. Not only does Midpen protect a large greenbelt of habitat for wide-ranging animals like Reggie, but we also work the agency is also working with the University of Santa Cruz Puma Project to learn more about how mountain lions use open space lands that are frequently visited by people. This will help us better understand the factors that influence human-mountain lion interactions so that animals like Reggie can stay safe!
Docent Naturalist Guided Activities
David. C. Daniels Nature Center Seasonal Closure 
November 19 and 20 will be the last weekend in 2022 to visit the David C. Daniels Nature Center at Skyline Ridge Open Space Preserve. The nature center will have its seasonal closure through March 2023 and reopen for the new year on April 1 and 2. Autumn days are a lovely time to visit this little gem of a location on the shore of Alpine Pond – we hope you stop by!
Upcoming Guided Activities
Free guided activities lead by volunteer docent naturalists offer a great way to explore a new preserve, learn about the natural environment or join others for outdoor recreation.

All Preserves Great & Small
Immerse yourself in nature and history to celebrate Midpen's 50th anniversary with docent naturalists as your guides for the "All Preserves Great & Small" year-long hike series. Each preserve offers something special and retired Midpen ranger Frances Reneau, now a docent naturalist, created this series.
*Requires reservations
Volunteer Projects
Home for the Holidays: Habitat Enhancements at Stevens Creek Shoreline Nature Area
Along the Sunnyvale-Mountain View shoreline sits one of the Midpen's smallest and more unique preserves. Here, lucky visitors might spot a variety of waterfowl and shorebirds including black-necked stilts, mallards, snowy and great egrets, great blue herons, cormorants, and pintails.

This 55-acre hotspot for bird enthusiasts contains a stormwater retention basin, similar to a salt evaporation pond, that is scheduled for slight improvements to make it a safer home for the federally threatened western snowy plover who opportunistically breed here when water evaporates after the summer. Plovers use the bare pond bottom to build simple scrape nests, lay their eggs and raise their chicks. Under direction of one of our biologists, Midpen staff is leading efforts to make this area more ideal for this to occur. Project scope will include adding texture and camouflage to the bare pond, allowing the plovers to better camouflage into the environment and avoid predation.
Volunteers are needed to make this project a success. Join us on December 10 for a "stomp" around the bare pond bottom where you'll create texture using your footprints before spreading oyster shells that will act as camouflage.
By helping plovers, we can accomplish two things - support a listed species back to a healthy population size and help make the Bay more resilient to climate change and sea level rise.
Project Updates
Image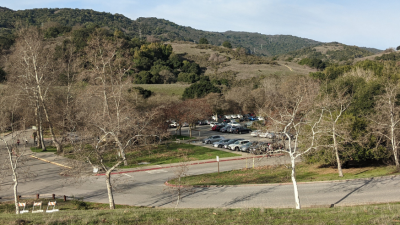 Rancho Shuttle & Ride Hail Survey
We want to hear from you!
Midpen has been implementing strategies to better manage parking, congestion, and promote greener modes of travel to Rancho San Antonio. We are now exploring the feasibility of a shuttle program and ride hail program for consideration at Rancho San Antonio. Your feedback will help to inform the design of these programs.
You can help by taking a quick 10-minute online survey.
Image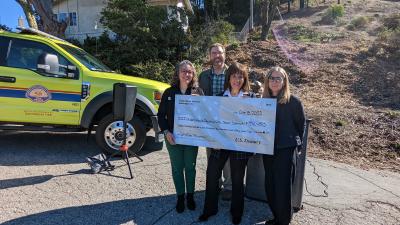 Midpen Awarded an Additional Grant for Wildland Fire Resiliency Program
Since Midpen's new Wildland Fire Resiliency Program was finalized in 2019, we have been hard at work on projects throughout the preserves to proactively expand on our existing ecologically sensitive vegetation management, establish healthy ecosystems, reduce wildland fire risk and facilitate fire suppression.
A recent boost in grant funding, Congresswoman Speier' $741,450 congressional request pending in the federal budget and a $1.08 million California Coastal Conservancy grant award, will boost Midpen's capacity for implementing the fire program. The program is already being supported with $2,498,358 in previously awarded grants from CAL Fire, the California Coastal Conservancy, Proposition 68 and the Santa Clara County FireSafe Council.
Learn more and see Midpen's current and recently completed Wildland Fire Resiliency Program projects at openspace.org/fire.
Image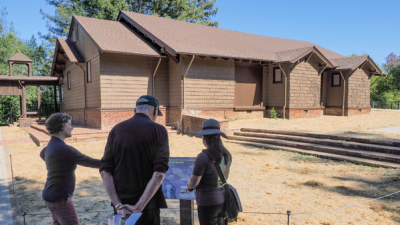 Alma Cultural Landscape Now Open!
As you work your way through Bear Creek Redwoods Open Space Preserve, you can now delve deep into the history of the Alma Cultural Landscape. What was once the location of the first Jesuit Seminary on the west coast, the location of grand estates from the early 20th century and the site of a logging mill has been rehabilitated to allow for public access. Work your way through the landscape and read the temporary interpretive panels to understand what buildings and structures once neighbored the surrounding redwoods.
Board Meeting Updates
Public Meeting Nov. 9 on Final EIR for Redwood Cabin Removal Project in La Honda Creek Preserve
The Midpeninsula Regional Open Space District has prepared an environmental impact report (DEIR) for the removal of a historic redwood cabin at La Honda Creek Open Space Preserve in accordance with the California Environmental Quality Act. The public review and comment period for the Draft EIR occurred in the summer of 2021 and the Final EIR comment period will be October 28, 2022 through November 7, 2022.
At Midpen's November 9, 2022 public meeting, the Midpen board of directors will consider certifying the final environmental impact report and approving the project. For more information, visit openspace.org/CEQA.
Purisima Multimodal Access Study Report 
In a special meeting at 5 p.m. on November 9th, the Midpen board of directors will review and affirm the findings and recommendations of the Purisima Creek Redwoods Preserve Multimodal Access and Transportation Demand Management Study report. The goals of the project are to evaluate existing preserve parking, access and visitation; identify strategies to parking and traffic issues and manage visitation; and develop an implementation plan.  
The Purisima Multimodal Access Study project began in August 2021 to review local and regional plans, evaluate existing site and visitation conditions at Purisima Creek Redwoods Open Space Preserve, identify recommended preserve-wide transportation demand management strategies, conduct public engagement to solicit feedback and develop a broad implementation plan for the recommended strategies. The Planning and Natural Resources Committee has provided guidance throughout the development of the project to make ready for review and consideration by the full board.   
For more information about the Purisima Multimodal Access Study, please visit openspace.org/pcr-multimodal. 
Image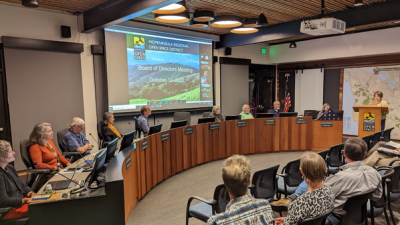 Congresswoman Eshoo Celebrates Midpen's 50th Anniversary
On October 12, Congresswoman Eshoo joined members of the board and public at its first in-person meeting since 2020 to present a joint Congressional Certificate of Recognition in honor of Midpen's 50th anniversary. In addition to the certificate, she also presented a framed United States flag that had recently been flown over the U.S. Capitol. Congressmembers on the certificate included Congresswoman Zoe Lofgren, Congresswoman Jackie Speier, Congressman Ro Khanna and Congressman Jimmy Panetta. Recently, Congresswoman Eshoo was able to secure $400,000 towards the creation of the Spooky Knoll Trail which is part of Midpen's Highway 17 crossings project. In addition, Congresswoman Speier was able to support Midpen's wildland fire resiliency efforts with a $741,450 grant. 
Upcoming Public Meetings
Meetings may be viewed online. Links to the meetings are posted with each agenda. There is also a dial-in number to listen by phone. Links are included in the meeting agendas posted online 72 hours before the meeting.
Members of the public may provide oral comments in person or written comments by submitting a public comment form.
November 7: Bond Oversight Committee
November 8: Real Property Committee
November 9: Board of Directors
November 15: Legislative, Funding & Public Affairs Committee