Hundreds of wildflower species grow in Midpen preserves! As you head out to view wildflowers, be sure to keep the blooms safe by following wildflower viewing etiquette. Staying on the trail and taking only pictures, not flowers ensures that wildflower populations remain healthy year after year!
During peak blooming season, grassland trails are typically the best places to see flowers, but they can be found in a wide variety of habitats. The best locations and dates of the local spring wildflower bloom change from year to year depending on the amount of rainfall, how late it occurs and when the temperatures start to increase.
In some areas, wildflowers are blooming more profusely as a result of the District's resource conservation efforts.
Wildflower Species Spotlight
Get an in-depth look into some of the most iconic and unique flowers that can be found in Midpen preserves. Click on a wildflower species to learn more about when it blooms, what habitats it thrives in and which preserves you can find it in!
A simple color photograph guide with two selected features showcasing the species — usually flower and whole plant or leaf. This guide was developed for use at Midpen's Annual Wildflower Survey at Sierra Azul Open Space Preserve. It features the 100 most common flowering species seen during the wildflower surveys.
Image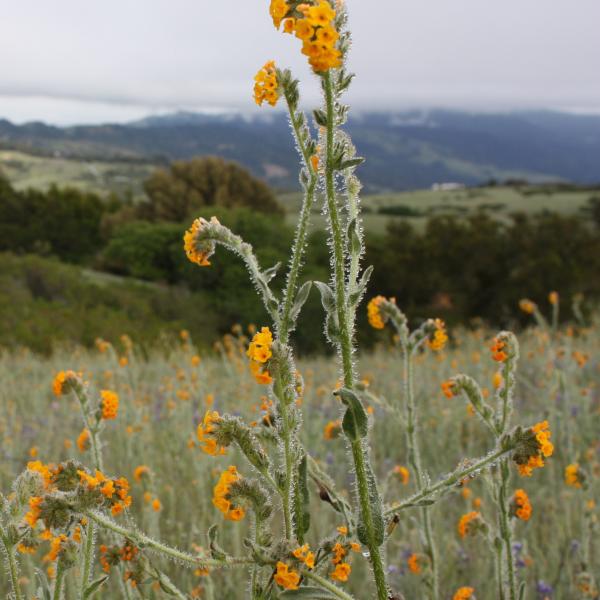 Wildflowers can be quite fragile. Please follow these simple guidelines to make sure everyone can enjoy their beauty as they bloom.
Stay on established trails. Visitors venturing off trail can trample wildflowers and their habitat, preventing other visitors from enjoying the displays. Please tread lightly and don't DOOM the BLOOM!
Take photos not flowers! Wildflowers wilt quickly after picking and can't be transplanted elsewhere. Picking wildflowers also prevents them from going to seed, which limits future wildflowers blooms. 
Take photos OF flowers not IN flowers. Sitting in the flower fields will damage existing blooms and prevent the next generation from growing.
Enjoy! The blooms of spring don't last for long each year. But don't despair — wildflower seeds develop after a flower blooms and when left alone will to drop to the soil to provide next year's blooms. 
Where to see Wildflowers
Generally the following preserves/trails are good for wildflower viewing in any given year: