Wildflowers are in bloom, our calendar is bursting with events and we want to know what YOU are spotting in the preserves...it must be spring! Read on to find out everything that's happening in the Midpen preserves.
Image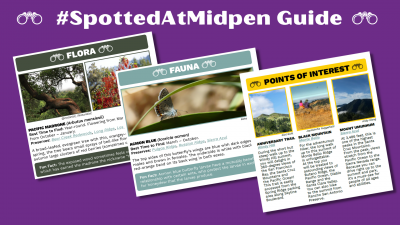 #SpottedAtMidpen
Hey nature lovers! To celebrate our 50th anniversary of preserving and protecting our region's open space, we are running a year-long photo contest with winners chosen every two weeks. When you spot something interesting, post it on Instagram, Twitter or Facebook, tag it with #SpottedAtMidpen, and you could win a commemorative gift (plus bragging rights, of course)!

If you need help figuring out what to spot, check out our #SpottedAtMidpen Flora and Fauna Guide. This guide will show you some of the coolest flora, fauna and features that you can find in your open space preserves and show you where and when you can find them!
Events & Activities
Spring is here and our April calendar is overflowing with activities at our preserves and in the community! 
Image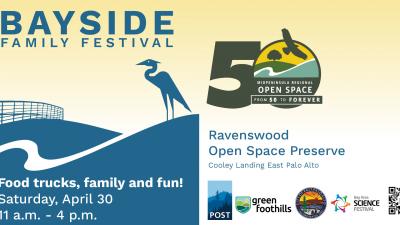 Come celebrate Midpen's 50th Anniversary! This free-admission family festival at Ravenswood Preserve and Cooley Landing of East Palo Alto is fun for nature lovers of all ages.
Wild & Scenic Film Festival
Virtual Event: April 23 - 29
Join Peninsula Open Space Trust (POST) and Midpen as we co-host the Wild & Scenic Film Festival. The film program will be available virtually to all who register for the event, available to watch from the comfort of your home anytime between Saturday, April 23rd and Friday, April 29th.  Advance registration is required, sign up today!
---
Update for Docent Naturalist Guided Activities
As of April 1, most guided activities no longer require reservations and masking/distancing protocols while participating have been lifted. Changeable restrictions for public health safety will be monitored and implemented as needed. All guided activities are FREE, please click on a specific activity title on the website activity calendar to determine if reservations are needed. 
---
Teasel Takedown - 50th Anniversary Volunteer Project
Saturday, May 21 – 9 a.m., 11 a.m. or 1:30 p.m.
 
Join Midpen staff and our partners at Grassroots Ecology for a fun workday removing teasel at Skyline Ridge Open Space Preserve. In celebration of 50 years of open space preservation, 50 volunteers will help clear this invasive plant so local species can return and wildlife can flourish. This project is an excellent opportunity for first-time volunteers and there are three shifts to choose from!

Spaces for our volunteer projects fill quickly — register now!
---
Daniels Nature Center Now Open!
We are pleased to welcome visitors back to the David C. Daniels Nature Center, located on the edge of Alpine Pond in Skyline Ridge Open Space Preserve. Take a hike on nearby trails to enjoy blooming wildflowers and beautiful views too. Throughout the spring and summer, the nature center will be open Saturdays and Sundays from noon to 5 p.m. unless public health concerns dictate a change. Plan your visit today!
---
Project Updates
Mount Umunhum Area Reopens
Last month, Midpen completed the long-term safety repairs to the radar tower sitting atop Mount Umunhum in Sierra Azul Open Space Preserve. The completion of this project allows for the area around the tower to be fully open to the visitors and vista-seekers of all ages and abilities. At 3,486 feet, the summit is one of the highest peaks of the Santa Cruz mountains allowing for views stretching from the Pacific Ocean to the Sierra Nevada range.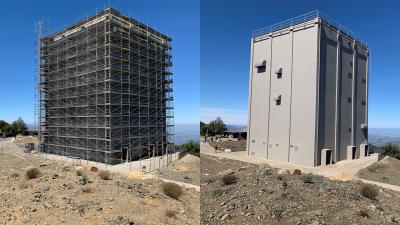 To facilitate safety to the public and staff alike, a retain and seal strategy was used on the Cold War-era relic. Repairs included the removal of hazardous materials, exterior wall concrete and rebar repairs and application of a weatherproof exterior elastomeric coating. Additionally, a new roof, passive ventilation windows with hoods and wildlife exclusion screens were installed.
The Umunhum Conservancy, a nonprofit dedicated to preserving the radar tower, donated $100,000 to offset a portion of the radar tower repair cost. Mount Umunhum opened to the public in 2017, joining the ranks of the Bay Area's great publicly accessible peaks.
---
Image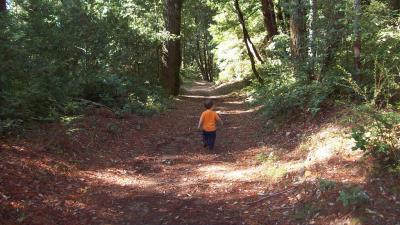 Do You Visit Purisima Creek Redwoods Preserve?
We Want to Hear From You!
We have a new public survey available as part of two access-related projects in our Purisima Creek Redwoods Preserve: The Purisima-to-the-Sea Trail and Parking Area and the Purisima Multimodal Access Study.
Survey results will help guide the development of trail and parking area design options, and strategies for better managing parking, visitation and promoting greener modes of travel at this popular preserve. The anonymous survey takes about 10 minutes to complete. Visit either link above to give us your input. 
---
Working Together in the Fight Against Sudden Oak Death
Would you like to learn about forest ecology and spend a few hours in an oak woodland? The Sudden Oak Death SOD Blitz Survey Project provides an opportunity for people of all ages to join a long-running community science program. Once you register and complete a short online training, you can help map the distribution of SOD in California to identify areas where native oaks should be treated to prevent SOD infection and death. Community blitzes are held throughout the greater Bay Area in April and May.
Board Meeting Updates
Caring for Coastal Midpen Preserves
On Wednesday, April 27 at 5 p.m., the board of directors will review a Coastal Management Plan. The administrative plan identifies recommended actions over the next five years that build organizational capacity required to support expanding programs for Midpen's growing coastal preserves. Midpen's boundaries expanded to include the San Mateo County Coast in 2004, and since then we have preserved more than 12,000 acres of open space and agricultural land on the Coastside. Join the meeting to learn more or visit openspace.org/coastside.
---
Public Comment Period for Proposed Removal of a Redwood Cabin in La Honda Creek Preserve
On Wednesday, April 27 at 7 p.m., the board of directors will receive public comments on a draft environmental impact report analyzing potential environmental impacts related to the proposed removal of a redwood cabin in La Honda Creek Open Space Preserve. The report will be released in mid-April for a 45-day public review and comment period. Pertinent comments will be collected and responded to as part of the final environmental impact report document that the board of directors will consider approving this fall. The draft environmental impact report will be posted to openspace.org/public-notices in mid-April. The staff report, and details on how to comment and join the meeting will be posted to openspace.org/board-meetings on Friday, April 22.
---
Upcoming Public Meetings
April 13: Board of Directors 
April 27: Board of Directors
April 28: Action Plan & Budget Committee
May 3: Action Plan & Budget Committee
Currently all Midpen board meetings are held via teleconference only. The meetings may be viewed online. Links to the meetings are posted with each agenda. There is also a dial in number to listen by phone. Links are included in the meeting agendas posted online 72 hours before the meeting.

Members of the public may provide written or oral comments by submitting a public comment form.