May brings warm weather so look for lizards and other creatures sunning themselves along the trails. Find out how to share what you see with our #SpottedAtMidpen contest. Read on for more information on our 50th Anniversary celebration and find out everything that's happening in the Midpen preserves.
Download Your #SpottedAtMidpen Flora and Fauna Guide
Image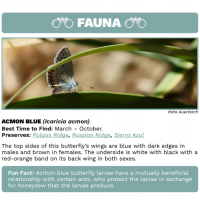 This beautiful Acmon blue butterfly is just one of the amazing things that you can spot in your Midpen preserves! Download our free fauna and flora guide today to learn about what to see and where to spot it.
Also be sure to enter our year-long #SpottedAtMidpen photo contest! When you spot something interesting (maybe from the flora and fauna guide), post it on Instagram, Twitter or Facebook, tag it with #SpottedAtMidpen, and you could win a commemorative gift! Keep posting your amazing photos — we are choosing winners every two weeks!
---
Bayside Family Festival
Image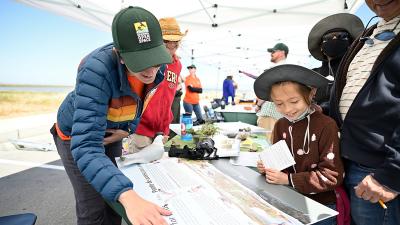 Last Saturday we celebrated our 50th anniversary with nearly 800 attendees at the Bayside Family Festival at Ravenswood Open Space Preserve and Cooley Landing of East Palo Alto. Participants explored the Bay Trail along a discovery journey self-guided hike learning about the area from docent stations along the way. Two stages hosted various performances, presentations and activities throughout the day and 25 of our community partners joined us at informational booths.
If you attended the event, we hope you walked away with deeper appreciation for public open spaces and a renewed wonder and curiosity for the wildlife, habitats, and plants in our world.
If you missed this event, we'll be celebrating again at our Coastside Community Celebration on September 10 at Johnston Ranch in Half Moon Bay. We hope to see you there!
---
Events & Activities
Image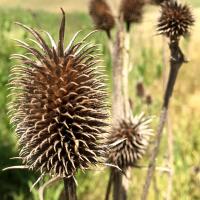 Teasel Takedown Volunteer Project
Saturday, May 21 at 9 a.m. 11 a.m. or 1:30 p.m.
Skyline Ridge Open Space Preserve
Join Midpen staff and our partners Grassroots Ecology for a fun workday removing teasel. In celebration of 50 years of open space preservation, help clear this invasive plant so that local species can return and wildlife can flourish! This project is an excellent opportunity for first-time volunteers.
---
Docent Naturalist Guided Activities
Here are just a few of the upcoming guided activities offered this month by our volunteer docent naturalists.  

May 14 - Ohlone Medicine at Long Ridge Preserve
Explore Peters Creek and Long Ridge trails as you learn which plants local Native Americans used to treat a variety of ailments from loose teeth and thinning hair to headaches and chest congestion.

May 30 - 34th Annual Hike the Open Spaces at Monte Bello Preserve
This leisurely-paced walk will include the history of the preserve and Midpen, and you'll learn about the plants, animals, and geology of the area. Reservations required.
Visit openspace.org/calendar for a complete schedule of events.
---
Image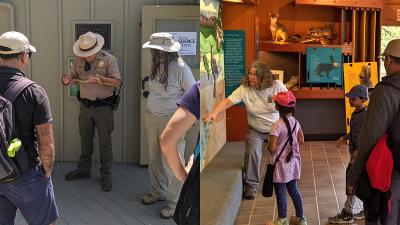 Last month, in conjunction with the Bay Area Science Festival, Midpen hosted a Nature Expo at the Daniels Nature Center at Skyline Ridge Preserve. Throughout the day, nearly 100 visitors stopped in to engage with staff and docents and learn about Santa Cruz Mountains flora and fauna through hands-on science activities.

If you missed this event, you can join us at the nature center any weekend through mid-November. It's a great place for a family outing or a brief hike break location.
Project Updates
Image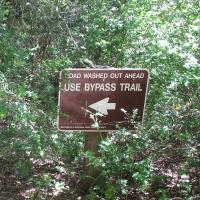 Alpine Road Regional Trail Improvements
Alpine Road, which links up to Coal Creek Open Space Preserve, is one of the few trails that offers cyclists, equestrians and hikers a direct connection from the valley floor to Skyline Boulevard. In recent years, major land failures have threatened the continued use of the road as a trail. Major repairs to the degraded roadbed and failing culverts are required to ensure its continued use and to protect Corte Madera Creek from further sedimentation.
Trail improvement activities and construction are anticipated to take place this summer from June to October. The Alpine Road Trail will be closed during construction. This project is made possible in part from Santa Clara County through the Stanford Recreation Mitigation Fund. 
Learn more and sign up for project updates.
---
Image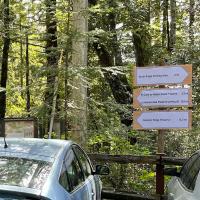 Pilot Parking Project at Purisima Creek Redwoods Open Space Preserve!
We are testing temporary wayfinding signs and parking area information that help direct visitors to other places if the Purisima Creek Redwoods Preserve parking area at which they arrive is full. Let us know what you think about these pilot efforts and more in our online survey. Your responses will help guide the development of the Purisima-to-the-Sea Trail and new parking area and help staff understand which strategies visitors prefer for better managing parking and visitation.
---
Image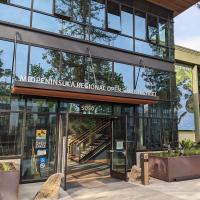 Midpen is Moving
Effective May 16, Midpen's administrative office will be located at 5050 El Camino Real in Los Altos. This building is across the street from our current office, which Midpen purchased 30 years ago, and has outgrown due to Midpen's success in growing the regional greenbelt, restoring natural lands, expanding public access and programs and meeting our Measure AA commitments. The larger office will absorb staff currently working out of rented satellite offices to bring all administrative staff back under one roof.
Our original plan to lease out a portion of the building reserved for future growth was updated when we expanded our telecommute policy during the pandemic. We're actively seeking tenants for two areas on the first floor.
Board Meeting Updates
Board Adopts New Ward Map
After a six-month public outreach process, the Midpen board of directors adopted new ward boundaries at its March 23 meeting. The new map will be used in the November 8, 2022 general election.
Upcoming Public Meetings
May 25: Board of Directors 
June 8: Board of Directors
Currently all Midpen board meetings are held via teleconference only. The meetings may be viewed online. There is also a dial in number to listen by phone. Links are included in the meeting agendas posted online 72 hours before the meeting.

Members of the public may provide written or oral comments by submitting a public comment form.