The days are getting shorter and the shadows longer as we move into fall. This month see how we've moved closer to making connections with the Ravenswood Bay Trail and Highway 17 Wildlife and Trail Crossings. Find out how to share your thoughts with us on policies under review. Read on for the latest news and ways to enjoy your Midpen preserves!
---
It Takes a Village

Last month we celebrated the start of construction on the Ravenswood Bay Trail with our project partners and funding agencies. "This is truly a celebratory moment, as today marks a major milestone nearly 15 years in the making, to close a critical gap in the Bay Trail—one that was first envisioned in 2005 to connect multiple communities and cities to their local bayfront parks and open spaces," Midpen General Manager Ana Ruiz said. "For this short but mighty trail segment, it took more agencies and organizations than I can count on my 10 fingers to receive the approvals and funding support necessary to reach the start of construction."
Thank you to our project partners: San Francisco Bay Trail, City of East Palo Alto, City of Menlo Park and the San Francisco Public Utilities Commission. The Ravenswood Bay Trail is primarily funded by Midpen's 2014 Measure AA bond with additional support of nearly $2.8 million in grant funds provided by: California Natural Resources Agency Urban Greening Grant, County of San Mateo Measure K, County of Santa Clara Measure A, Facebook, Association of Bay Area Governments and the Coastal Conservancy.
Find out more about the Ravenswood Bay Trail
---
E-Bikes in Preserves

Over the past few years, sales of e-bikes, which include electric mountain bikes, have grown steadily across the country. Currently e-bikes are not allowed in Midpen preserves, except for use by individuals with a mobility disability. In response to an increase in requests from the public for equal access and policy review, the board of directors is scheduled to review options related to e-bike use in our preserves at the public board meeting on November 20. Agenda items are subject to change and are posted to our website 72 hours before the meeting. You can find complete information and sign up to receive board meeting notifications on our board meetings webpage.
See our bicycle access guidelines
---
We Want to Hear From You!

Midpen is working to develop effective strategies to address parking and access challenges at Rancho San Antonio Preserve. You can help by taking a quick five-minute online survey!
Take the Rancho San Antonio Parking & Access Survey
---
Know Before You Go

We close trails as needed for a variety of reasons: planned maintenance and construction, removal of natural hazards like fallen trees or landslides, visitor safety or protection of wildlife in the area. In some preserves, we proactively close specific trails to equestrian and bicycle use during wet conditions for visitor safety and to prevent excessive trail damage.
Up-to-date trail closure information is posted on our trail conditions page and is available on the "trails" tab on each preserve page. Make it a habit to check the page before you head out to the preserves!
Visit our trail conditions webpage
---
Battling the Invasive Hanging Sedge

The Purisima Creek watershed is currently the only known location of the invasive plant hanging sedge (Carex pendula) in the Santa Cruz Mountains. Experience has shown that removing these plants while the population is still small and isolated can help prevent it from spreading into other watersheds and taking over native species habitat. In addition to our annual sweep for hanging sedge in our Purisima Creek Redwoods Preserve and making sure it has not spread to other preserves, we are partnering with the San Mateo County Resource Conservation District to target this species on nearby private lands.
Learn more about our integrated pest management program
---
One Step Closer to a Highway Crossing

We are currently developing wildlife and regional trail crossings across Highway 17 to connect over 30,000 acres of protected public lands. To meet the needs of animals and a variety of recreational trail users, one or more large crossing structures are needed. Well-placed and appropriately designed crossings enable wide-ranging animals like mountain lions to roam and help reduce wildlife-vehicle collisions. Last month, our board of directors approved plans to move forward to the environmental review phase of this project. Four crossing alternatives will be reviewed, two dedicated for wildlife and two for recreational trails, to determine the most feasible options for wildlife and trail crossings.
In California, several mountain lion populations are separated by man-made barriers, threatening their genetic diversity. Creating connections with wildlife crossings is crucial. Watch the video below to find out more.
Find out more about Highway 17 wildlife and trail crossings
---
Protecting Wildlife and Livestock in Preserves

Our collaboration with ranchers keeps local agriculture viable and helps Midpen manage large coastal grasslands using conservation grazing to benefit plants, wildlife and people. Midpen is creating a comprehensive policy to address the age-old challenge of wildlife interacting with livestock. When complete, it will be the first of its kind in our region. We want to hear from you — read the draft policy, submit your comments and sign up to stay informed of upcoming public meetings.
Find our more about our Grazing Management Policy
---
Helping the Most Vulnerable

It's not a matter of if climate change will affect the plants, animals and landscapes that make our region one of the world's biodiversity hotspots, but how. Which is why land managers, scientists and others who care for nature in the Santa Cruz Mountains gathered at Midpen's offices last month to begin the important task of determining what species and habitats are most vulnerable: from redwoods to wetlands, butterflies to mountain lions, and many more. And most importantly, to determine specific actions we can proactively take to help them adapt.
Learn more about our efforts around climate change
---
New Defensible Space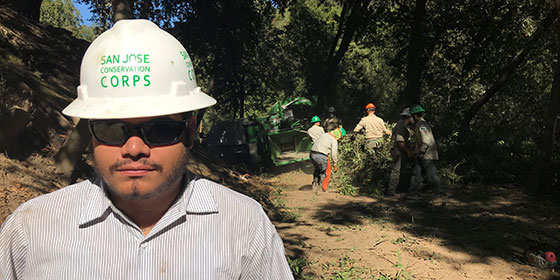 Midpen maintains defensible space for wildland fire safety around all structures within our preserves. In October, we completed two new defensible space projects: one in the wildland-urban interface of Pulgas Ridge Preserve and another around the horse stables in Bear Creek Redwoods Preserve with the help of our friends at the San Jose Conservation Corps.
Midpen has made significant investments of public funds this year to expand our vegetation management in an environmentally sensitive manner for wildland fire resiliency. We are currently identifying new areas to continue expanding our vegetation management. Visit our website to learn more, share your comments and sign up to stay informed of upcoming public meetings.
Find out more about our wildland fire resiliency program
---
Midpen Receives Technology Innovation Award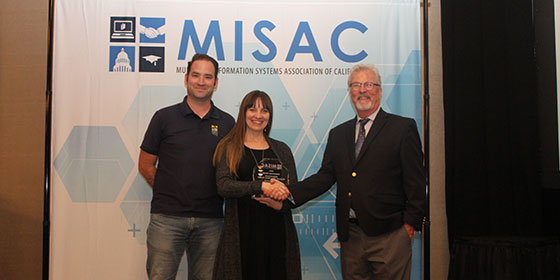 Midpen won the 2019 Innovation Award from the Municipal Information Systems Association of California for the design and implementation of Project Central, our project management system. The system provides a tool for project managers to capture documents and communicate project tasks, progress and status across the organization. This scalable, efficient information-sharing system is accessible by all departments, including remote offices, boosting productivity and providing at-a-glance project information to the executive team on demand.
---
Explore Nature this November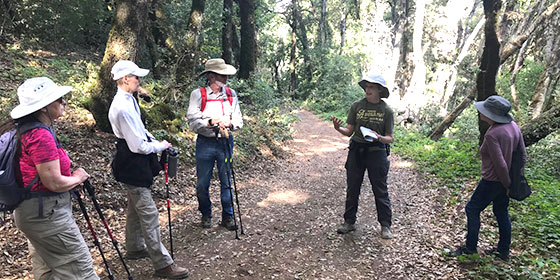 We have nearly 20 FREE docent-led activities in November to choose from — get a workout with scenery on a 10-mile Hike! Hike! Hike! through Purisima Creek Redwoods, learn about Animal Architecture and the master builders of the woodlands, explore transitions in nature's life cycles at El Corte de Madera Creek or just enjoy the Autumn Pleasures.
See all our docent-led activities
---
Upcoming Meetings and Events
See a complete list of Midpen events and meetings