Download Map
(Opens in new window)
Hours
Open a half-hour before sunrise until a half-hour after sunset. The Lower La Honda Creek area will be closed when the National Weather Service declares Red Flag Warning weather.
One of Midpen's largest and most diverse preserves, La Honda Creek offers immersion into a historic ranchland with grazing cattle, views of the San Mateo County Coast and Santa Cruz Mountains and pockets of redwood forest. Since first opening to the public in 2017, it has become a regional destination for birding.  
Public access is currently available in two unconnected parts of the preserve.
Image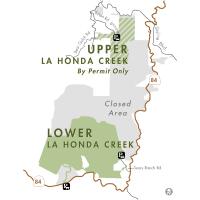 Upper La Honda Creek features 3.5 miles of shorter sections of trail through forest and redwoods. Due to parking limitations, a no-fee permit is required for access to Upper La Honda Creek (Allen Road entrance). 
Lower La Honda Creek offers 7.9 miles of trail through open rolling grasslands where conservation grazing occurs. The main access is from the parking area at Sears Ranch Road. A smaller parking area for visitors and equestrians at the Event Center requires a no-fee permit.
Image

Hiking: All Trails
Image

Bicycling: Not Permitted
Image

Equestrian: All Trails
Image

Dogs on Leash: Designated Trails
Image

Easy Access: Designated Trails
Image

Camping: No Camping
Image

Restrooms: Available
Description
Take this short one-mile trail to see the impressive "Big Tree," one of the few remaining old-growth redwood trees in the area. This trail is located in Upper La Honda Creek Open Space Preserve, which requires a no-fee permit to enter.
Description
This 1.3-mile easy access trail traverses working ranchlands with grazing cattle, coastal grasslands, oak woodlands and redwood forests with expansive viewpoints along the way. Dogs on leash allowed except during calving season: Aug. 1 – Dec. 15.
Description
This out-and-back trail meanders for six miles through open, rolling grasslands. The Harrington Creek trail runs through an active grazing operation, so visitors may encounter cattle and ranchers. There is very little shade on this trail, so bring water and sun protection!
Preserve Highlights & Features
Image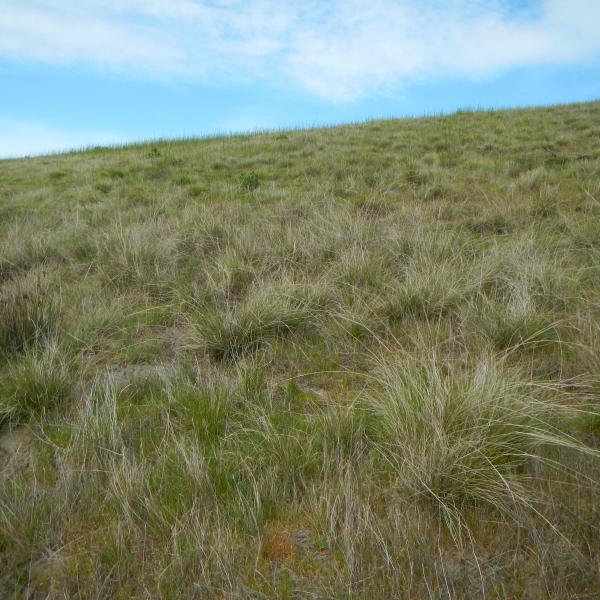 Rich in native plants and wildlife, California's coastal grasslands evolved with herds of grazing wildlife that are no longer on the landscape, natural fires and Native American burning practices. This habitat can benefit from periodic disturbance to prevent encroachment by introduced species, shrubs and forest. 
Midpen's work to protect and enhance coastal grasslands supports the management and recovery of endangered, threatened and special-status species that need grassland habitat, like the San Francisco garter snake, American badger, California red-legged frog and burrowing owl. 
Image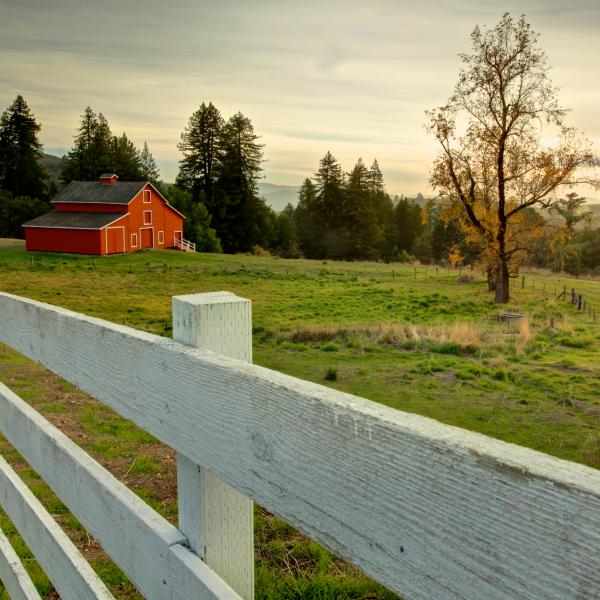 Agricultural roots run deep on the Coastside. When Midpen's boundaries expanded in 2004 to include the San Mateo County Coast, we committed to protecting that heritage.
This historic barn, originally built around 1900 by the Weeks family, has greeted travelers on Highway 84 for more than a century. Today, it is a visual gateway to the rural Coastside. It requires care to keep it standing strong against the elements. The barn hosts the only known pallid bat maternity roost on the Peninsula, and Townsend's big-eared bats – both species of special concern.
We are currently exploring opportunities to provide public access into this central area of the preserve. 
Image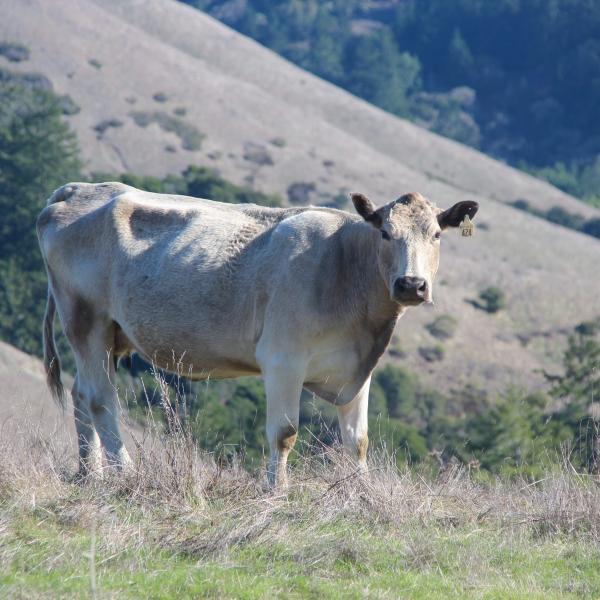 Tips for Hiking among Grazing Cattle
La Honda Creek is one of only two Midpen preserves where visitors recreate among grazing cattle. Use common sense and remember the following safety tips:
Keep your distance and walk around groups of cows.
Keep pedestrian gates closed and leave larger vehicle gates as you find them – open or closed. 
Image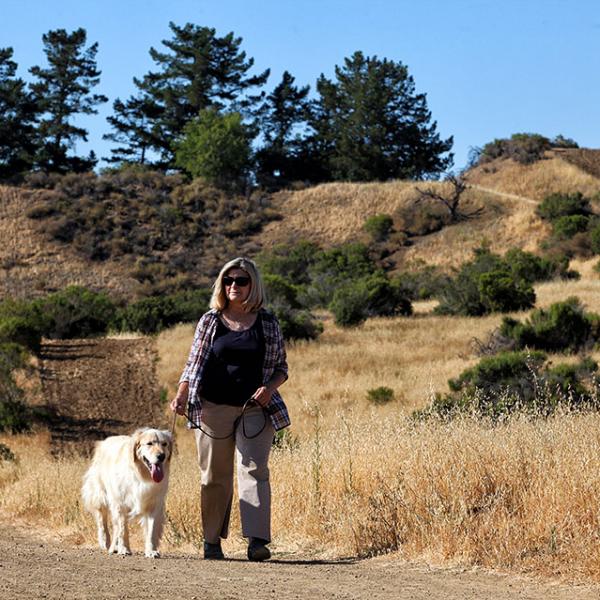 Dog Access at La Honda Creek Preserve
Because much of La Honda Creek Preserve is actively grazed by cattle as part of our Conservation Grazing Program, dogs are allowed only in two specific areas of the preserve.
Stories from the Preserves
Nature
Here are some of the plants and animals that other visitors have observed at this preserve and recorded in iNaturalist. Protected species may be excluded and some species may not yet have been observed. Help improve iNaturalist by adding your observations to the Midpen Biodiversity Index project
Join our e-mail list to stay up-to-date on this preserve and other Midpen news! 
Know Before You Go
Preserve regulations help provide a safe, enjoyable visit while protecting sensitive areas and wildlife. 
Image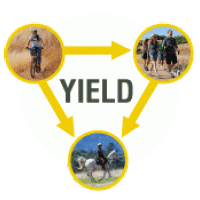 Share the Trail 
Use designated trails to avoid damage to natural resources and prevent injury. 

Avoid blocking the trail. Step aside to allow others to pass .  

Whether you're walking or biking, always yield to equestrians. 

Leave no trace. Pack out what you pack in. Most preserves do not have trash cans. Littering is prohibited. 

Abuses of trail etiquette should be brought to the attention of a ranger or call the Midpen main office at 650-691-1200. 
History
Read about a slice of La Honda Creek Open Space Preserve's history before it became a Midpen preserve here, with the story of the Redwood Cabin:
Image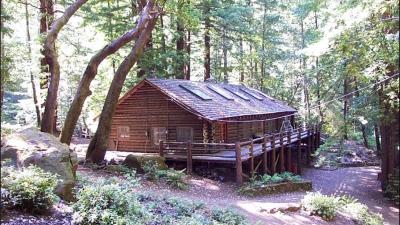 La Honda Creek Open Space Preserve was established in 1984 with the purchase of a 255-acre property. Following many additional land acquisitions, the preserve now encompasses over 6,100 acres. Over 4,500 acres of these lands, including the former Driscoll Ranch, were purchased by the Peninsula Open Space Trust and transferred to Midpen to add to the preserve.
In order to manage the preserve's rich ecological and cultural resources, and to provide opportunities for public enjoyment and education, Midpen completed a comprehensive 30-year master plan in 2012.  Through this public planning process, a preserve vision was created: to harmoniously blend recreation and ranching uses for the benefit of the land, wildlife and surrounding commuting, both present and future.  As part of implementation of the master plan, Midpen has completed many land stewardship projects. Five ponds were deepened and reinforced to allow threatened California red-legged frogs to breed, and encourage the endangered San Francisco garter snake to return to the preserve. Miles of ranch roads were repaired to reduce sediment flowing to Harrington, La Honda and San Gregorio creeks, which provide habitat for endangered coho salmon and threatened steelhead trout. Fences and springs were upgraded to support cattle grazing. Existing trails and staging areas were improved in Upper La Honda Creek, and a parking area was constructed on the lower preserve. More trails and a staging area near the historic Red Barn are planned, which will link the upper and lower preserve areas and provide additional recreation opportunities, including mountain bicycle use, in the near future.
Some additional resources to help you enjoy the preserves!