This issue focuses on wildlife and plans for new areas to explore. Read on to discover what's new. Learn about ongoing projects, find out about upcoming virtual events and get public meeting updates.
Candid Cameras?
You may have spotted wildlife cameras as you traverse the trails in Rancho San Antonio Open Space Preserve. In conjunction with our mountain lion research, we are conducting two wildlife camera studies in the preserve.
Wildlife Picture Index – A grid of cameras installed throughout the preserve is capturing wildlife sightings to learn about the diversity and numbers of animals in the area, their distribution across the landscape and factors that might affect their behavior.
Trail Use Study – Cameras installed along public trails record both wildlife and human use to help determine recreational impacts on wildlife behavior. Cameras are positioned to avoid capturing personally identifiable information of trail users and any images containing human faces are deleted from our permanent records.
We'll report more on our findings at the conclusion of these studies, but until then, here are just a few of the many images captured by our cameras.
Clockwise from L: Coyote (Canis latrans), Bobcat (Lynx rufus), Western meadowlark (Sturnella neglecta), Grey fox (Urocyon cinereoargenteus) 
Image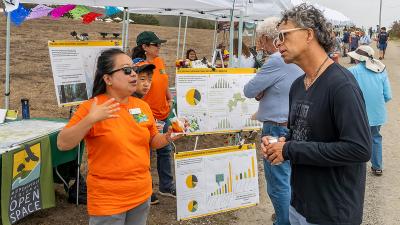 Coastside Community Celebration
On Saturday, September 10, we celebrated our 50th anniversary with over 1,000 attendees at Johnston Ranch in Half Moon Bay. Participants enjoyed a beautiful Coastside day exploring informational booths hosted by our community partners, watching a variety of demonstrations, wildlife presentations and local dance and music performances.

If you attended the event, we hope you walked away with deeper appreciation of the land that cares for us. Thank you for celebrating with us as a community as we mark 50 years of the preservation, protection, restoration and enjoyment of public open space.
Project Updates
Image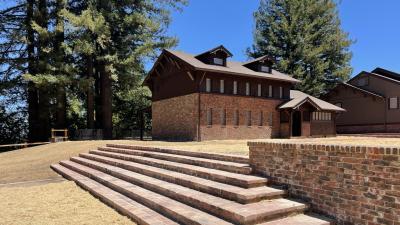 Alma Cultural Landscape Opening Soon
Located in Bear Creek Redwoods Open Space Preserve, the Alma Cultural Landscape has a significant connection to California's past — its rich history and evolution mirrors the broader events in state history.  Visitors will soon be able to immerse themselves in the land's layers of history from the 19th century logging boom, through the estate period to the building of a Jesuit seminary. Midpen has completed rehabilitation work on the of the Alma Cultural Landscape and will be opening the site to public access on October 15!
Image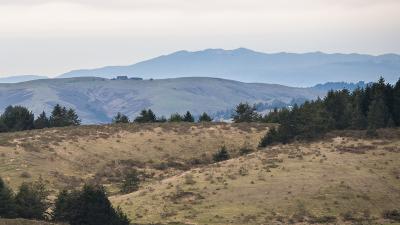 Potential Cloverdale Purchase Would Create a New Preserve
Join Midpen as we consider the purchase of Cloverdale, more than 6,000 acres of an ecologically and agriculturally significant property near Pescadero, from our nonprofit partner at Peninsula Open Space Trust (POST). There are several upcoming opportunities to learn more about, and comment on, this exciting opportunity:
Midcoast Community Council Regular Meeting (via Zoom)
October 12 from 7 to 9:30 p.m.
Midpen staff will give a presentation about the potential purchase. Join the meeting by using the Zoom link in the agenda posting at midcoastcommunitycouncil.org
 
Real Property Committee Meeting and Community Open House (in person)
October 18 at 3:30 to 6 p.m. at R&R Fresh Farms in Pescadero
At this public meeting beginning at 4 p.m., the committee will receive a staff presentation, provide feedback and vote on whether to recommend that Midpen's full board of directors approve the purchase. Midpen staff and project partners will be available before and after the public meeting for an informal opportunity to learn more about the potential purchase.
Hawthorns Virtual Open House
Midpen is offering a virtual public open house on Thursday, October 20 from 6 to 8 p.m. to share more about the Hawthorns Area, a 79-acre property located within the Town of Portola Valley. The property, part of Windy Hill Open Space Preserve but currently closed to the public, is undergoing a feasibility planning process to explore opportunities for ecologically sensitive public access. Please drop by to learn more about the Hawthorns Area and provide your input, visit openspace.org/hawthorns or check out our virtual site tour below.
FY22 Accomplishments
The following accomplishments from Fiscal Year 2022 highlight the Midpeninsula Regional Open Space District's focus on a balanced mission: land acquisition and preservation; natural resources protection and restoration; public access and education; and for the Coastside, encouraging viable agricultural uses of land resources and preserving rural character.
In-Person Meetings Scheduled to Return October 11!
We are excited to welcome the public back to in-person board meetings at our new administrative office at 5050 El Camino Real, Los Altos, CA. Meetings will continue to be streamed virtually via Zoom, so you can attend however is most convenient for you!
Purisima-to-the-Sea Trail and Parking Area
October 11 at 1 p.m. 
Join the Midpen board members on our Planning and Natural Resources Committee for a public meeting to learn about and comment on the preferred trail alignment and conceptual parking area designs for the Purisima-to-the-Sea Trail. When built, this long-envisioned trail will link the California Coastal Trail to the existing trail network in Purisima Creek Redwoods Open Space Preserve, including the Bay Area Ridge Trail. Learn more at openspace.org/purisima-sea.
La Honda Creek Preserve Forest Health & Management Plan
October 12 at 7 p.m.
Join the Midpen board of directors for a public meeting to learn about and comment on forest management prescriptions that have been developed with extensive data and stakeholder input to restore and promote healthy, resilient conditions in 1,210 acres of redwood forest at La Honda Creek Preserve, as well as next steps for the project. Learn more at openspace.org/forest.
Wildland Fire Resiliency Program: Prescribed Fire
October 26 at 5 p.m.
As part of Midpen's Wildland Fire Resiliency Program, staff is working to add prescribed fire to our land management toolbox in 2023. Join our board of directors for a study session with staff and professional fire consultants to learn about and comment on the high-level draft plans for the prescribed fire portion of Midpen's Wildland Fire Resiliency Program.

The goals of Midpen's Wildland Fire Resiliency Program are to proactively expand ecologically sensitive vegetation management, establish healthy ecosystems, reduce wildland fire risk and facilitate fire agency response during an emergency. Learn more at openspace.org/fire.
New Bond Oversight Committee Members Appointed
At the September 28 meeting, the board of directors appointed three members to the Measure AA Bond Oversight Committee (BOC): Steven Permut, Kit Gordon and Curtis Cole. The new members will serve a four-year term from October 1 through the end of June 2026. The seven-member BOC reviews bond expenditures to verify conformity with the adopted expenditure plan. The other four committee members are currently serving terms that end in 2014.  Read more about the committee at openspace.org/boc.
Upcoming Public Meetings
October 11: Planning and Natural Resources Committee 
October 12: Board of Directors
October 18: Real Property Committee
October 26: Board of Directors
Meetings may be viewed online. Links to the meetings are posted with each agenda. There is also a dial in number to listen by phone. Links are included in the meeting agendas posted online 72 hours before the meeting.

Members of the public may provide oral comments in person or written comments by submitting a public comment form.